News > Features
Spotlight: 'Cool Yule' changes tune for New Year's
Sun., Dec. 23, 2012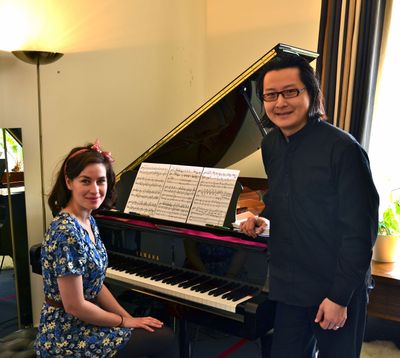 "Cool Yule," Coeur d'Alene Summer Theatre's holiday cabaret show, will take on a new spin after Christmas.
"So if you enjoyed it before Christmas, come back because it's been changed to ring in the new year," artistic director Roger Welch said in a news release. "Our cast still performs many of the favorite holiday tunes, but new ones have been added to keep the show fresh."
The show features Mark Cotter, Laura Sable, Kurt Raimer and Callie McKinney Cabe, who perform holiday classics such as "Santa Baby" and "O Tannenbaum." The musical director is Jim Ryan.
The show returns to the Shore Room of the Coeur d'Alene Resort after Christmas with a performance at 7:30 p.m. Thursday, and will run through Dec. 31. New Year's Eve performances will be held at 7:30 and 11 p.m.
Tickets are $25 and are available through CST's box office, (208) 769-7780, or online at www.cdasummer theatre.com.
On their toes
The Jacklin Arts & Cultural Center in Post Falls is the recipient of a $10,000 grant from the National Endowment for the Arts' Challenge America program to present a dance performance in the spring.
The JACC is one of 153 nonprofits to receive the grant. It will allow the JACC to present a performance by the Koresh Dance Company from Philadelphia on April 20 at the Salvation Army Kroc Center in Coeur d'Alene.
In a news release, JACC director Liisa Spink said she was "thrilled to be able to bring in a contemporary dance company to North Idaho."
"This is a first for us – we are breaking outside of our four walls to bring in a large company. We are calling this series JACC Out of the Box. This is just one program in many, where we are igniting and enriching a passion for the arts for our local community. Bring on the dance."
Tickets to the performance will be $30 for adults and $25 for students; they're available by calling (208) 457-8950 or emailing art@thejacklincenter.org.
He's no fraud
Pianist and Spokane native Archie Chen is making his acting debut – of sorts.
Chen, who teaches at The Piano Academy of Ireland, is the man behind the music of the new BBC television film "Loving Miss Hatto," which will premiere in the U.K. today.
The film tells the story of Joyce Hatto, a pianist who perpetrated a huge fraud on the classical music world. After her death in 2006, it was discovered she and her husband had released works by other pianists under her name, often to high praise.
Chen graduated from Mead High School in 1995 and has gone on to perform around the world. His work on the film is twofold. He not only played the classical works depicted in the film – including Studies on Chopin's Études, by Leopold Godowsk – he also taught actress Maimie McCoy how to play convincingly for the camera in her role as young Hatto.
Watch some clips from "Loving Miss Hatto" at www.bbc.co.uk/ programmes/b01pm5m5.
'Spring' revivals
Lake City Playhouse is reviving its production of "Spring Awakenings" for one night only in January, and bringing it across the state line.
The rock musical, a coming of age tale that contains adult themes and language, was written by Duncan Sheik and Steven Sater. Lake City Playhouse staged it in August, and will bring it to the University High School Theatre as a fundraiser.
The Jan. 7 event begins at 7:30 at the theater, 12420 E. 32nd Ave., in Spokane Valley.
Tickets are $10, and are available through the Lake City Playhouse box office, 1320 E. Garden Ave., Coeur d'Alene, by calling (208) 667-1323 or online at lakecityplayhouse.org.
Local journalism is essential.
Give directly to The Spokesman-Review's Northwest Passages community forums series -- which helps to offset the costs of several reporter and editor positions at the newspaper -- by using the easy options below. Gifts processed in this system are not tax deductible, but are predominately used to help meet the local financial requirements needed to receive national matching-grant funds.
Subscribe now to get breaking news alerts in your email inbox
Get breaking news delivered to your inbox as it happens.
---