News > Spokane
Interim police chief inherits challenge
Sun., Feb. 5, 2012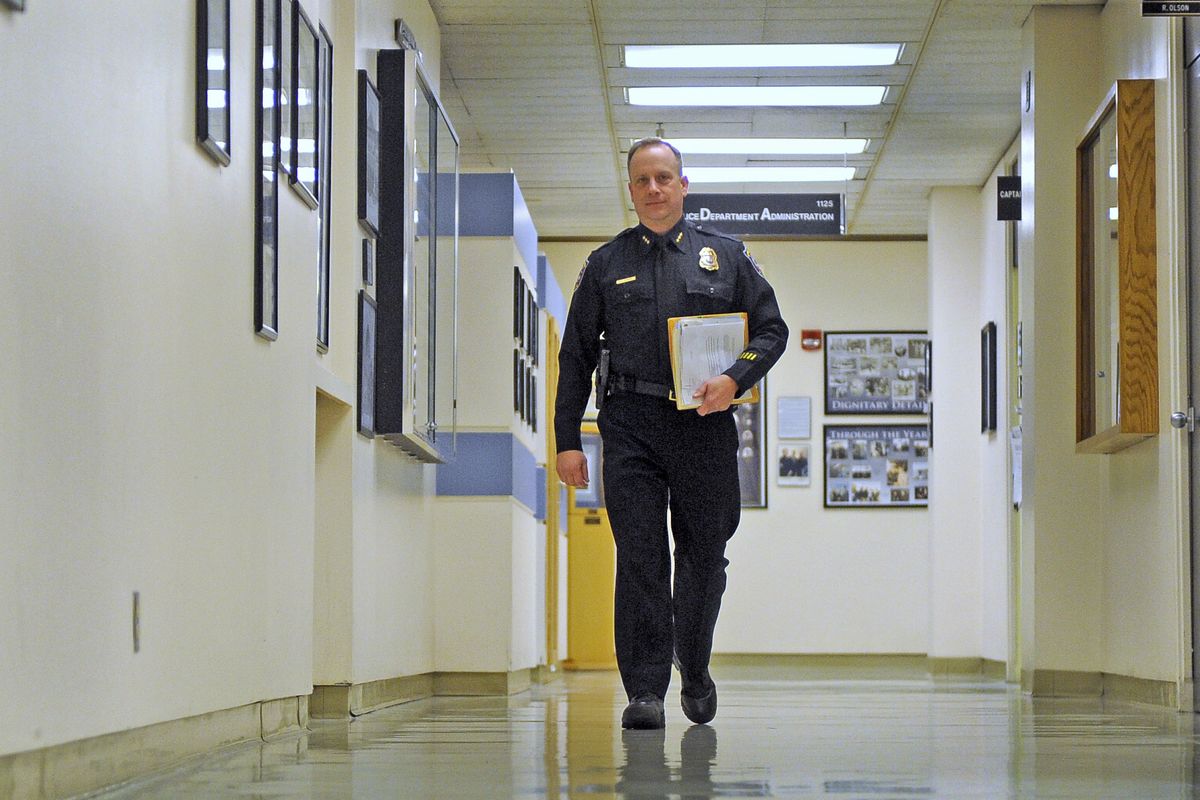 Scott Stephens: "I think that a lot of that morale difficulty was the uncertainty of who was going to be leading the department." (Christopher Anderson)
Scott Stephens was taught by his father to respect everyone and never to lay hands on someone in anger, Spokane's interim police chief said.
That's why it was hard for him, as a young patrol officer, to adapt to the requirements of his job.
"Not only was it OK for me to lay hands on people, but it was part of the job," Stephens said. Conversely, he couldn't understand the disrespect and sometimes violence directed at him just because of his uniform.
"That's just not the way I was raised," said the 50-year-old.
Nearly 26 years later, Stephens has adapted to the job well enough that on Jan. 3 Mayor David Condon appointed him interim police chief to replace Anne Kirkpatrick, who retired after five years. One of his biggest immediate challenges will be responding to scrutiny of the department's use-of-force policies.
Kirkpatrick left at a time of controversy and low morale – former Officer Karl Thompson had just been convicted of two federal felonies for the fatal encounter with Otto Zehm in 2006, and the Spokane Police Guild's relationship with Kirkpatrick was in shambles because of disagreements over her handling of personnel decisions and union negotiations.
Stephens said he's ready for the challenge.
Already, he's seen a boost in morale among rank-and-file officers, he said.
Officer Jennifer DeRuwe, spokeswoman for the department, said Stephens' experience with the department helps.
"We want this community to be a great place to live, and a safe place to live. … Scott's been here forever. He has a vested interest in that," DeRuwe said. "I think that's really important for the community to hear."
Civil War, movie buff
Born and raised in Spokane, Stephens said his long commitment to the area and to the police department is an asset he believes will help rebuild trust in the community and create meaningful change in a department plagued by low morale and public outcry over controversial cases.
"I think that a lot of that morale difficulty was the uncertainty of who was going to be leading the department," Stephens said. "So even just having an interim chief has provided some measure of assurance for the guys to say 'Somebody's at the helm. Somebody's driving the ship.' "
Stephens said he hasn't decided if he'll apply to be the permanent police chief, but he's already taking the necessary steps. The city requires the police chief to have a college degree. Stephens fulfilled requirements at Eastern Washington University in the early 1980s but was hired by the department before he applied for his degree. When he finally did, the requirements had changed and he was no longer eligible.
He enrolled this year to take online courses at the University of Oklahoma to finish his degree in criminal justice. He has about 30 credits left and expects to take one or two classes at a time, although he's not currently signed up for any.
Stephens is known in the department for his love of the Civil War and of all types of movies. He also has a photographic memory – the tiniest of details from long ago can stay fresh in his mind.
DeRuwe remembers attending a training class on the East Coast with Stephens. They were close to the site of a famous Civil War battle. Stephens gave her an impromptu tour of the battlefield that night.
"I got a dark tour of the whole battlefield, off the cuff," DeRuwe said. "He just knew everything."
Stephens has a home library filled with Civil War books; he said he looks to them for lessons in leadership. Stephens said he admires Confederate leaders, particularly Thomas "Stonewall" Jackson, not because of their political positions but because of their style of leadership, which was sometimes quirky.
"I think they were more charismatic leaders," he said.
He also finds inspiration from movies, although he doesn't claim any movie to be his favorite. The day he was named interim chief, he shared a quote from the Civil War movie "Glory," in which Matthew Broderick's character congratulates Morgan Freeman's character on his promotion. Freeman's character responds with, "I ain't sure I'm wanting this, Colonel."
Stephens said of his appointment, "I appreciate the opportunity and I'm very grateful to the mayor for his confidence in me. But on the other hand, there was just that momentary thing where I was like, 'Wow, I'm kind of stepping into a hot seat here and I'm not sure I want this.' "
Effective, efficient, unbiased
But Stephens has long aspired to be a leader in the police department.
He was working at the Rosauers at the Y in north Spokane when he decided to become a reserve officer. A co-worker at the grocery store, John Willard, who is now a police detective, was a reserve officer and encouraged Stephens to follow the same path.
Stephens was hooked.
"I think what drives a lot of people to enter police work in particular is a very strong desire to have a profession in which what I did made a difference," Stephens said.
Working for free as a reserve officer was great, and "I thought if I could get paid to do the same thing, I'd be in heaven," he said.
Stephens said he's never fired a gun in the line of duty.
A graduate of Gonzaga Prep, Stephens spent six years on graveyard patrol beginning in March 1986. He was a field training officer and Explorer Scout adviser and continued to teach at the police academy when he was promoted to sergeant. He eventually transferred to the drug unit as a detective-sergeant before he was promoted to lieutenant in August 2007. He spent two years as a major before Condon named him interim chief.
He said his outlook on policing is simple: Effective, efficient and unbiased law enforcement.
Citizens "should know that when that Spokane police car rolls up and they get control of that scene, they can count on two things. No. 1 is that they're going to be safe," Stephens said. "And No. 2, that they're going to get the best service we can provide with the resources that we have."
It's the job of the officers in the field to provide that service. Stephens reminds them of that regularly.
"I say, your job is to serve the public," Stephens said. "My job is to serve you."
Local journalism is essential.
Give directly to The Spokesman-Review's Northwest Passages community forums series -- which helps to offset the costs of several reporter and editor positions at the newspaper -- by using the easy options below. Gifts processed in this system are not tax deductible, but are predominately used to help meet the local financial requirements needed to receive national matching-grant funds.
Subscribe now to get breaking news alerts in your email inbox
Get breaking news delivered to your inbox as it happens.
---