Sports
Lagat sets American record in 5,000
Sun., Feb. 12, 2012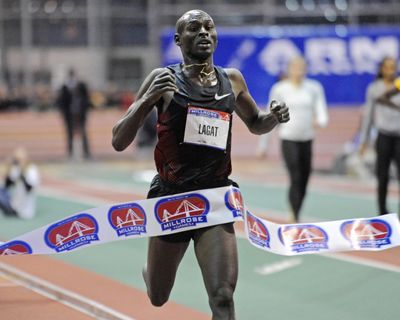 .
NEW YORK – The bright lights of the big city bring out the best in Bernard Lagat.
With the crowd at its feet, the former Washington State Cougars standout glided down the track toward the record he came here to break. The 37-year-old regained his American record in the indoor 5,000 meters Saturday, finding a new way to make history at the Millrose Games.
Afterward he slapped hands with fans leaning over the railings as he slowly made his victory lap. At a meet that features top high school and college runners along with the pros, Lagat relishes his role as track ambassador.
"They might want to emulate what we have done. I like that. I give them a show," he said. "I told them, 'You know what? You can keep doing this as long as possible if you keep yourself in good training and healthy and disciplined.' "
Lagat has won a record eight titles in the meet's signature event, the Wanamaker Mile. This time, he raced the 5,000 to try to break the mark Galen Rupp set last year. Lagat did so convincingly, winning in 13 minutes, 7.15 seconds to lower the standard by more than 4 seconds.
He and Rupp traded American indoor records Saturday, in fact, with Rupp breaking Lagat's 2-mile mark in Arkansas. Lagat was proud of the 25-year-old Rupp – not that he plans to let him keep the record.
World champion Jenny Simpson held off Shannon Rowbury in the Wanamaker Women's Metric Mile in a show of strength for American middle distance running. Simpson took the lead early and won in 4:07.27 to beat Rowbury by 0.39 seconds.
Local journalism is essential.
Give directly to The Spokesman-Review's Northwest Passages community forums series -- which helps to offset the costs of several reporter and editor positions at the newspaper -- by using the easy options below. Gifts processed in this system are not tax deductible, but are predominately used to help meet the local financial requirements needed to receive national matching-grant funds.
Subscribe to the sports newsletter
Get the day's top sports headlines and breaking news delivered to your inbox by subscribing here.
---