Staying involved
Kids, side job keep Ames connected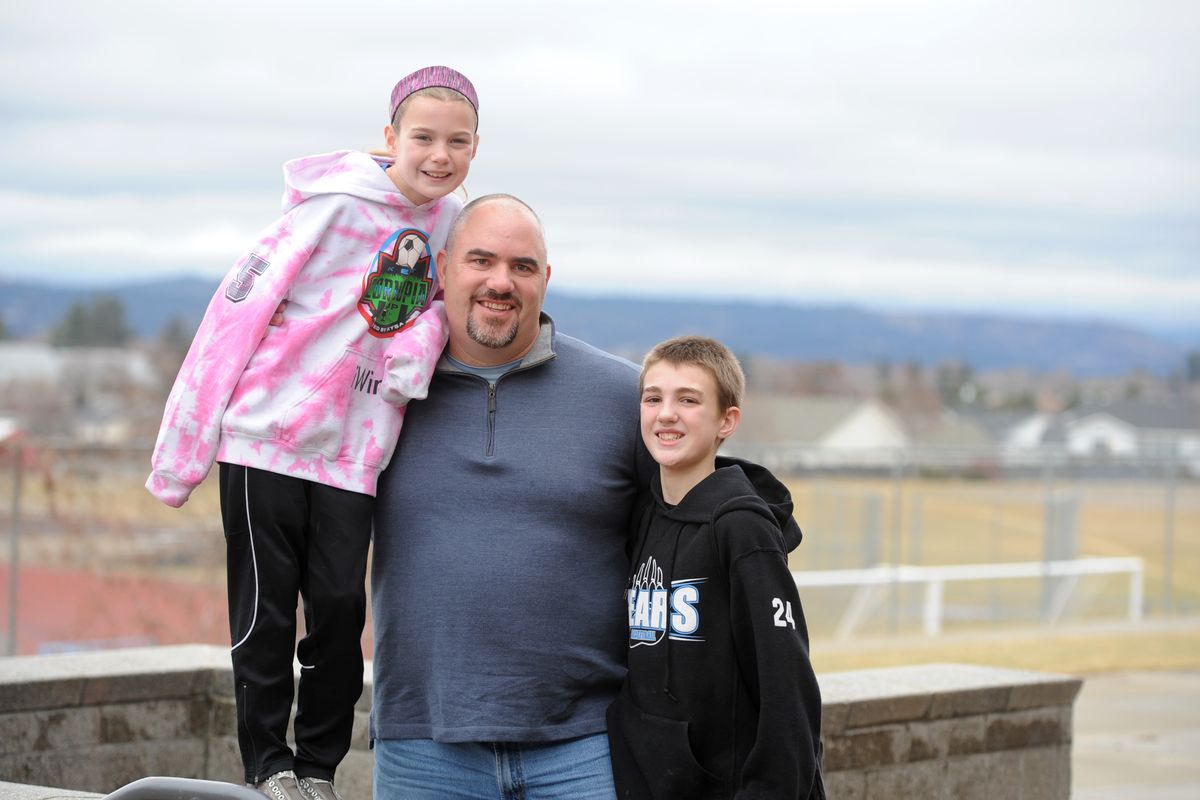 The piece of paper is weathered, dating back to the 1984-85 Greater Spokane League basketball season.
The crude chart by this sportswriter was discovered recently and provided a week-by-week update on three Spokane Valley athletes' assault on GSL career scoring and rebounding records.
One of them, University High's Bill Ames, would finish second in scoring all-time behind Terry Kelly with nearly 1,200 points. Ames also set the GSL career rebounding record.
"The reason I did," he quipped not too long ago, "is I kept putting back my misses."
But Ames's future, it turned out, lay in football.
"I didn't play football until ninth grade," he said. "My dad (longtime U-Hi teacher, coach and athletic director Bill) was adamant that I was not ready. It was about my ability to handle a contact sport."
Yet Ames played for the legendary Dave Holmes at U-Hi – at quarterback his senior year – and went on to play at 6-foot-5 and 260 pounds for four years under Don James at the University of Washington. The Huskies played in bowl games each year and Ames still stands seventh on the tight end list with 49 career catches, good for 422 yards and three touchdowns.
There followed a brief flirtation with the National Football League where he made the final cut with the Miami Dolphins.
"I was going to Frankfurt, Germany, to play in the World League, but didn't," Ames said. "I saw the business side. That year (running back) Eric Dickerson held out and I saw the things (quarterback) Jeff George was going through."
After giving it thought, Ames decided professional football wasn't for him and – forsaking the family teaching vocation – began his career in pharmaceutical sales.
Today, Ames, 44, is on the road three weeks a month as the national senior sales director on the west coast for Biogen Idec. The company, which he joined in 1998, is based in Boston and focuses primarily on the treatment of multiple sclerosis.
"I always enjoyed the coaching part (of sports)," Ames said. "Now it's a different kind, coaching sales professionals which I really enjoy."
He lives in Liberty Lake with his wife Kara (Lavin, whose brothers were all Gonzaga Prep athletes) and their five children. Kara, a thyroid cancer survivor and former high school long jumper, has kept involved in sports by running half-marathons.
They had met in a church youth group and reconnected when Washington played at Stanford while she was attending Santa Clara and attended the game.
"I heard my name being called," Ames said, noting Kara hailed him. Several months later they began dating and have been married 20 years.
Their four girls – Ashley, Kasey, Maggie and Dora – are soccer and dance oriented. Gonzaga Prep graduate Ashley plays at Concordia College in Portland, which reached the NAIA soccer championship. His son, the fourth generation Bill, is a sixth grader just getting his feet wet in sports.
Dad tells his kids, "if it's not fun don't do it. If you don't do stuff on your own it's probably not that important to you."
Sports is still a big part of Bill Ames's life. In his spare time, he has become high school football color commentator for television station SWX, with a little college work thrown in.
"Dave Pier (vice- president/marketing for Brett Sports) and I are friends; our kids go to school together," Ames said.
Three years ago, Pier told him that the KHQ affiliate was looking for someone to fill the commentator position. Ames did an interview in front of a television screen and was given the job.
"It's a great way to stay in the game," Ames said. "It's been fun, but it's so different having to speak with headphones on. As long as it's not a major distraction with my family, I'll do it as long as they want me to."
It brings back memories of his time in high school 27 years ago.
"I remember how great a class we had in 1985," Ames said. "In just basketball and football, nine guys signed Division I scholarships at Washington, Washington State, Oregon, Stanford and Notre Dame.
"Those were pretty good times."
---