Emerick is Leach's right-hand man
'Chief of staff' has long history with Cougars' new head coach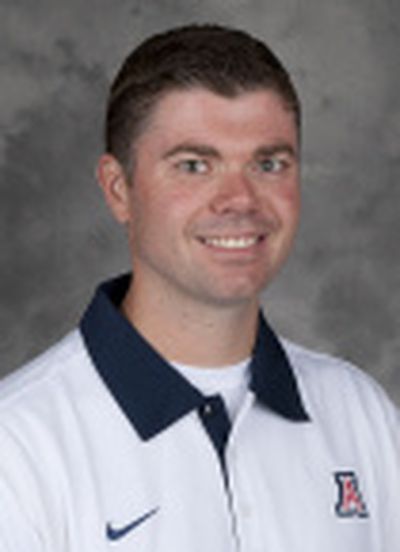 PULLMAN – Dave Emerick's explanation of his official title on Washington State's football staff is fairly simple. It also provides a humorous glimpse of his boss' personality.
Not many football rosters list a "chief of staff" among their coaches. But that's what Washington State head coach Mike Leach has dubbed Emerick, because … well, because …
"That's a title that Coach Leach created," Emerick said in his office last week, "just because he thought it was cool."
There is meaning behind it, though. Most important, it illustrates the bond between Leach and Emerick, who is the nephew of Hal Mumme, a former Leach mentor and employer who teamed with the WSU coach to develop the air-raid offense at Iowa Wesleyan and Valdosta State.
Leach and Emerick first connected at Kentucky in 1997, when Leach was the team's offensive coordinator and Emerick was a student intern in the recruiting and football operations office. The two developed a relationship before Leach left to become Oklahoma's offensive coordinator in 1999.
After graduating from Kentucky and working a one-year internship for the Houston Texans, Emerick went to work for Leach at Texas Tech – first as a unit coordinator, then as director of player personnel, then eventually as chief of staff.
About that title. Emerick's role on Leach's staff resembles an administrative assistant – "Associate Athletic Director" is part of his official title – more than a whistle-toting, instruction-shouting assistant coach. Think of him as Leach's right-hand man. Emerick will coordinate WSU's recruiting efforts and act as the liaison between the football program and other university offices, such as media relations, compliance and marketing.
If football is the front porch of a university, Emerick is manning the door.
"Basically," Emerick said, "I make sure that everyone's on the same page with us and the rest of the athletic department.
"Make sure our coaches are all on the same page with each other recruiting-wise and any other needs that come up, I just handle them the best I can."
He accepted Leach's job offer the same day Leach agreed to become the Cougars' coach, even though new Arizona coach Rich Rodriguez wanted to keep Emerick, who oversaw Arizona's on-campus recruiting efforts the past two seasons.
Emerick said he got along well with Rodriguez. But the decision to work with Leach again was an easy one.
"He called me the day he got hired and said, 'I need you,' " Emerick said. "I said, 'I'm in.' "
Emerick is encouraged by the reception the new staff has received from recruits, noting that WSU's overall commitment to the football program – specifically the money invested in staff and facility upgrades – has recruits excited to check out Pullman.
He said Leach's primary emphasis will always be on recruiting offensive and defensive linemen, but that playing a skill position in Leach's offense is a "special thing" and "a quarterback's dream, a receiver's dream."
"They see the direction this place is headed, and they want to be a part of it," Emerick said.
The same can be said for WSU's assistant coaching staff. Since Emerick was on board from day one, he was front and center as Leach assembled a group of assistants comprised mainly of former associates, many of them still in the early stages of their careers.
"The things that you look for in putting a staff together is first, X's and O's – you want things schematically how you're looking for," Emerick said. "You want a staff that gets along with each other – staff camaraderie is a very important thing. You want guys that are motivating guys, which a lot of those younger guys are – bring certain energy, a certain passion. And you want guys that are great recruiters.
"And we think we have a great mix of all those guys, and we think every guy that we've hired has the ability to do all three."
---