Sports
Gonzaga's Redmon proves her dedication
Wed., Jan. 25, 2012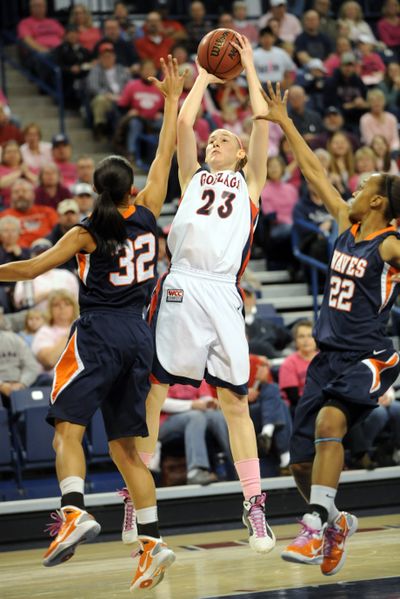 Kelly Graves saw it in Katelan Redmon last Wednesday at practice.
"She came into my office on Tuesday and said, 'I just want you to know that I'm going to really focus to play as hard as I can for the rest of the season,' " the Gonzaga women's basketball coach said. "It was almost like a Tim Tebow kind of speech – she was telling me nobody was going to work harder than her.
"The next day (Wednesday) she had a phenomenal practice and I told my coaches, 'She's going to have a big week,' " Graves added. "You could just see that something was brewing."
Graves was right.
Redmon, a senior, scored a career-high 32 points in the No. 22 Bulldogs' 81-68 win over Santa Clara on Thursday to become the 12th player in team history to eclipse 30 points in a game. Fellow senior Kayla Standish was the 11th player to reach the mark when she scored 30 against UCLA in last season's NCAA tournament.
Two days later, Redmon poured in a team-high 12 points, along with seven rebounds, two steals and a block, in Gonzaga's 54-44 win at San Diego. The week earned the Lewis and Clark High School graduate West Coast Conference Player of the Week honors.
"I think where I've tried to really improve is on being more aggressive and vocal – I never had to do that before or be that player on the team," Redmon said. "I just want to finish so strong and make the most of what I have left here."
Graves hopes to see more of the same from Redmon this week.
The Bulldogs (17-3, 6-1 WCC) host Loyola Marymount (5-14, 1-6) on Thursday, then on Saturday travel to Saint Mary's (15-6, 6-2) – which handed Gonzaga its first WCC loss in 34 games on Jan. 14.
The Gaels' surprising loss to San Francisco (4-17, 2-6) on Monday night left the Bulldogs in sole possession of second place in the WCC as their Feb. 9 showdown with conference-leading (No. 23) BYU (18-3, 7-1) quickly approaches.
"With us it's usually about energy and making baskets," Graves said. "We defend pretty well, we rebound pretty well and we take care of the ball pretty well. Our three losses are the three games we've shot the worst this year.
"Saint Mary's losing to USF just goes to show that any team in this league can beat anyone on any night. If our kids aren't fired up and hungry to play then we have no pulse. We can't overlook LMU or anybody else – we have to be ready every single night. It's not just a cliché, it's the truth."
Eagles hit the road
The Eastern Washington University Eagles will also look to avenge a conference loss this week when they take their undefeated Big Sky road record to the Montana schools.
On Thursday, EWU travels to Montana – which defeated EWU 53-46 in Cheney on Jan. 2 – before playing at Montana State on Saturday.
The Eagles are coming off an important win against defending Big Sky regular-season champion and preseason favorite Portland State.
Junior center Carrie Ojeda's 18 points and game-high 10 rebounds paced the Eagles in the upset.
"Carrie's performance against Portland State was certainly one of the keys to our victory," EWU coach Wendy Schuller said in a release. "She is a testament to what hard work and perseverance can do. … Carrie has taken major strides throughout the course of the year, and we look forward to watching her continue to get better and better."
Tip-ins
Gonzaga moved up five spots to No. 20 in the USA Today/ESPN Coaches' poll. … Washington State senior guard Jazmine Perkins joined Jeanne Eggart Helfer as the only Cougars player, male or female, with 1,000 points, 600 rebounds and 200 career steals. Helfer, who won three state titles coaching at Mead and later coached at Mt. Spokane, is WSU's career leader in points (1,967) and steals (377). … Carroll College senior Alysha Green (Mead), who led the team in scoring, suffered a season-ending knee injury in Carroll's 56-52 loss at Rocky Mountain College on Jan. 6. Green will have surgery to repair a torn ligament and meniscus. She averaged 14.5 points and four assists per game and was an NAIA honorable mention All-American last season.
Local journalism is essential.
Give directly to The Spokesman-Review's Northwest Passages community forums series -- which helps to offset the costs of several reporter and editor positions at the newspaper -- by using the easy options below. Gifts processed in this system are not tax deductible, but are predominately used to help meet the local financial requirements needed to receive national matching-grant funds.
Subscribe to the sports newsletter
Get the day's top sports headlines and breaking news delivered to your inbox by subscribing here.
---