Former principal battles lymphoma at 90, feels 'not afraid'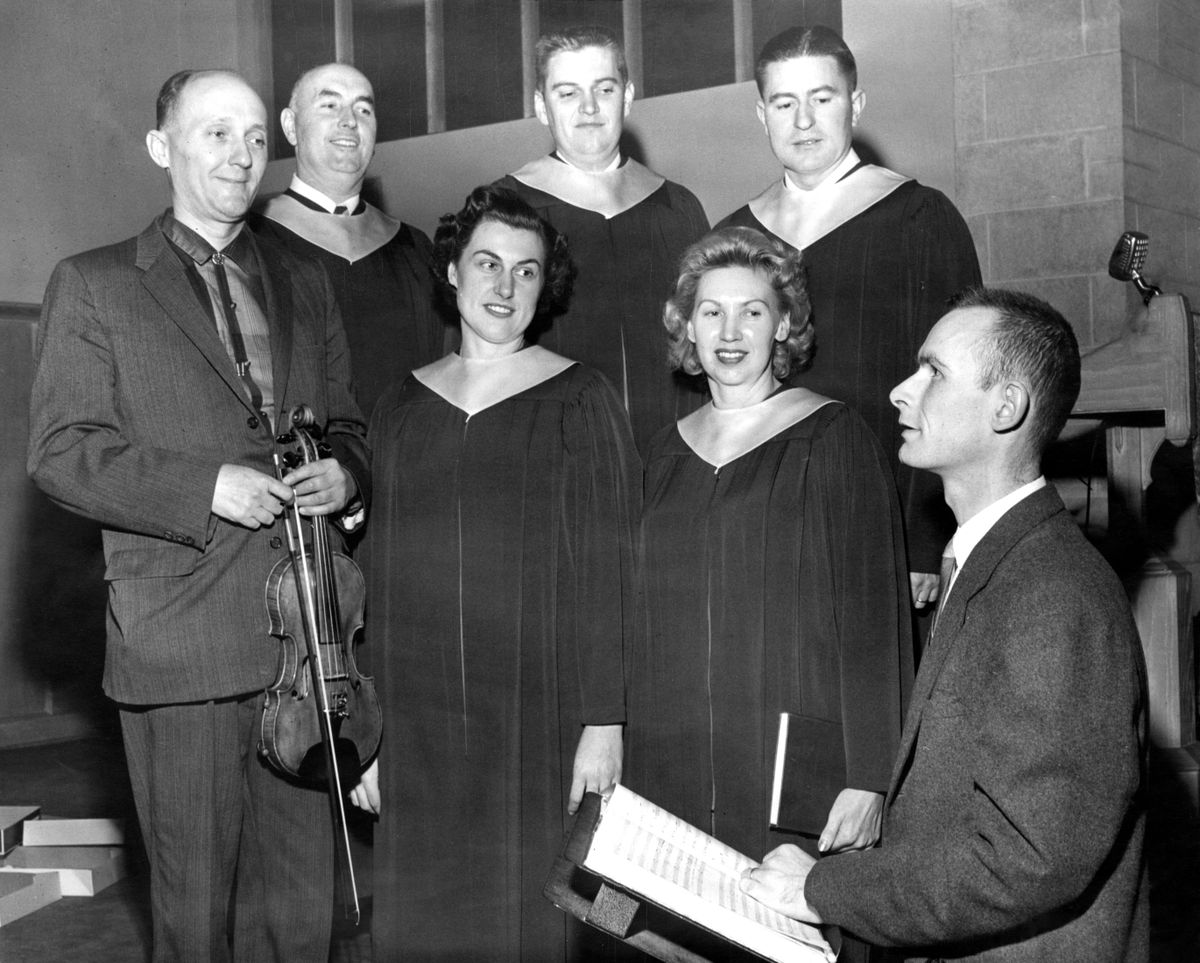 John Rodkey was born in 1921 and lived his first years in the infamous Dust Bowl that blew away farmers' futures at the same time the Great Depression hit.
His family lived on a small farm in northeastern Colorado. His parents, Verne and Helen Rodkey, struggled through lean years until 1934, when they took their six children and moved to Post Falls in search of a better life.
Today, Rodkey, who'll be 91 in April, can look back on a full life, including 20 years spent as principal of North Central High School. Having survived a bout of esophageal cancer, he was diagnosed with lymphoma last year.
"It's not working out quite as we had hoped," said Rodkey, of his lymphoma. "I just saw my oncologist and we decided to let it go. I'm on a short fuse, so to speak."
He's got maybe a couple of months left to live.
"I'm not sad and I'm not afraid of death," Rodkey said. "I've done everything a person can possibly do. I've had the best career. I am at rest and at peace with that."
He remembers much from his early years, especially that Post Falls seemed like paradise compared to the barren country the family left behind in Colorado.
"We had never seen a strawberry or fruit trees. There wasn't anything growing where we came from," Rodkey said. "We got blown out of Colorado. There was so much dust in the air that when it rained it settled on the animals and sometimes they smothered."
The four Rodkey boys – George, Grant, Lee and John were born within five years of each other – followed by a daughter Mary Jane who lived only 11 days. Two healthy daughters, Elizabeth and Kathryn, followed soon after and were just toddlers when the family set out for Post Falls.
"There was water, there was food in Idaho, it was very different," Rodkey said. "I guess we came looking for opportunity."
Rodkey's mom taught school and piano lessons, and from the time the boys were very small they sang together.
"Believe it or not, she always had a piano," Rodkey said. "We couldn't get away from practicing no matter how hard we tried."
Rodkey's brothers, Grant and Lee, both went on to study and teach at Harvard Medical School. George also went to medical school and the last step in his long career was practicing medicine in Spokane Valley from 1973 to 1990.
Yet medicine wasn't for Rodkey – he wanted to teach.
"They did medical research, I did my research with kids," he said smiling.
He enrolled at Whitworth University before World War II, but when the war broke out he joined the Army Air Force.
From 1942 to 1945 he was part of the 62nd Troop Carrier Group, which flew missions in C-47s over North Africa, Palestine and Southern Europe, dropping paratroopers and delivering cargo.
"There aren't that many of us left anymore," said Rodkey, about his Air Force buddies. "I think our last reunion was in 2006 and there are perhaps 130 of us left. I doubt we'll have another reunion."
Not that life is short on reunions. Just last year Rodkey said he went to three class reunions at North Central High School: a 55-year reunion, a 50-year reunion and a 30-year reunion.
After the war, he returned to Whitworth, graduating in 1947. He taught for 11 years at North Central and Shadle, and became principal at North Central in 1959, a post he kept until he retired in 1979.
"I was a very hands-on principal with the students," Rodkey said. "But by the time I retired the fun had gone out of it."
In the 1950s and '60s students got in even more trouble at home if they'd gotten in trouble in school Rodkey said.
"We had much more parental involvement back then," he said.
If someone called North Central and complained that "his" students were smoking behind some garage, he'd get in his car and go get them and take them back to school – a simple act that's unthinkable today.
That changed in the 1970s when students gained more rights to express political views and wear what they'd like to school. That's also when Rodkey saw his jurisdiction shrink and finally end at the curb outside school.
"I violated the law a few times after that," said Rodkey, smiling sheepishly. "I felt that what I needed to do for the community and the students overruled anything the courts said."
During the 1970s the North Central neighborhood was also rapidly changing.
Rodkey said many of his students came from single-parent and low-income homes.
"I'd say I worked mostly with the upper 5 percent and the lower 5 percent of the students," said Rodkey, "and the lower 5 percent were angrier than hell. Parts of the neighborhood became a ghetto zone."
Slowly Rodkey felt his ability to work directly and honestly with his students eroded.
"You became more of a policeman and less of an educator," said Rodkey. "That's what I mean when I say the fun went out of it."
Rodkey has been married to his wife Marie for 66 years. She's 89 years old and has Alzheimer's. She's now living at an assisted living facility.
"It was very hard to separate, as you can imagine," Rodkey said, pausing. "She looks at me and wants to know who I'm married to. And I say, I'm married to you, we're still working on it." The Rodkeys had three children: Paul Rodkey, who's a pastor with Bethany Presbyterian Church on the South Hill; Johanna Rodkey, who died 16 years ago, and Sharon Rodkey, who's a music teacher and directs Spokane's Kinder Choir.
Paul Rodkey said that music, a strong faith and education run deep in the family.
"My grandmother, my great-grandmother, and my great-great- grandmother all went to college," Paul Rodkey said. "That is very unusual, especially for women at that time."
A piano still sits prominently in Rodkey's living room. From his North Side home he has a view of the neighborhood that has been the center of his life's work. He is very much a man at peace.
He doesn't have any regrets and last week he was looking forward to visits from grandchildren and great-grandchildren, nieces and nephews.
Over the years, whenever there was trouble in the family, Rodkey said many relatives had stayed with him and Marie when they needed a place.
"And now they are all coming back to tell me thank you," said Rodkey, tears forming in his eyes. "That means so much to me. That means so much."
---