Sports
Pac-12 notes: Barkley, USC face high expectations
Tue., July 24, 2012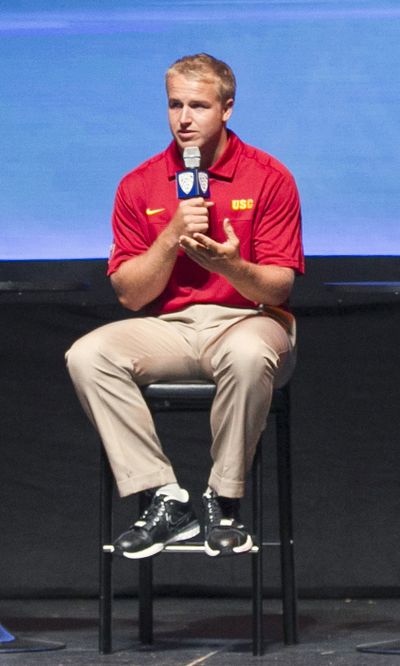 UNIVERSAL CITY, Calif. – The hometown reporters and photographers would have wanted a piece of whoever USC sent to Tuesday's Pac-12 media day, regardless of their Heisman hopes or star power. So the fact that senior quarterback Matt Barkley possesses plenty of both only amplified the horde of media following him around for most of the day. Barkley sat at a table situated on the lawn outside the Gibson Amphitheater at Universal Studios, at least 10 cameras snapping away, giving interviews to any reporter who could finagle his recorder close enough to listen. This will be the norm this season for the Trojans, who were picked to win the conference championship game by 102 of the 123 voters in the preseason media poll. Oregon, with 117 votes, was picked to win the North division. But the overwhelming majority think it will be the Trojans, returning to postseason eligibility for the first time since 2009, who will reclaim the conference crown. Barkley threw for 3,528 yards to go along with 39 touchdowns last season, leading USC to a 10-2 record. He might have been a top-five NFL draft pick had he opted to leave. But the opportunity to lead the Trojans back to the postseason was too good to pass up. Third-year coach Lane Kiffin said it wasn't so much about him convincing Barkley to stay as it was about Barkley realizing the statement he could make by coming back. "I think Matt would be the first to tell you, I didn't recruit Matt to stay," Kiffin said. "Sometimes we recruit kids to stay because they're projected as a second- or third-round picks, and they could stay and work on things and get better. Matt was completely ready for the NFL." He admits that when the NCAA sanctioned USC following his freshman season as punishment for impermissible benefits given to former Trojans star Reggie Bush, "it seemed all bad at first." Now, after two years of probation, USC appears poised to contend for the national championship for the first time under Kiffin. "I do think that the sanctions have brought our team closer together and strengthened us in a way I didn't anticipate," Barkley said. "It made us stronger in terms of character."
Star power
Barkley isn't the only Pac-12 player who could be in an NFL training camp this week. Star Lotulelei, Utah's hulking defensive tackle, is projected by some draftniks as a possible top-10 pick in 2013. So it's a little hard to believe the 6-foot-4, 325-pound senior when he says he didn't think he was ready for the league this year. "My decision for coming back – I talked it over with my family – we decided it was the best thing for me, because I didn't feel like I was ready to take the next step yet," Lotulelei said. "There are still a lot of things I need to work on as a football player. As far as knowing (which round) I would go, I didn't ask. I had my decision made, and that's what I went with." He'll anchor a Utah defense that could be one of the most physical in the conference. The Utes were picked by the media to finish second in the Pac-12 South.
He's got a point
Much has been made of Washington's brutal schedule during the first half of the season, the worst stretch being back-to-back games against USC and Oregon on Oct. 6 and Oct. 13. UW coach Steve Sarkisian was asked who he may have, ahem, "upset" in the league office for the schedule to fall that way. "I don't know," he said with a laugh. "Maybe ran a score up too much back in the day (while coaching at USC) or something." The biggest question mark facing the Huskies this season is whether they can improve upon a defense that was last seen allowing 67 points to Baylor in the Alamo Bowl. With their defensive coaching staff replaced – led by new coordinator Justin Wilcox – Sarkisian thinks considerable improvement is attainable. "I think it can be dramatically improved, and I go back to one instance in our own conference when Dwayne Walker came to UCLA," Sarkisian said. "And I feel something very similar with us. We have more talent on our defense than we have been given credit for."
Network plans
Gary Stevenson, president of Pac-12 Enterprises, announced some of the Pac-12 Networks' plans for mid-week programming this season. Stevenson said programming will include 30-minute preview shows for each Pac-12 team, a show called "Pac-12 Football Encore" that will replay the top 10 moments of the 2011 season, replays of all 79 Pac-12 home games in a 60-minute format, a conference-wide coaches' show called "Pac-12 Playbook," a Sunday-night rewind of the weekend's action, as well as coverage of the NFL draft and National Letter of Intent signing day.

Local journalism is essential.

Give directly to The Spokesman-Review's Northwest Passages community forums series -- which helps to offset the costs of several reporter and editor positions at the newspaper -- by using the easy options below. Gifts processed in this system are not tax deductible, but are predominately used to help meet the local financial requirements needed to receive national matching-grant funds.
Subscribe to the sports newsletter
Get the day's top sports headlines and breaking news delivered to your inbox by subscribing here.
---