Lost pup was a wolf, tests show
Tue., June 12, 2012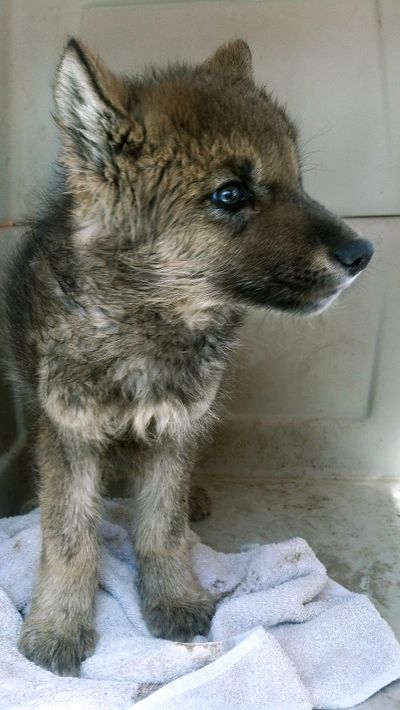 A DNA test shows that a pup picked up outside of Ketchum, Idaho, on May 25 is a wild wolf. Out-of-town campers picked up what they thought was a lost domestic puppy and took it to a vet clinic in Ketchum, where the staff thought the male puppy looked like a wolf. Idaho Department of Fish and Game officials looked for a wolf pack near where the pup was found, hoping to return the lost pup. But they could find no fresh sign of a pack in the area. Zoo Boise agreed to take the pup temporarily and to help Fish and Game find it a permanent home. Zoo officials are compiling a list of facilities accredited by the Association of Zoos and Aquariums that would be suitable for the pup. The pup is gaining weight and its health is improving. Fish and Game officials are reminding people that it is best to leave young animals in the wild alone. In the case of the pup, it is possible that the pack was moving with the pups – perhaps from a den to a rendezvous site – and may have been disturbed by traffic on the road, officials said.
Local journalism is essential.
Give directly to The Spokesman-Review's Northwest Passages community forums series -- which helps to offset the costs of several reporter and editor positions at the newspaper -- by using the easy options below. Gifts processed in this system are not tax deductible, but are predominately used to help meet the local financial requirements needed to receive national matching-grant funds.
Subscribe now to get breaking news alerts in your email inbox
Get breaking news delivered to your inbox as it happens.
---