News > Spokane
Homes' future up in the air
Airway Heights likes growth, but won't risk losing Fairchild
Tue., March 13, 2012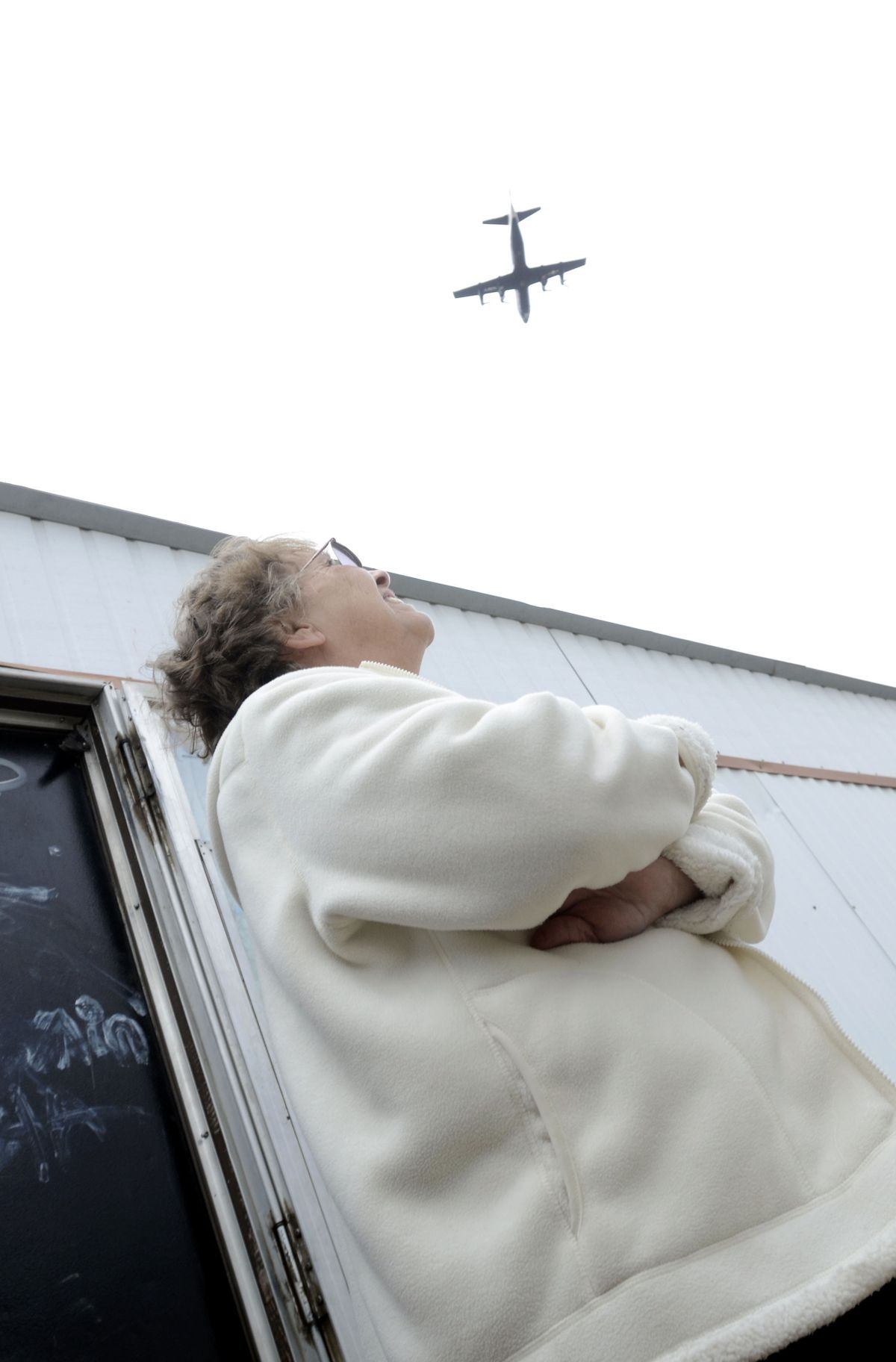 A military aircraft approaches Fairchild Air Force Base over the home of Sharron Patton last week. She lives in a manufactured home in a base APZ, or "accident potential zone," and may be subject to moving if the city and several partners can formulate a plan to reduce the density in the area south of the base. (Jesse Tinsley)
From the deck of her manufactured home in Airway Heights, Sharron Patton looks up to see big military jets gliding down to Fairchild Air Force Base about two miles away.
This is the crash zone, but the noise and risk don't bother her. "I find it comforting," she said of the military might the planes represent.
Patton and hundreds of her neighbors are living in what the Air Force calls "accident potential zone 2," a place the Air Force would prefer had a lower concentration of people for safety reasons.
Nearly 300 living units – mostly older manufactured homes – are in APZ 2. The housing density is double that of Air Force guidelines.
Airway Heights city officials have launched an effort to create new housing opportunities on the north side of the city away from the runway approach. The challenge will be to persuade residents to move, they say.
"The protection of the base is paramount," said Albert Tripp, city manager in Airway Heights.
Encroachment of civilian uses near Fairchild has become a higher profile issue in recent months as community leaders seek to preserve the viability of Fairchild's military mission.
The Department of Defense is preparing to select an air base as the first home of a new generation of KC-46A refueling tankers being built by Boeing in Everett. The first plane will roll off the assembly line in 2017. In vying for those first tankers, local officials believe that limiting encroachment around the base is one way to convince the military that Fairchild has the right stuff.
As a larger issue, encroachment is viewed as a threat to the long-term survivability of Fairchild should budget cuts result in new base closures.
But moving people from their homes, many of which are owned by the residents, is not easy. Earlier this year a working group of agencies, including Fairchild officials and housing organizations, convened to talk about how to provide new housing.
Previous efforts to force residents to move by citing them for zoning violations and substandard conditions have been met with controversy, officials said.
Subsidized housing could be built with grants through nonprofit agencies, creating an attractive alternative to trailer living.
"These are Airway Heights residents," said Derrick Braaten, city planner for Airway Heights. "We would like to keep them."
Air Force standards call for no more than two housing units per acre in the APZ 2 zone. The developments there now have about twice that number, Braaten said.
Patton said she spent $10,000 for her 1989 home about four years ago, and while it needs a lot of work, she said she likes the amount of living space and yard it provides.
She said her neighbors feel the same way.
Complicating matters is the inconsistent pattern of land ownership. The trailer parks generally are in single ownership, but the trailers are owned by the residents.
"I'm going to wait and see," Patton said about possibly moving.
Big growth in Airway Heights
Airway Heights has grown from about 1,200 residents in 1990 to today's population of about 7,500. The city's property tax value is $309 million.
Part of the growth stems from an increase in the number of Air Force personnel living in Airway Heights and frequenting local businesses.
Commercial and residential growth has largely been steered to the north side of U.S. 2, away from the runway approach.
Airway Heights in the mid-1990s adopted Air Force standards for protecting air bases from night lighting, glare, dust, smoke and building heights, and for requiring new buildings to have sound dampening.
"We are the city of the base," said Mayor Patrick Rushing, who supports the encroachment prevention.
However, Airway Heights officials are supporting a proposal by the Spokane Tribe to build a hotel, casino and retail shops west of Craig Road to the northeast of Fairchild. A draft environmental impact statement shows that the tribe's plans would not encroach on the base, city leaders said, and that measures are included in the tribal plans to meet land-use regulations intended to avoid encroachment.
Col. Paul Guemmer, 92nd Air Refueling Wing commander, said encroachment can negatively affect the military mission.
"The Air Force defines encroachment as 'any human activities or decisions that impair or may potentially impair the current or future operational capability of an installation complex,' " Guemmer said in a prepared statement last week.
Outside of Airway Heights, Spokane County is in the middle of establishing new land-use guidelines stemming from a joint land-use study with Fairchild of surrounding civilian property. A public hearing is set for Thursday at 9 a.m. in the county's Public Works Building to consider a Fairchild Air Force Base Overlay Zone, which would regulate uses around the base.
The hearing will be a joint session of the county Planning Commission and Board of County Commissioners.
Airway Heights is updating its regulations separately.
Local officials hope to have all these new regulations in place in time for military deliberations this spring over which base should get the new tankers.
Local journalism is essential.
Give directly to The Spokesman-Review's Northwest Passages community forums series -- which helps to offset the costs of several reporter and editor positions at the newspaper -- by using the easy options below. Gifts processed in this system are not tax deductible, but are predominately used to help meet the local financial requirements needed to receive national matching-grant funds.
Subscribe now to get breaking news alerts in your email inbox
Get breaking news delivered to your inbox as it happens.
---