Cougs advance to CBI semis
Oregon State up next after Wyoming beaten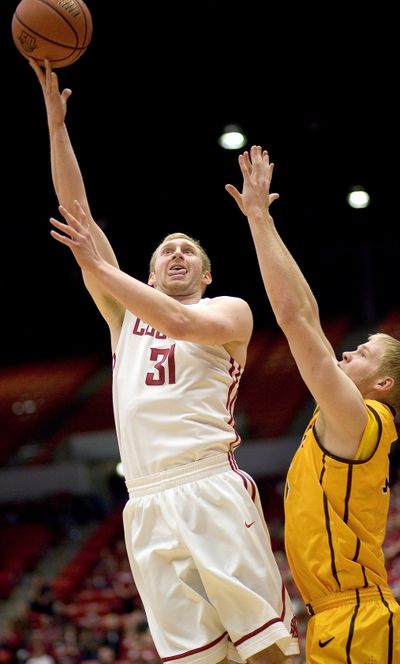 PULLMAN – Wyoming spent the entirety of Monday's quarterfinal game of the College Basketball Invitational trying to solve Washington State's man-to-man defense. It never did.
Everyone else in attendance likely spent their night trying to figure out how Wyoming won 21 games this season. Jury's still out on that one.
When it was over, the Cougars had taken an ugly but convincing 61-41 victory at Beasley Coliseum before a crowd of 3,019, proving, at the very least, that the Pac-12's eighth-best is still considerably better than the sixth-best team from the Mountain West Conference.
"I think Wyoming's better than they showed tonight," said WSU coach Ken Bone, gracious in victory.
WSU's reward for the win is another trip to Corvallis, where the Cougars will face Oregon State for the fourth time this season at 7 p.m. Wednesday in a semifinal matchup. The winner will play a best-of-3 series against the winner of a semifinal game between Butler and Pittsburgh. OSU beat Texas Christian 101-81 on Monday.
The Cougars (17-16) didn't exactly impose their will on the Cowboys – they led just 26-21 at halftime – but their aggressive defense held UW to 35.6 percent shooting, and Wyoming made just 2 of 16 from 3-point range. The Cougars outrebounded them 36-23.
In fact, the Cowboys (21-12) missed pretty much everything in the first 10 minutes of the second half, scoring just four points in that span as WSU built a 40-25 lead.
The win assures WSU of a non-losing season.
"We guarded very well," Bone said. "I thought our kids understood what their strengths were and played to that pretty well."
WSU shot just 41.9 percent from the field, but 25 points from junior forward Brock Motum – along with a career-high 16 points from senior Abe Lodwick on 4-of-7 shooting from 3-point range – allowed the Cougars to slowly pull away.
Junior forward Leonard Washington, a USC transfer, led the Cowboys with 14 points.
Senior guard Marcus Capers said Bone spoke to the team before the game about wanting to reclaim some respect for the Pac-12 against a team from a conference touted by many as superior this season.
"Everyone walking into the game just had a little chip on their shoulder," Capers said.
Including the Cowboys, apparently. With WSU leading 47-37 late in the game, UW's Larry Nance Jr. was called for a foul going after an offensive rebound. He and Motum exchanged words. Nance was called for a technical. He and Motum continued to exchange words. Nance was called for another technical and ejected.
When all was said and done, Reggie Moore made three out of four technical shots, Motum made a pair of free throws and the Cougars had put the game away.
Motum said the altercation was simply about "two guys playing hard," an insistence he repeated four times.
They'll have to continue playing hard on Wednesday against an Oregon State team that bounced the Cougars from the Pac-12 tournament with a 69-64 win on March 7. WSU took two wins from the Beavers earlier this season.
"It'll be a good test to see how we bounce back from losing to them down in L.A.," Motum said. "It'll be a tough game. Down in Corvallis, they're always good."
Bone said he'd rather play an out-of-conference team, but that "we'll do it and Oregon State will do it … but it'd be nice to play somebody out of your conference. I'm sure all four of us schools feel the same way. It is what it is, and we'll go and compete."
---