News > Features
Queen Latifah brings motivational message to INB tonight
Thu., March 22, 2012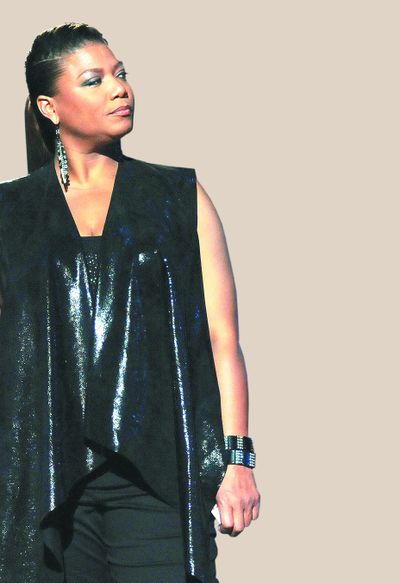 Editor's note:
Queen Latifah has canceled her Spokane appearance, scheduled for today, due to a family emergency, organizers said late Wednesday. Ticketholders will be entitled to refunds through TicketsWest. For more information,
click here
.
Spokane will get an opportunity to share an evening with the queen at the INB Performing Arts Center tonight – not her royal highness of the British monarchy, but rather her majesty Queen Latifah, the eminence of rap and Hollywood.
The Grammy-winning artist, Oscar-nominated actress, entrepreneur, philanthropist and CoverGirl cosmetics spokeswoman will share motivational anecdotes from her book, "Put on Your Crown: Life-Changing Moments on the Path to Queendom" during the YWCA's fundraising event, "A Conversation With the Queen: A Night of Triumph with Queen Latifah."
Latifah, who wrote the book to inspire women to overcome personal setbacks and strengthen their self-esteem, candidly shares the wisdom she gained as she overcame her own troubles – including the tragic death of her older brother, Lancelot Owens Jr. and near-bankruptcy.
"Her story speaks to the importance of empowering women, and in many ways it's a story that many of us can relate to," says Judy Cole, YWCA board member who spearheaded the effort to bring Latifah to Spokane. Shortly after a brainstorming session on fundraising with other Y board members, Cole saw a television program featuring Latifah and her book. After reading the book, Cole realized Latifah's message fit with the mission of the YWCA and has been working on fine-tuning the event since November, when the contract for Latifah's appearance was signed. Although Latifah has worked with the YWCA national organization since 2006, this will be her first appearance in the Pacific Northwest. Cole credits much of the ability to bring Latifah here to Avista regional business manager Latisha Hill, who helped contact Latifah's management team. Cole exclaims, "It was (Hill's) tenacity that got Queen Latifah to say yes."
Cole also acknowledges the numerous community members and organizations that have donated time and money into making this event happen. Proceeds from the event will benefit the YWCA's Alternatives to Domestic Violence program, the Women's Opportunity Center and ECEAP (Early Childhood Education and Assistance Program).
Before Latifah's presentation tonight, the Y will play host to "Let Your Crown Shine," an event at Northern Quest Casino where 100 YWCA clients will be treated to makeovers with new outfits provided by Our Sister's Closet and services donated by area hair stylists and makeup artists. The women will be shuttled to the performing arts center where they will hear Latifah's message from the best seats in the house.
Local journalism is essential.
Give directly to The Spokesman-Review's Northwest Passages community forums series -- which helps to offset the costs of several reporter and editor positions at the newspaper -- by using the easy options below. Gifts processed in this system are not tax deductible, but are predominately used to help meet the local financial requirements needed to receive national matching-grant funds.
Subscribe to the Coronavirus newsletter
Get the day's latest Coronavirus news delivered to your inbox by subscribing to our newsletter.
---