News > Washington Voices
Flying Tiger recounts memorable missions, care packages
Thu., May 10, 2012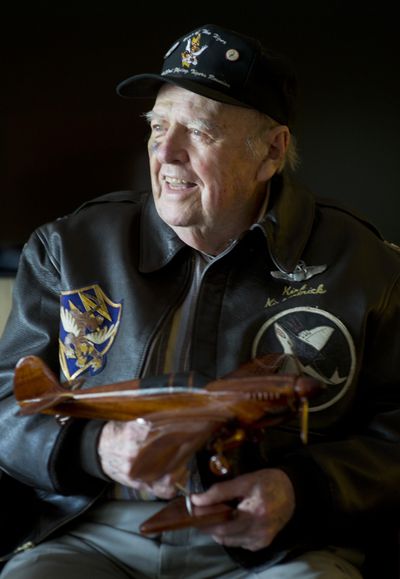 World War II veteran Kirk Kirkpatrick enthralled dozens of guests at the Touchmark retirement community's Men's Club meeting on May 1. The 89-year-old Flying Tiger presented an oral history of the famed fighting force, stationed in China during the war.
Wearing his bomber jacket, Kirkpatrick traced the evolution of the Flying Tigers from volunteer organization to its assimilation into the Army Air Corps 23rd Fighter Group.
While his presentation to the Men's Club involved the broader history of the Flying Tigers, his personal history proved equally compelling.
"I graduated from high school at 17, in 1939, at the height of the Depression," he said. "I decided that I wanted to fly, but my mother wouldn't sign the papers for me to get into the Aviation Cadet Program."
So, he worked and attended college in Martin, Tenn. But his wish to become a pilot was granted with the advent of World War II. Kirkpatrick graduated from pilot training in December 1943 and was assigned to the 23rd Fighter Group. He arrived in China in 1944.
"I lived in a tent for a year," he recalled.
Their mission was to bomb bridges, railroads, barges. "We washed a lot of bridges," Kirkpatrick said with a chuckle. His records have been lost, but he estimates he flew at least 60 missions.
The military rations were awful, so he and his fellow pilots looked forward to packages from home. "We could request food to be sent to us and my mother would take my letter to the grocery store and they would give her food without counting it against her rations," he said.
One care package in particular stands out in his memory. His grandmother had sent him some homemade pork sausage. His tentmates loved it and eagerly awaited more. When Kirkpatrick received another package from home, the men all gathered round. "My grandma had sent some pork tenderloin, but the jar had broken. We just about cried."
But that wasn't the most galling deprivation. Kirkpatrick said, "The last three months I was in China, I never flew an airplane. We had no fuel."
Finally, in 1945, he was on a ship and sailing for home – a fact that didn't sit well with the fly boy. "I've got more time at sea than many sailors," Kirkpatrick said. "Thirty-five days at sea on the way to China and 47 days in the No. 5 hold of a Liberty ship on the way home."
With 45 days of leave owed him, he hustled off to Memphis, Tenn., where his girlfriend, Maureen, worked at the famed Peabody Hotel. On his last night of leave, Kirkpatrick stood on the roof of the hotel with his girl and gazed at the city lights. "I said, 'Maureen, what do you think about getting married?' And she said, 'I think that sounds like a good idea.' "
The couple wed May 1, 1946.
Kirkpatrick and the military parted ways in 1947 – but not for long. With the outbreak of the Korean War, he was summoned back to duty in 1950.
He served as a military check pilot before being sent to Korea. Afterward he decided to stay in the Air Force.
Kirkpatrick and his wife traveled the world, as the remainder of his service was spent with the diplomatic corps. They served in Argentina, Uruguay and Venezuela before he retired in 1976.
All told, he said he spent "34 years, six months and five days in the U.S. Air Force."
He and Maureen settled in Bellevue and Kirkpatrick took a job in international sales with Boeing. "I traveled all the time," he said. Only now he flew as passenger instead of pilot.
After retiring from Boeing, they stayed in Bellevue until moving to Spokane in 2000. Maureen died in 2010. When asked what he misses most about his companion of 64 years, Kirkpatrick covered his face with his hands and wept. "Everything," he said. "Everything."
As he talked about his military career, Kirkpatrick ran his hands over his brown leather Flying Tigers jacket. Although he knows his years as a combat pilot may seem glamorous and important to some, that's not what he is most proud of. He said, "I did as much or more in the diplomatic services as I did anywhere else."
Local journalism is essential.
Give directly to The Spokesman-Review's Northwest Passages community forums series -- which helps to offset the costs of several reporter and editor positions at the newspaper -- by using the easy options below. Gifts processed in this system are not tax deductible, but are predominately used to help meet the local financial requirements needed to receive national matching-grant funds.
Subscribe now to get breaking news alerts in your email inbox
Get breaking news delivered to your inbox as it happens.
---