Sports
CdA Vikings count on two-way starter Mahaffy
Thu., Nov. 1, 2012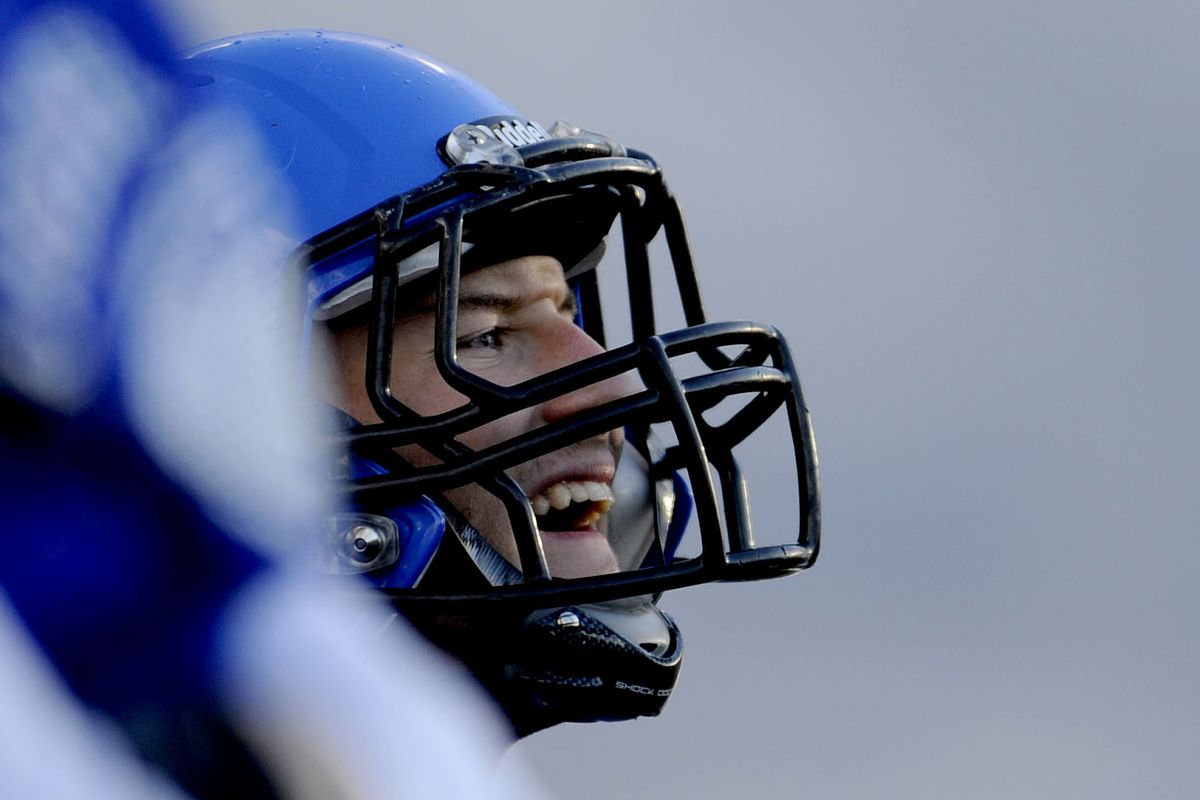 Running back/safety Reece Mahaffy would be all smiles if Coeur d'Alene can win three more games and another Idaho 5A football championship. (Kathy Plonka)
Reece Mahaffy likes to think of himself as his own person – cut from a different cloth, as it were.
On the football field, though, the Coeur d'Alene senior is much like the players who have made the Vikings highly successful the past three years. He's fast and on the small side at 5-foot-9 and 180 pounds.
"He's exactly that kind of player," CdA coach Shawn Amos said. "But he's also a goofball. He's a classic."
The two-time defending 5A state champ Vikings haven't mowed over
opponents in the literal sense the past two years. They've run through and around them. During the Vikings' encore last year, CdA ran the table to a 12-0 record. Mahaffy started at safety and ended up being the fourth-leading tackler behind three seniors. He was named to the All-Idaho second team.
So it might make sense that Mahaffy would probably be CdA's leading tackler this year. Yes, if he played the same position he played last year.
Mahaffy was moved to outside linebacker and spends most of his time defending on the weak side. That means his first priority is defending the run and beating feet to defend the pass. His coaches knew he'd make a seamless transition.
He's the third-leading tackler this year. Senior Brennen Kane, who starts in Mahaffy's old position, is the team leader.
Mahaffy is just fine with his defensive role on the team. After all, it's about the team, not him.
His playing time has doubled this year as a two-way starter. On offense, he started the year at wide receiver, but moved to running back midway when junior Marques Mort suffered a back injury.
Mahaffy leads CdA in scoring with 12 touchdowns. He's rushed for a team high 661 yards and has 15 catches for 231.
He's been CdA's most valuable player and a candidate for the league honor.
"He's become a guy we don't want to take off the field," Amos said. "He could play a lot of different places. We moved him to outside backer because that's where we needed him the most. We needed him closer to the action."
Mahaffy enjoys playing defense more than offense.
"I like hitting people more than being hit," he said.
Without a doubt, Mahaffy plays two of the most demanding positions, and the two that involve the most collisions. That's fine with him. He has a lunch-pail mentality and sees himself as a grinder.
Year after year, Mahaffy's body is telling him that he's taken more hits.
"I feel it more this year than last year at this time," he said. "I have more aches and pains and little injuries."
Two weeks ago when CdA clinched the league championship against Lake City, Mahaffy suffered bruised ribs and missed the final 1 1/2 quarters. He returned Friday when the Vikings earned a state playoff win against Lewiston.
He's also stepped up as a leader. He watched it modeled by seniors last year and knew he would need to step up this season.
"It's something I embraced this year," Mahaffy said. "You're not told you have to be a leader, but it's expected. I like guys rallying around me. I'm not vocal. I lead by example."
Although he was very much a part of last year's state title team, Mahaffy wants to finish his career with one of his own.
CdA has rebounded from its midseason swoon when the Vikings were pummeled by Washington 4A power Skyline of Sammamish 71-20 and played especially poorly the following week in a loss to Highland of Pocatello (45-26).
Mahaffy believes CdA can defend its title.
"It would be so cool to win my senior year," he said. "To be able to win three (titles) in a row would be awesome, because it's never been done in Idaho. Being part of something like that would really be special."
Mahaffy said it will take focus and hard work.
"We're definitely not as good as last year. We're a different team," Mahaffy said. "We have a lot less experience and fewer seniors than we had last year. We had the type of team last year that could score and score and score. This year we're a grind it out type of team."
It reflects Mahaffy's personality and the personality of the senior class.
"We've never had a losing season," Mahaffy said. "We're not as good as last year's senior class and we haven't had the success at the lower levels like this year's juniors."
All they've done is won.
Local journalism is essential.
Give directly to The Spokesman-Review's Northwest Passages community forums series -- which helps to offset the costs of several reporter and editor positions at the newspaper -- by using the easy options below. Gifts processed in this system are not tax deductible, but are predominately used to help meet the local financial requirements needed to receive national matching-grant funds.
Subscribe to the sports newsletter
Get the day's top sports headlines and breaking news delivered to your inbox by subscribing here.
---