News > Features
EOTO in step 'electrogranically'
Fri., Nov. 2, 2012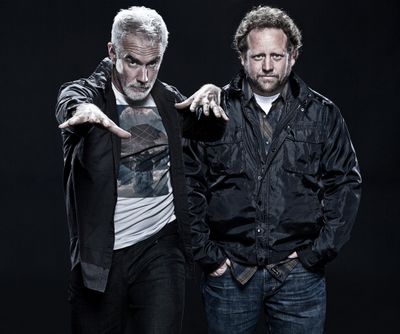 A shared passion for improvisation first brought them togehter. Then they crossed paths as bandmates in String Cheese Incident. Now, Jason Hann and Michael Travis are carving out their own niche as "electrorganic" dubstep dance duo EOTO, interweaving improvised live instrumentation for a unique experience night after night in their nonstop tour schedule. In this Q&A-style interview, Hann talks about the challenges of playing music styled after electronic genres using organic instruments, playing it live versus recording it for an album, and the elusive allure of dubstep.
IJ: How did you and Michael Travis first get together?
JH: We first got together back in '95. We were getting booked at the same festivals. … After my band played he introduced himself and ended up playing hand drums all day. I joined (String Cheese Incident) in '04. We started playing a bunch of music together after practice on random instruments. We'd go from 10 p.m. until 5 in the morning. We just had fun playing music. We settled in where he would play bass and guitar and I would play drums. Then he added a looping petal and we both sort of gravitated toward electronic styles as opposed to the jam band thing. 
IJ: You use all live instruments but you don't use any backing tracks when you perform live on stage. Why are you so committed to that form of presentation.
JH: We pride ourselves on that. It's kinda become our thing. That makes us different from everything else out there. It's hard to say if it hurts or helps. We don't have songs that other DJs could play in the mix. Our vibe is we're making everything up in the moment. We find that people who know we're making it all up live have a level of appreciation for that. We've spent hours in the studio pulling it off live and because of that we're able to deliver night after night.
IJ: Is your approach to recording an album the same as performing live?
JH: When we record we set up like we're just getting a take. In that way we approach it the same way we do live. We listen to a bunch of tracks we like and cop beats or a style or some really cool synth design and dial it up in the lab of sounds and we'll dig into that style or theme for 20 minutes and take the best five minutes and that's the song. We high-five each other that we don't have to practice when we're recording. After doing something like String Cheese that requires seven hours of practice per day. … It's quite the release doing it this way.
IJ: What is it about dubstep?
JH: It just hits the right nerves. Whether you're a headbanger and you like headbanger music, or if you like hip-hop, or electronic music, or if it's because your parents hate it, and your older brother and sister will hate it. Maybe that's the best reason of all, because the younger generation has completely found its own sound and it's the same effect that the electric guitar had when it came around.
IJ: Talk about about the name, EOTO. 
JH: The name of the band is End of Time Observatory. A long time ago we started going by EOTO, which is also the Japanese word for "good sound." And when we talked to people from the Philippines we learned it also means "good love." We thought we have the right ingredients to be EOTO.  
Local journalism is essential.
Give directly to The Spokesman-Review's Northwest Passages community forums series -- which helps to offset the costs of several reporter and editor positions at the newspaper -- by using the easy options below. Gifts processed in this system are not tax deductible, but are predominately used to help meet the local financial requirements needed to receive national matching-grant funds.
Subscribe now to get breaking news alerts in your email inbox
Get breaking news delivered to your inbox as it happens.
---