News > Features
In an instant, chandeliers can change the look of any room
Sun., Nov. 4, 2012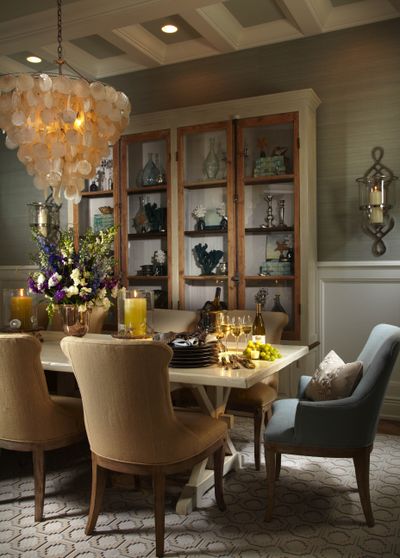 Some interior designers tout paint as the best way to change the look of a room. For Lisa Roberts, "It's lighting. … It's more bang for the buck."
With the holidays approaching, a new chandelier could be a fun and affordable way to make over the dining room, said Roberts, a Minneapolis designer who organized a chandelier fashion show at the home and garden show in that city earlier this year.
Michelle Jennings Wiebe, president of Studio M Interior Design in Tampa, Fla., agreed, saying a dining room should be about more than the table and chairs.
"You really need that piece that caps it off and makes it special," she said. "It's almost like a piece of artwork."
Chandelier shoppers have plenty of choices these days. Chandeliers come in a variety of styles, and can range in price from a few hundred dollars to tens of thousands.
"We have a lot of fun picking them out," Wiebe said. "It's a way to make a special impression."
New manufacturing techniques have led to the creation of designs and shapes that previously were not possible, said Joseph Rey-Barreau, an architect and lighting designer and a professor at the University of Kentucky in Lexington.
Trends include jewel tones, geometric-inspired pieces, retro fixtures and the use of lamp shades, these lighting experts said.
Roberts included several colorful chandeliers at her show. She favors deep jewel tones, and showed one piece made out of black cut crystal. A chandelier can add sophistication or whimsy to a home, she said.
The decor featured on the television show "Mad Men" has created more interest in Mid-century Modern, said Wiebe, and many of her clients are choosing slim, sleek pieces reminiscent of the 1950s and '60s.
In Florida, shell, coral or other nature-inspired lighting also is a common choice, she said.
Shannon Cantor so appreciates the seashell-inspired chandelier in her condo in Redington Beach, Fla., that she put a variation of it in her second home, in Tampa. She said she and her husband wanted something they would enjoy looking at every day.
"We walk by it a lot," said. "You want something that grabs your attention. It's going to be there for a long while."
Rey-Barreau called lamp shades on chandeliers "a very, very fashionable trend," from lights surrounded by a single, round drum shade (a little like a hanging table lamp) to a group of mini drum shades covering each bulb. Some chandeliers have removable shades, so you can use them or not.
When helping clients choose a chandelier, Wiebe considers the size of the room and the style of the home. But she also reminds them that the fixtures have a job to do.
"First and foremost it's for lighting," she said.
For instance, will a table with lighting overhead be used mostly for eating or will children be doing homework there?
"You really need to think about what you are going to do with the fixture," said Rey-Barreau.
Local journalism is essential.
Give directly to The Spokesman-Review's Northwest Passages community forums series -- which helps to offset the costs of several reporter and editor positions at the newspaper -- by using the easy options below. Gifts processed in this system are not tax deductible, but are predominately used to help meet the local financial requirements needed to receive national matching-grant funds.
Subscribe to the Coronavirus newsletter
Get the day's latest Coronavirus news delivered to your inbox by subscribing to our newsletter.
---