News > Spokane
Ancient shark's teeth dug out
Prehistoric fish once lurked in area's seas
Tue., Oct. 2, 2012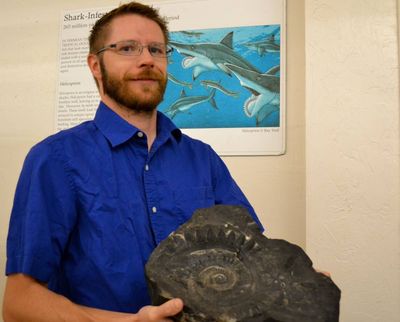 POCATELLO – A crew of miners working in southeastern Idaho's phosphate patch unearthed the latest fossil evidence that sharks once roamed the seas that covered the region more than 250 million years ago.
Last week, miners employed by Monsanto Co. discovered a spiral-shaped array of fossilized teeth buried in a heap of deposits at a site near Soda Springs.
The crew, recognizing the importance of their find, immediately called Idaho State University professor Leif Tapanila, who identified the teeth and linked them to a prehistoric shark called Helicoprion.
Because the body of the species was made of cartilage just like modern sharks, the teeth are often all that remains of the once giant fish that lurked in the seas that covered the region.
"It was widespread 250 to 270 million years ago," Tapanila, also the curator of earth sciences at ISU's Museum of Natural History, told the Idaho State Journal. "That was well before the Bonneville Flood."
The fossil will be added to the collection at the museum, which is home to 29 of the 100 known Helicoprion fossils collected worldwide.
The discovery came as Tapanila and his associates at the university prepared for a summit this week featuring other experts on Helicoprion to discuss the possible features of the giant shark. The largest fossil at ISU would indicate that the animal was 20 to 30 feet in length.
"It was likely the largest fish in the sea," Tapanila said.
The professor and his undergraduate assistant, Jesse Pruitt, immediately drove to Soda Springs to retrieve the latest discovery from an area known as the Enoch Valley.
The fossil was extremely fragile and broke into many pieces when they removed it, but some of the fossilized teeth remained nearly intact.
Tapanila has plans for those teeth.
He will take thin sections and examine them under microscopes to gather more data about the molecular composition of the shark.
Phosphate deposits in southeastern Idaho are believed to have preserved the largest, most abundant and pristine specimens of the fossil, many of which include the lower jaw cartilage, teeth and rare impressions of skin.
Other specimens of Helicoprion have been found in northern Utah and the far central-western part of Wyoming.
Local journalism is essential.
Give directly to The Spokesman-Review's Northwest Passages community forums series -- which helps to offset the costs of several reporter and editor positions at the newspaper -- by using the easy options below. Gifts processed in this system are not tax deductible, but are predominately used to help meet the local financial requirements needed to receive national matching-grant funds.
Subscribe now to get breaking news alerts in your email inbox
Get breaking news delivered to your inbox as it happens.
---