Sports
2
Minute Drill
Sat., Oct. 13, 2012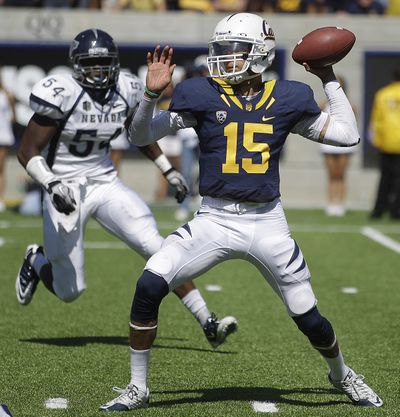 1 Stuff 'em on first down. Cal's running backs are too deep, too talented and too fast for the Cougars to chase around all game. So they need to limit their production on first and second downs, forcing the Bears into passing situations in which WSU can throw its blitz packages at Cal quarterback Zach Maynard. The Cougars like their chances much better if Maynard is touching the ball more than C.J. Anderson, Isi Sofele and Brendan Bigelow.
2 A steady, early drive. WSU is back to the point where it needs to again prove to itself that it can move the ball effectively. Cal's pass defense isn't stellar, but coach Mike Leach has been insistent that WSU's offensive failings have been the Cougars' fault. Connor Halliday is coming off the worst performance of his career against Oregon State, and an early score or two could help ease the nerves of frustrated WSU fans.
3 Use the weather. Temperatures could fall into the 40s by nightfall, according to Weather.com, and there could be some rain showers throughout the day, too. Cal coach Jeff Tedford said this week that's one of the challenges of playing at Martin Stadium – dealing with the cold weather. While it hasn't been particularly cold in Pullman this week, the Cougars have more experience practicing and playing in less-than-ideal conditions than the Bears.
4 Special teams play. WSU has been particularly stellar in the kickoff coverage and return games this season, ranking 10th in the country in covering kicks while featuring a couple of long returns by freshman Teondray Caldwell. In a game expected by most to be relatively close, a momentum-turning special teams play could make the difference.
Local journalism is essential.
Give directly to The Spokesman-Review's Northwest Passages community forums series -- which helps to offset the costs of several reporter and editor positions at the newspaper -- by using the easy options below. Gifts processed in this system are not tax deductible, but are predominately used to help meet the local financial requirements needed to receive national matching-grant funds.
Subscribe to the sports newsletter
Get the day's top sports headlines and breaking news delivered to your inbox by subscribing here.
---