News > Auto
Micro Managing
While the smallest rides on the road aren't for everyone, they're inexpensive, get great gas mileage and can fit into tight spots
Tue., Oct. 16, 2012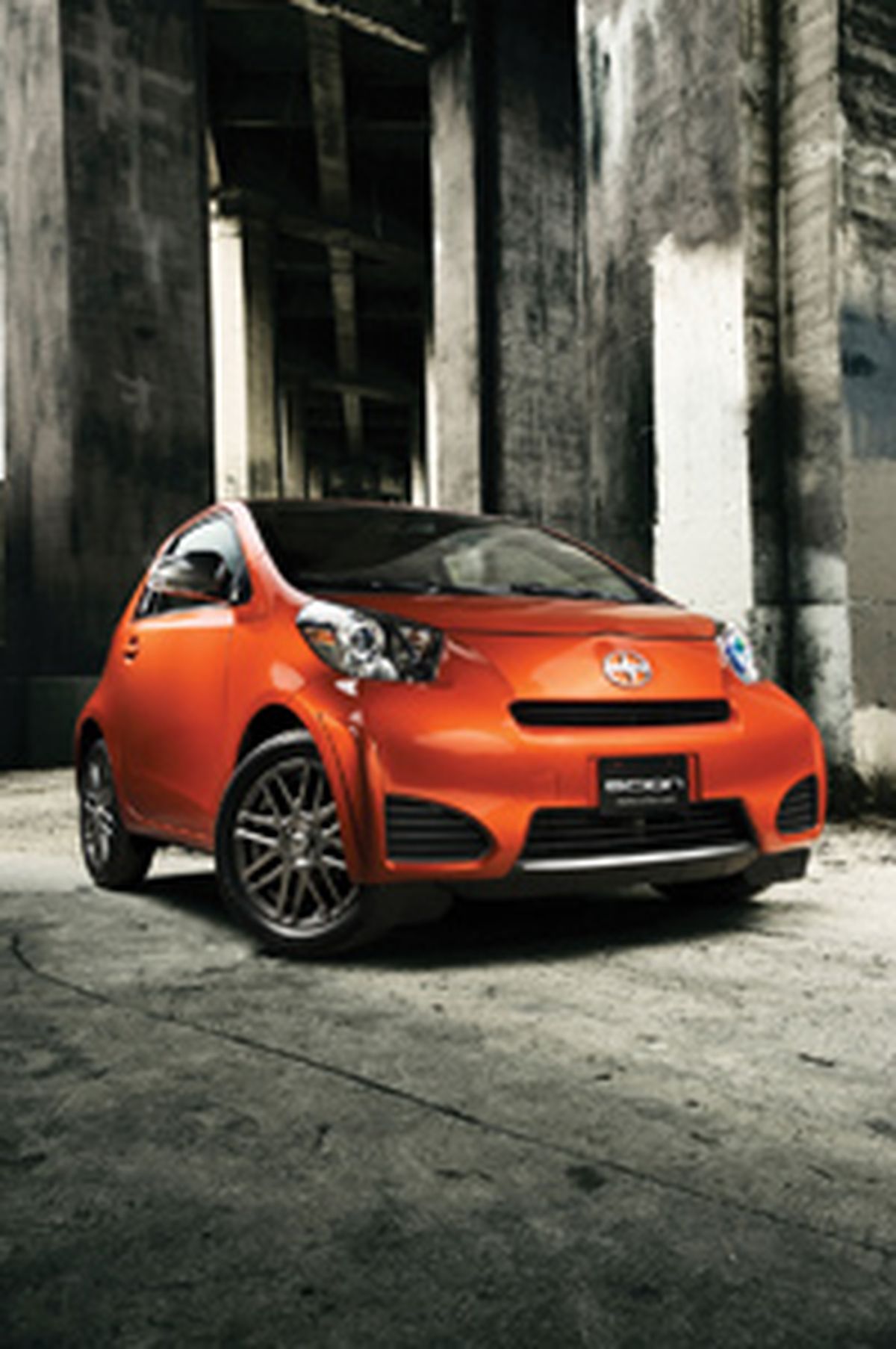 Scion iQ
Long popular in Europe and other places in the world where the streets are narrow, gas prices are high and the government taxes motorists according to their vehicles' size and engine power, so-called "mini-cars" or "micro-cars" are just beginning to gain a foothold in the U.S. Smaller than subcompacts, they're generally sold to urban drivers for whom parking space is at a premium, along with budget-minded suburbanites who otherwise have modest transportation needs and/or want to reduce their carbon footprints. All mini-cars get good fuel economy, particularly in city driving. However, their highway fuel economy ratings tend to be a few ticks below the best subcompact and compact cars due to their shortened lengths and tallish rooflines, which limit their higher-speed aerodynamics. Most handle well around city streets and remain stable on the highway; they're a snap to park in even the smallest spaces. On the downside, most mini-cars are suitable only for two passengers, and they feature prohibitively small cargo holds. Their tiny engines tend to be underpowered by modern standards. And though all come with a full complement of airbags, there is the issue of high-speed crashworthiness to consider - all else being equal, the laws of physics dictate that a smaller and lighter vehicle will not fare as well in a collision as a larger and heavier model. Here's how the current lineup of micro-cars stack up: • Chevrolet Spark: New for 2013, the tall-roofed Spark is a four-door hatchback that can actually seat four adults in reasonable comfort. A 1.2-liter four-cylinder engine delivers a just-sufficient 85 horsepower, with fuel economy as its main virtue at an estimated 32-city/38-highway mpg. Cargo room becomes quite spacious with the rear seats folded flat, but is otherwise sparse. An innovative "infotainment" system affords smartphone connectivity for hands-free calling and Internet data streaming; navigation comes via a phone app rather than a costly GPS system. The car is attractive and well finished inside and delivers a reasonably smooth ride to minimize the effects of broken urban pavement. MSRP: $12,245-$15,970. • Fiat 500: Available as either a coupe or convertible, this is the sportiest micro-car sold in the U.S., with artistic Italian styling inside and out. While the cramped back seat is best folded flat to expand the minute cargo hold, the front cabin is roomy enough for tall drivers and passengers. The base 1.4-liter engine generates a sufficient 101 horsepower and gets 31/34 mpg. A Turbo version ups the ante with 135 horsepower and a sport-tuned suspension, with the top Abarth coupe putting an energetic 160 horsepower to the pavement. A five-speed manual transmission is standard with a six-speed automatic optional on most models. MSRP: $15,500-$22,000. • Scion iQ: The eccentric iQ is a two-door hatchback with modern mechanical-looking styling that features oddly aligned seating configured to accommodate three adults and one small child, though it's best driven solo. The rear seats fold flat to accommodate a pair of golf bags or a large suitcase. A 1.3-liter four-cylinder engine produces just 94 horsepower but is mated to a gearless CVT automatic transmission that's able to exert the most thrust out of it. It rewards urban dwellers with stellar city fuel economy at 36 mpg (37 highway). MSRP: $15,385. • Smart fortwo: Sales have dropped off considerably for this tiny two-seat coupe and convertible since its 2008 introduction. It's built in Europe by Mercedes-Benz but is hardly considered a luxury car. It features distinctive exterior styling and feels far roomier on the inside than it looks from the outside. Still, it's vastly underpowered with a 1.0-liter 70-horsepower three-cylinder engine; the only available gearbox is a fussy automated manual transmission that shifts slowly and sloppily. It boasts decent fuel economy at 34/38 mpg, but requires premium-grade gas. MSRP: $12,490-$17,890.
Local journalism is essential.
Give directly to The Spokesman-Review's Northwest Passages community forums series -- which helps to offset the costs of several reporter and editor positions at the newspaper -- by using the easy options below. Gifts processed in this system are not tax deductible, but are predominately used to help meet the local financial requirements needed to receive national matching-grant funds.
Subscribe now to get breaking news alerts in your email inbox
Get breaking news delivered to your inbox as it happens.
---