Sports
G-Prep believes in running, sharing
Wed., Oct. 17, 2012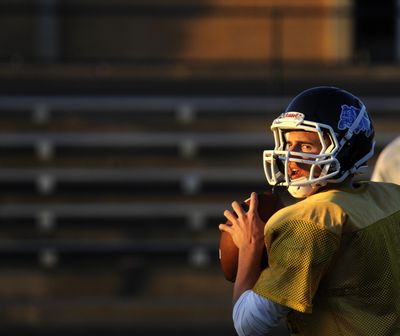 The terminology has changed over the past three decades but certainly not the principle. If there's one thing the Gonzaga Prep football teams in the modern era are known for it is running the football – and running it often. This year is no different. The Greater Spokane League-leading Bullpups (7-0) lead the conference in rushing with 2,744 – 305 more than Mead, the next closest. Four players have accounted for the bulk of the yards. They are quarterback Zach Bonneau, a two-year starter, running backs Griffin Hare, a three-year starter, and Max Gruber, all seniors, and junior running back Tom Davis. The Bullpups gained more than 400 yards in a game four times, and their season high came two weeks ago against North Central when they piled up 487. That came with Bonneau and Davis out recovering from concussions. Hare picked up most of the slack against NC, rushing for a career-high 315 in three quarters – the 11th-most single season effort in league history. Athletes at G-Prep are taught that the sum is greater than the parts. In fact, the motto "Many parts, all one body" is posted on a locker room wall where the Bullpups see it coming and going. "Our kids live that," G-Prep coach Dave McKenna said. "In today's culture to be selfless is difficult. Our culture promotes glory." With this year's team, that motto is apropos. When the team turned out for the annual Border League camp in late June, it was a far cry from the crew that would knock off heavily favored Mead and be undefeated heading into the next to last week of regular-season play. Four of the five offensive linemen – all seniors – had never played varsity. The eventual right guard, Max Eugenio, and right tackle, Gunnar Elofson, arguably the team's most consistent blockers, didn't attend the camp. Eugenio was recovering from a broken hand and Elofson was on vacation. Left tackle Sawyer Kuykendall transferred from Mead last year and Quentin Plese was a defensive tackle on the junior varsity last year. Center Jerred Sonneborn had the lone varsity experience, stepping in during the third game last year when the starter suffered a season-ending knee injury. The line has been injury-free this season. While talented in their own right, the runners say the team's success begins with the linemen. "They're ridiculously good," Davis said. And the function of G-Prep's offense doesn't stop there. The receivers have to be solid blockers in the Bullpups' scheme. Senior Brooks Bonham and sophomore Jordan Rathbone have ably manned those positions. "They have to sustain their blocks longer than anybody," McKenna said. "It's one of the toughest blocks to sustain." And when they don't, they stand out like warts on a hog. On any given play, Bonneau has three options. He can give it to Hare, the dive back; he can keep it; or he can dish it to a wingback, Davis or Gruber. The runners are among the fastest athletes on the team. If coaches held a race on the track, Davis would likely edge out Hare, Gruber wouldn't be far behind and Bonneau would come in fourth. "They've got great balance," Ferris coach Jim Sharkey said of the foursome. "Their wide receiver blocking is exceptional. When they get a crease they're gone. Bonneau is quick in close space and he's got a quick burst. Hare is tough to bring down." McKenna likes Hare's approach to running. "Hare doesn't dance around. He gets from Point A to Point B as fast as he can," McKenna said. "And he runs hard." McKenna enjoys watching Bonneau dart around. "He's shifty as all get out," McKenna said. "He plays with a smile on his face." Gruber and Davis are talented enough to be the featured backs. "Max has a high motor and he has one gear – he's full-go all the time," McKenna said. "Tom is the quiet one of the bunch. He's a lot like Hare." And Davis hopes to be Hare's replacement next year. For Hare, running is in his genes. His brother, Conner, wore Griffin's number as a running back in 2004 and '05, and their father, Joe, was a running back at G-Prep. And Joe's father and several uncles were also running backs. Hare doesn't know how things have come together so well this season. "We were one of the worst teams at Border League camp," Hare said. "But I've always expected us to do well. We had the experience where we needed it." Bonneau also didn't attend the Border League camp because he was recovering from a broken orbital bone caused when a ball caromed off his bat and struck him near his eye during a summer baseball game. Bonneau, too, has some G-Prep blood running deep in his veins. His father, Rob, was a two-time all-GSL player as a wide receiver and defensive back including being named the league's defensive most valuable player in 1987. "Our team chemistry is unreal," said Bonneau, a standout catcher who is being recruited in football and baseball. "Our coaches preach that we're a special group." And the Bullpups believe. Gruber, who leads the GSL in scoring with 76 points, is also the team's place-kicker, and he's been especially efficient on point-after attempts (31 of 35) and field goal tries (5 of 5). He's making up for lost time this season after breaking a collarbone in the second game last year. "We certainly didn't expect this based on our summer camp," Gruber said. "The beauty is that football games aren't won in the summer. We have so many weapons. We can move the ball in multiple ways." Davis, who started two games last year when Hare suffered a fractured bone on top of his hand, is enjoying the ride. "I thought coming into the season we could beat anyone we wanted to as long as we believed as a team," he said. So far so good.
Local journalism is essential.
Give directly to The Spokesman-Review's Northwest Passages community forums series -- which helps to offset the costs of several reporter and editor positions at the newspaper -- by using the easy options below. Gifts processed in this system are not tax deductible, but are predominately used to help meet the local financial requirements needed to receive national matching-grant funds.
Subscribe to the sports newsletter
Get the day's top sports headlines and breaking news delivered to your inbox by subscribing here.
---