News > Obituaries
Obituary: Meissner, Hildur A.
Age 94
Wed., Oct. 17, 2012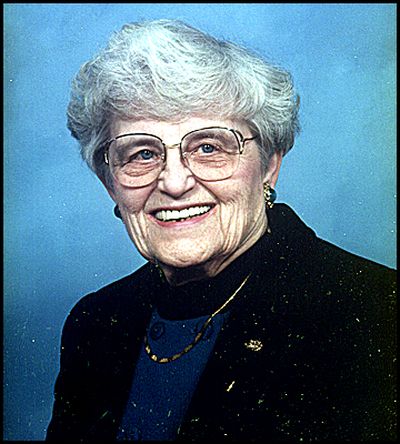 MEISSNER,

Hildur A.
Passed peacefully into Heaven on October 14, 2012, at the age of 94.
She was born to Carl and Carolina Berg, September 17, 1918 in Seattle, WA.
She graduated from Kent Senior High School in 1936.
Following graduation, she attended Wilson's Modern Business College in Seattle and graduated in 1938.
She began working as a stenographer with a private company until 1941.
In 1941 she started with the War Department in Seattle as a military personnel clerk until 1946.
She met the love of her life ice skating, Ellert Meissner, in November of 1944 and they were married on December 7, 1946.
After moving to Spokane, WA in 1948, she worked briefly at the Blood Bank as a secretary.
In 1952 she began a career with the USDA Soil Conservation Service as a personnel management specialist until her retirement in 1977.
Despite her career, her life was centered on her family; sons Paul (Linda), Gary (Wendie), Scott (Brandee) and daughter Kristie (Paul), along with her ten grandchildren and five great-grandchildren.
She enjoyed traveling, reading and kept very busy with her involvement in the National Association of Retired Federal Employees, along with her church and leading her bible study group.
Hildur was a gentle and compassionate woman.
She had an unwavering faith as a devout Lutheran woman and was devoted to serving others and never judgmental.
She had a quiet strength that was ever present and was always there to listen.
She was preceded in death by her husband of nearly fifty years, her parents, two sisters, Hildegard, Greta and brother Roy.
There will be a visitation Thursday, October 18, 2012 from 2:00 pm to 8:00 pm at Ball & Dodd Funeral Home, 5100 W. Wellesley, Spokane, WA.
A celebration of life will be held Friday, October 19, 2012 at 12:00 pm at Messiah Lutheran Church, 4202 N Belt, Spokane WA.
In lieu of flowers, please consider a donation to the Hospice House of Spokane or a charity of your choice.
Local journalism is essential.
Give directly to The Spokesman-Review's Northwest Passages community forums series -- which helps to offset the costs of several reporter and editor positions at the newspaper -- by using the easy options below. Gifts processed in this system are not tax deductible, but are predominately used to help meet the local financial requirements needed to receive national matching-grant funds.
Subscribe now to get breaking news alerts in your email inbox
Get breaking news delivered to your inbox as it happens.
---