Sports
Irish win again
Notre Dame beats Oklahoma to go 8-0
Sun., Oct. 28, 2012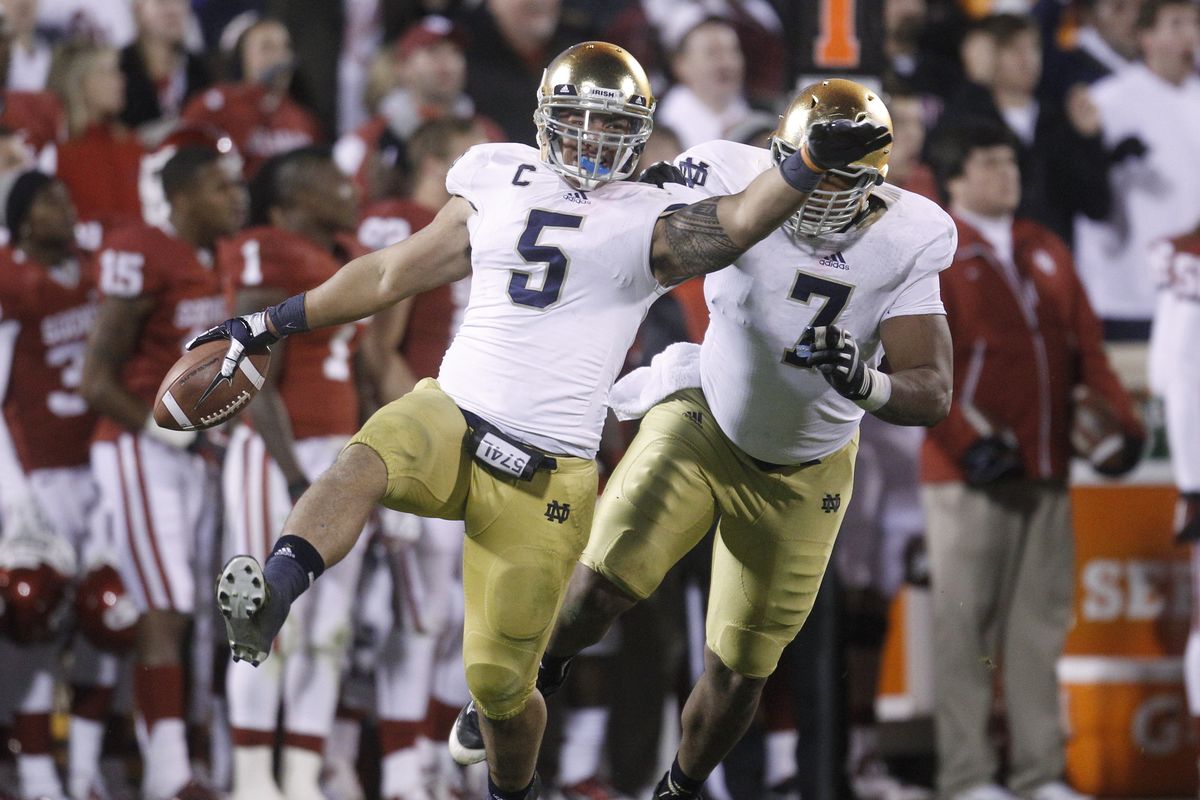 Notre Dame's Manti Te'o (5) celebrates with Stephon Tuitt (7) after a late interception. (Associated Press)
NORMAN, Okla. – Manti Te'o and No. 5 Notre Dame don't care whether people believe in them or not. They're just out to keep winning.
Everett Golson threw for 177 yards and plunged in for a decisive 1-yard touchdown run in the fourth quarter, Te'o bolstered his Heisman Trophy candidacy with a late interception and No. 5 Notre Dame beat No. 8 Oklahoma 30-13 on Saturday night to remain undefeated.
Despite winning their first seven games for the first time in a decade, the Fighting Irish came in as the underdogs but certainly didn't play like it.
"What we'd been hearing was a lot of people didn't think we could win this game. That kind of just added that fuel to my fire that was already burning," said Golson, who returned after sitting out last week's win against BYU because of a concussion.
"We just wanted to come out and show them that we can."
Te'o, the standout linebacker who has a penchant for causing turnovers, dove when Landry Jones' pass ricocheted off Jalen Saunders and got his gloved hands under it. Kyle Brindza tacked on his third field goal soon after, and Theo Riddick added a late touchdown run as the Fighting Irish (8-0) put it away with 20 fourth-quarter points.
"We knew what we could do. Today's no surprise," said Te'o, who has five interceptions and two fumble recoveries this season.
"We knew that if we came to work, we came into today with confidence and everybody doing their job that we would be fine. I'm glad we came out the right way."
Jones threw for 356 yards with no touchdowns for the Sooners (5-2), who were still clinging to hope they could get back in the national title race before the loss. Saunders caught 15 passes for 181 yards in just his third game with the team.
"We're better than we were at the start of the season," Jones said. "We hit a bump in the road. Maybe the national championship's not in the picture, that's probably gone, but we still have the Big 12 and a bowl game up in front of us."
Any doubts left about Notre Dame should be fading away after winning at a place where the Sooners had been 79-4 under coach Bob Stoops. The Irish are the only team in the country with four wins against Top 25 teams – including two on the road against top-10 foes.
"We really don't think about that. We really don't care what other people think of us," coach Brian Kelly said. "(The players) really just care about each other, Notre Dame and winning football games. They'll let everybody else decide who we are."
The game revived a rivalry that had been largely dormant since the 1960s, with only one meeting since then – in Stoops' first season as the Sooners' coach in 1999. The Irish won eight of the first nine meetings, including three times when they handed Oklahoma its only loss of the season – most notably in 1957, when the Sooners' NCAA-record 47-game winning streak was snapped.
This meeting between two of college football's two traditional powers was no different, and Notre Dame's throwback defense gave the game a taste of days gone by.
An Owen Field-record crowd of 86,031 saw Cierre Wood put the Irish up early, taking a handoff and racing untouched right up the middle for a 62-yard touchdown two plays after Oklahoma struck first on Michael Hunnicutt's 28-yard field goal.
Local journalism is essential.
Give directly to The Spokesman-Review's Northwest Passages community forums series -- which helps to offset the costs of several reporter and editor positions at the newspaper -- by using the easy options below. Gifts processed in this system are not tax deductible, but are predominately used to help meet the local financial requirements needed to receive national matching-grant funds.
Subscribe to the sports newsletter
Get the day's top sports headlines and breaking news delivered to your inbox by subscribing here.
---