News > Features
Celebrate Gonzaga's milestone birthdays with look at how it all began
Pivotal moments over the years
Sun., Oct. 28, 2012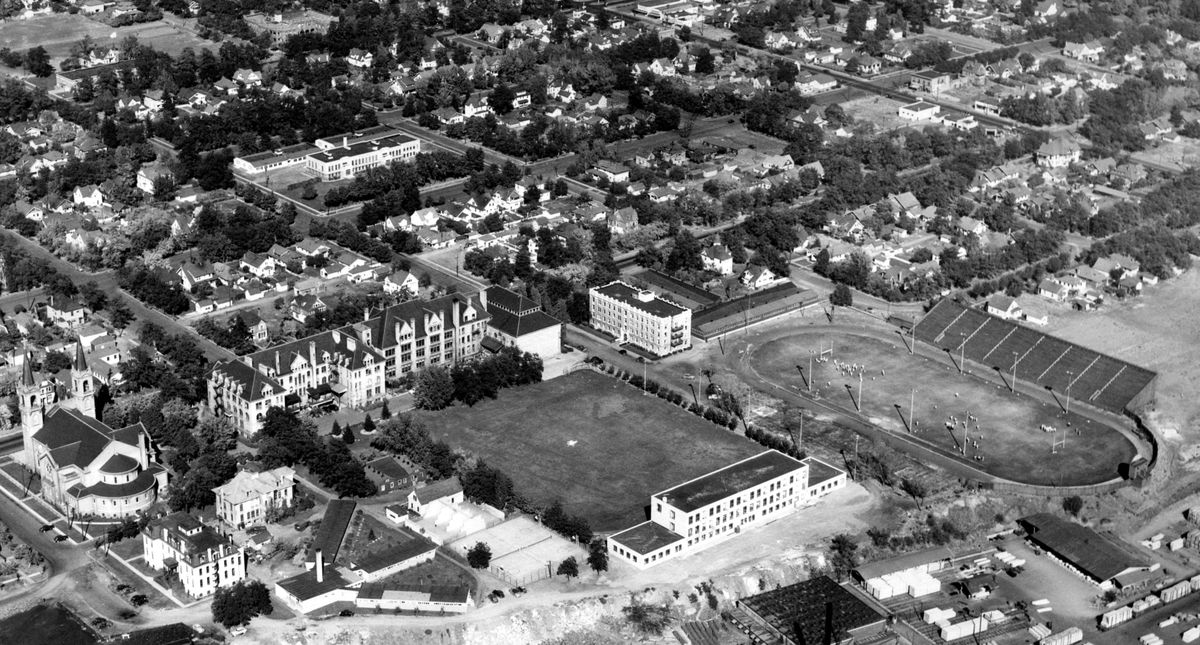 This picture of Gonzaga University campus was taken in 1949, just one year after the university became co-ed. Conspicuous in the photo is the football stadium, which is no longer part of the Spokane campus. The football program ended in 1942. (File photos)
Gonzaga University is celebrating its 125th anniversary, while its brainy younger cousin, Gonzaga Law School, is celebrating its 100th. What better time to take a stroll through the pasts of these two crucial Spokane institutions?
A little cabin on Peone Prairie may be Gonzaga's true birthplace. In that primitive cabin in 1880, Father Joseph Cataldo opened a day school for the Upper Spokane Indian children at St. Michael's Mission. There, he dreamed of a Jesuit college in Spokane for the brightest young Indian boys and men. When Father Cataldo opened Gonzaga College in Spokane in 1887, that dream was finally realized – but only in part, as we will see in the next item …
The school opened with seven students, none of whom were Indians. Cataldo still envisioned the college as an Indian school, yet the Spokane town fathers donated funds with a different expectation: They wanted a college for their own children. Three days after the school's opening, Father Joset, a Jesuit missionary, arrived with two Indian boys and tried to register them. They were turned away; the school, they were told, was exclusively for "American" boys.
The school opened on Sept. 17, 1887, in exactly way the school has opened every subsequent year: With a Mass of the Holy Spirit.
By the end of the first year, there were 18 boys, not counting those expelled. The original students were ages 10 to 17, mostly from Washington, California, Idaho, Montana and Oregon. Two other students were expelled before the end of the year. We don't know exactly what they did, but there were many ways to get expelled, the most serious of which were theft, disobedience, "impurity" and any public lapse in morality. The boys were not allowed to go anywhere without supervision; a scholastic chaperoned them even on walks into town.
Life was not soft for those early students. Students had to rise six days a week at 5:30 a.m. and work or study nearly nonstop until lights-out at 8:30 p.m. They attended Mass every day and twice on Sundays. No alcohol or cigarettes were tolerated, although the older boys were allowed one cigar on special occasions, such as the school picnic. Students had to pass rigorous examinations for advancement; some students became ill at just the thought of these exams. One Montana student ran away and others were pulled out by their parents. Two other disgruntled boys left in disgust, although one of the priests declared that "the dissatisfaction was mutual."
Gonzaga College was part elementary school, part high school and part college. The school was divided into the traditional divisions common in Jesuit schools at the time. A preparatory division resembling what we would now call elementary school; an academic section, consisting of Third, Second and First divisions, resembling what we would now call high school; and the Poetry, Rhetoric and Philosophy divisions, constituting the equivalent of a modern liberal arts college.
The elementary age students were sent to parochial elementary schools in 1922. In 1926, Gonzaga High School formally separated from the university, although the high school and college would remain on the same campus until 1954, when Gonzaga High School moved to a new campus and became Gonzaga Preparatory School.
Today's "old" college hall was once called New Gonzaga. That was to distinguish it from the original 1887 building, which the college had outgrown. New Gonzaga was completed in 1899 and was, according to The Spokesman-Review, the largest building in the city. It remains today the center of Gonzaga's campus.
A typhoid outbreak killed four boys and, nearly, the college itself. In 1906, typhoid fever swept through the school, killing four boys and threatening Gonzaga's very existence. School was dismissed six weeks early to protect the boys and to track down the source of the outbreak. The source turned out to be a plunge bath (a small swimming pool) popular among the boys. The outbreak resulted in two changes; the water in the plunge bath was renewed continually and a fine new infirmary was built.
Gonzaga College officially became Gonzaga University during the Jubilee celebration in 1912. This designation cleared the way for the growing institution to branch out into an important new field, law.
The Gonzaga School of Law opened with 19 students on Oct. 1, 1912. At first, the law school was strictly a night school because the faculty members all had day jobs – they were local attorneys and judges.
Attendance grew so quickly that by September 1913, enrollment was up to 43.
The most popular early Gonzaga sport was "college-down," also known as football. The first game of Gonzaga "college-down" took place on Thanksgiving Day 1892. That game was noteworthy for a surprising "absence of slugging." Yet the sport was banned a few years later for being too dangerous. It was revived in 1907, and became a Gonzaga craze by the 1920s.
Gonzaga's moment of football glory. Gonzaga's first and only "bowl game" came on Christmas Day 1922, when they played the University of West Virginia in San Diego. The Zags lost. A new stadium – which would eventually seat 12,000 – opened that year. However, the stadium – and the football program itself – soon became a losing proposition. Gonzaga closed its football program for good in 1942 and the stadium was torn down in 1949.
The most famous Gonzaga alumnus, Bing Crosby, did not graduate from the university. He graduated from Gonzaga High School in 1920. He also attended Gonzaga University and the School of Law, but left in 1924 without graduating from either. A statue of Bing – complete with pipe – stands near the Crosby Library, which was dedicated in 1957 and later became the Crosby Student Center.
Other famous alumni: Washington Gov. Chris Gregoire, civil rights attorney Carl Maxey, Speaker of the House Tom Foley, basketball star John Stockton, mountain climber Jim Wickwire and author Sherman Alexie (not all of them were graduates, either).
The "Frosh-Soph Fight" got out of hand in the 1920s. The underclassmen kept coming up with creative ways of "shanghai-ing" the opposition during this modified tug-of-war event. Once, a sophomore was found chained to a tree. In 1928, it all went wrong when both classes chartered boxcars in an ill-considered attempt to kidnap the opposition and send them, respectively, to Hope, Idaho, and Pasco. The dean of men promptly abolished the "Frosh-Soph Fight" for good.
Gonzaga becomes military training center in World War II. Many of Gonzaga's students went into the service after Pearl Harbor, but Gonzaga was certainly not vacant. Gonzaga was chosen as a site to train hundreds of Navy pilots in the V-5 program and hundreds of officer candidates in the V-12 program, the Navy's major collegiate program. Over the course of the war, Gonzaga trained more than 3,000 people, including 686 naval officers.
In 1948, Gonzaga admits a new kind of student: the female kind. Way back in 1935, an informal poll showed that the boys were split evenly on the concept of Gonzaga going co-ed. By 1948, when the first 70 women arrived, feelings were still mixed. Some Gonzaga boys resented their presence and "subjected the girls to much scowling and grumbling." Yet the Jesuit fathers noted approvingly that the women's presence "improved the manners of the men and the spirit of religious devotion on campus." A women's dorm was provided in 1951. Over ensuing decades the percentage of women on campus rose steadily. Today, women constitute a 54 percent majority.
The faculty at this Jesuit institution has slowly become less and less Jesuit. When Gonzaga opened in 1887, every member of the faculty was either a Jesuit priest or scholastic (training for the priesthood). The faculty remained mostly Jesuit for decades, but by the end of the 1950s it had dropped to about 31 percent. Today, the percentage has dropped to about 11 percent.
"The Gonzaga speech" becomes one of President Harry S. Truman's most famous speeches. He delivered it on campus on May 11, 1950, and it was a stirring denunciation of racial discrimination, aimed at the Dixiecrats in his own party.
Sports have become an ever-growing aspect of Gonzaga's culture. In 1950, Gonzaga won its first-ever NCAA team championship – for boxing. The stars of the team were Carl Maxey (who was in the law school at the time) and Eli Thomas. School was canceled the next day to celebrate.
In 1961, Frank Burgess earned nationwide recognition for the school's basketball team when he led the NCAA in scoring. In the early 1980s, John Stockton came out of Gonzaga to be an NBA star. Then, beginning in 1999, the men's basketball team began a run of success that has turned the Bulldogs into a national force and an Inland Northwest obsession.
Gonzaga Law School has become a full-time day program in 1970. Until then, the law school had remained strictly a night school, unusual among the nation's law schools. Students took four years to complete the night program. With the new full-time schedule, students graduated in the standard three years. This sparked a huge upswing in status and in enrollment – from 159 in 1969 to 809 by 1973. Today, Gonzaga School of Law remains one of only three law schools in the state and the only law school in Eastern Washington.
Gonzaga has weathered at least three crises that threatened its very existence. The first came during the typhoid outbreak in 1906. The second came during the Great Depression, when the school went into deep debt, in part because students could not pay their tuition. There was serious talk of moving Gonzaga to another city.
The third came in 1974, when the school was $2 million in debt. Gonzaga survived only because board president Harry Magnuson pledged his own assets to secure the school's credit.
Gonzaga has been on a long upswing. The class of 2013 started at Gonzaga as the largest freshman class in school history. Today, Gonzaga has a total enrollment of 7,850, including 4,850 undergraduates and 511 law students. It has 105 buildings on 131 acres and a thriving overseas program in Florence, Italy.
A reminder of why this anniversary should not be taken for granted. There was once a college called Spokane College, which dominated the South Hill. It was founded in 1906 and matched Gonzaga in importance for decades. Spokane College did not survive one of its financial crises and it folded in 1929. Today, the big hall is gone and the college is virtually forgotten.
So the Gonzaga story didn't have to turn out as well as it did. And that makes it all the more worth celebrating.
Local journalism is essential.
Give directly to The Spokesman-Review's Northwest Passages community forums series -- which helps to offset the costs of several reporter and editor positions at the newspaper -- by using the easy options below. Gifts processed in this system are not tax deductible, but are predominately used to help meet the local financial requirements needed to receive national matching-grant funds.
Subscribe now to get breaking news alerts in your email inbox
Get breaking news delivered to your inbox as it happens.
---