News > Spokane
Playfair Commerce Park evolves from racetrack roots
Sun., April 28, 2013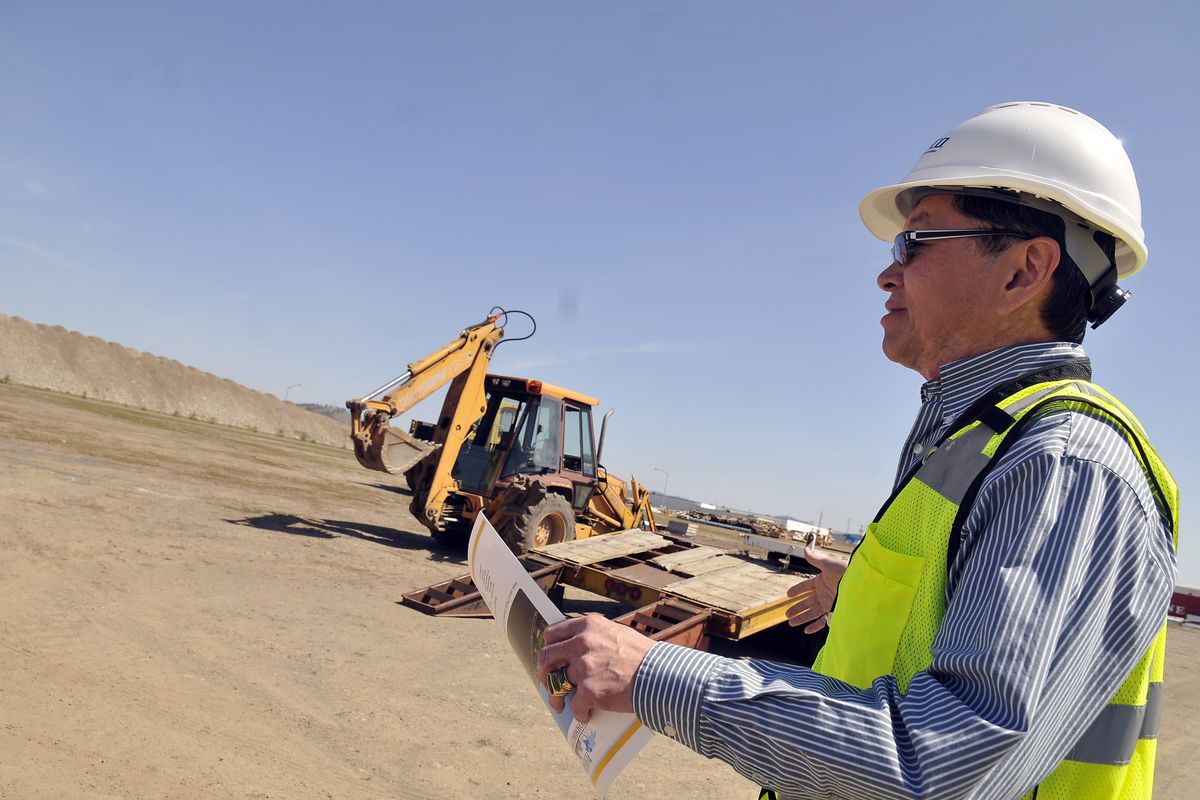 Bruce Katahira of SCAFCO Corp., a manufacturer of steel construction materials and grain storage equipment, walks across the former Playfair race track Wednesday. Katahira said he has fond memories of visiting Playfair as a child in the 1960s. (Jesse Tinsley)
The only monuments to Playfair Commerce Park's past are two stone slabs topped by metal silhouettes of horses, their crouched riders guiding them toward the finish line.
The business park is located on 48 acres in east Spokane that hosted the Playfair horse racing track for 66 years.
Lawrence Stone, the president of Spokane-based SCAFCO Corp., bought 48 acres of the former Playfair property from the city in 2009.
Despite a weak economy then, Stone said he saw great
potential because of the site's central location and proximity to roads, rail lines and downtown Spokane.
Since 2010 Stone has built new roads, upgraded power and water services, added landscaping and sidewalks, and also buried underground fiber optic lines for voice and data.
SCAFCO itself will occupy one of the 11 sites at the commerce park. The company, which makes grain silos and steel studs, will have a new office and manufacturing plant there. The cost of those buildings is estimated at $10 million, based on building permits filed last year.
The city of Spokane sold the Playfair land to Stone for about $2.1 million. That's roughly half what the city paid for the land in 2004, with plans to build a joint city-county sewage plant.
As Stone's Playfair project moves closer to completion, reaction at Spokane City Hall is a collective high-five. The likely influx of industrial or commercial tenants into the park will generate substantial property taxes for the city, said Gavin Cooley, Spokane's chief financial officer.
Stone has said he doesn't expect the 10 two- or three-acre lots inside the park to be leased quickly. He predicts the first tenant other than SCAFCO will move in next year.
The other major development helping lift the city's tax rolls is the mixed-use Kendall Yards project along the Spokane River, Cooley said.
"The big difference is that Kendall Yards is primarily residential. And a commercial area like Playfair comes with much lower service burdens on the city," Cooley said.
That means Playfair stands to be the city's next big thing for improving its strapped budget, he said.
Playfair Commerce Park is six minutes east of downtown, bordered by Sprague Avenue on the south and Trent Avenue on the north, and a half-mile east of Crestline Avenue. It's close to two rail lines and Interstate 90.
And, said Bruce Katahira, Stone's assistant at SCAFCO, "it has the lowest elevation of any modern industrial park in the region," meaning tenants will see a bit less snow or ice there than they might in Spokane Valley or Airway Heights.
Tom Quigley, a principal at Spokane's Kiemle & Hagood commercial real estate firm, said Stone's timing is spot-on. "We're busier than ever (with commercial leases), and plenty of businesses are looking for prime property like his," he said.
Tenants could include warehouses, high-tech firms, distributors and some offices, Katahira said.
Despite Playfair Commerce Park's size and scope, Stone has maintained a low profile in Spokane.
In December 2010, the developer paid $3.2 million for the former YWCA building on the Spokane River. He hasn't disclosed plans for that site.
Stone's roots are in Spokane, as his father, Ben Stone, founded Spokane Culvert and Fabrication Co. The family-owned firm made steel culverts for the construction industry.
Over time, the business line changed, dropping culverts but adding the production of large steel grain bins that are shipped around the world.
Katahira said Stone looks at the Playfair property as one of the area's historically significant sites.
SCAFCO's location next to the old park gave the company strong reasons to care about how the commerce park turned out, Katahira said.
"It was exciting and a pleasure for us to bring it to the highest standards of modern business park design, in an area of the city that needed it badly," Katahira said.
Local journalism is essential.
Give directly to The Spokesman-Review's Northwest Passages community forums series -- which helps to offset the costs of several reporter and editor positions at the newspaper -- by using the easy options below. Gifts processed in this system are not tax deductible, but are predominately used to help meet the local financial requirements needed to receive national matching-grant funds.
Subscribe now to get breaking news alerts in your email inbox
Get breaking news delivered to your inbox as it happens.
---