News > Features
Chris does Christmas
Isaak taps holiday spirit for tour current town
Fri., Dec. 6, 2013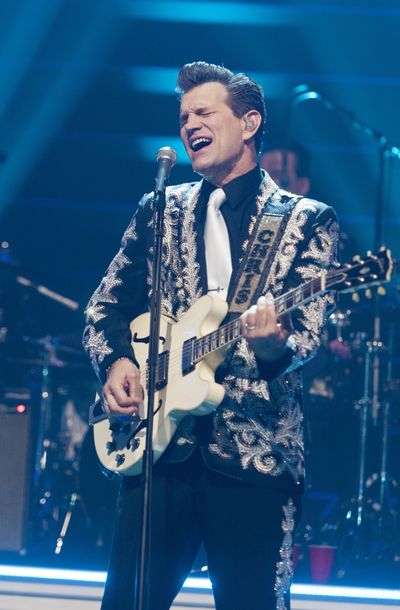 Chris Isaak's reason for doing an annual holiday tour is simple: He likes to sing Christmas songs.
The San Francisco-based singer known for the smoldering hit "Wicked Game," said by telephone recently he knows other artists – and he won't name names – who make Christmas records quickly and with the sole purpose of knocking off a contractual obligation. Not so for him.
"I worked on a Christmas album for like six months and wrote five Christmas songs," he said. "For me, it was like 'Oh, I get to make a Christmas album.' I like Christmas albums and I really enjoy singing those songs."
His Christmas album, simply titled "Christmas," came out in 2004 and features covers of "Rudolph the Red-Nosed Reindeer," "Blue Christmas" and "Mele Kalikimaka," as well as the five songs he wrote himself.
The show, which includes his longtime backing band, Silvertone, isn't just about Christmas, Isaak said. Fans would be deeply upset if the band didn't play "Wicked Game" or "Blue Hotel" or "Baby Did a Bad, Bad Thing," so he tries to do it all, he said, adding, "I just stay up there longer."
He also imbues the show with his trademark sartorial charm – the famed mirror ball suit is making the trip – and wit.
"When I was in Australia I bought this mechanical Santa that is just goofy. He bounces around and dances on stage a little bit. I bring him out every year and people go 'What the hell is that?' " he said. "I just have a good time singing Christmas songs. I think it's right up my alley. Who doesn't like singing 'Rudolph' or 'Blue Christmas'?"
Isaak, known as a retro rocker who clearly has been influenced by the likes of Elvis Presley, Roy Orbison and Carl Perkins, said that in picking the covers for that Christmas record he was going for a very specific mood, and he wanted his original songs to blend in.
"My goal was to have a Christmas album that you could put on in the background while you're having your Christmas meal," Isaak deadpanned, "and then toward the end of the meal as Uncle Ned got a few drinks in him and started cussing out your aunt and started throwing things, then you could turn it up loud to cover up the holiday fighting."
The arrival of the holiday tour on Sunday at Northern Quest Resort and Casino brings with it some good news for Isaak's longtime fans. Kenny Dale Johnson, the Silvertone drummer, left the band earlier this year because of leukemia. He's successfully completed treatment.
"It's going to be his first tour since leukemia tried to take him and got its ass kicked," Isaak said. "As you would expect, leukemia knows better than to mess with Kenny Johnson. … He did all the stuff they asked him to do and he beat it."
Isaak and Johnson are close; they've been making music and touring together for three decades. "I know him and he knows me. After 30 years of knowing somebody that well, if you can still like them, then you have a real good friend."
The 57-year-old said people can expect a lively and funny show this weekend.
"We love playing live. I know some people don't like playing live, but we always have," he said. "The reason we like playing live is we like to put on a show. We do the stuff that if you were truly an artist you might not deign to do. So we will have a piano that bursts into flames and I'll be covered in 35 pounds of mirrors."
Local journalism is essential.
Give directly to The Spokesman-Review's Northwest Passages community forums series -- which helps to offset the costs of several reporter and editor positions at the newspaper -- by using the easy options below. Gifts processed in this system are not tax deductible, but are predominately used to help meet the local financial requirements needed to receive national matching-grant funds.
Subscribe to the Coronavirus newsletter
Get the day's latest Coronavirus news delivered to your inbox by subscribing to our newsletter.
---
Subscribe and log in to the Spokesman-Review to read and comment on this story