Sports > Gonzaga women
Zags awaken with defense
After a balky start, GU rolls to easy victory
Tue., Dec. 17, 2013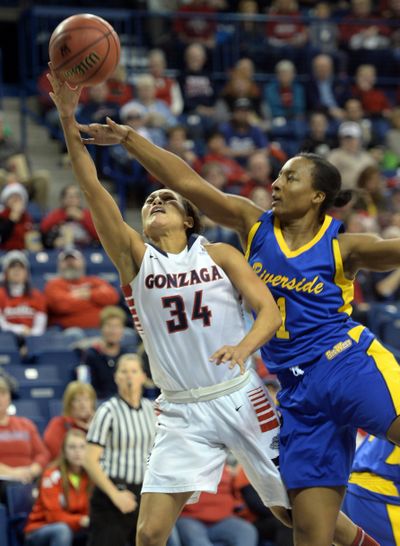 Coming off a crushing defeat to No. 6 Stanford, the Gonzaga women's basketball team came out cold Monday but rallied behind defense to run away in a blowout 87-43 win over visiting UC Riverside.
The Zags couldn't hit anything early. Lindsay Sherbert's first 3-point attempt caught only air.
But Haiden Palmer turned on the defense, piling up eight first-half steals to fuel fast breaks that finally put Gonzaga up for good.
"I thought we had a little bit of a Stanford hangover," coach Kelly Graves said, referring to the 73-45 defeat Saturday. "Sometimes when you get taken like we did, you question yourselves."
The questions came early as the GU shot only 36 percent in the first half, but it seemed worse than that. The Highlanders (4-5) hit big shots early as the teams traded leads.
The fundamentally sound Highlanders, who came into the McCarthey Athletic Center following a loss on Dec. 6 to Pepperdine, found points inside and out.
Graves then called timeout, down 15-12, and the Zags dialed up the pressure defense.
"I don't really know what was wrong but something was way off with us," said 6-foot-4 forward Sunny Greinacher, who finished with 21 points and five rebounds. "It's always good to come back into the game by defense."
At times it looked like a track meet. Palmer would tip the ball away and her teammates were off to the races.
Palmer shot only 2 of 9 from the floor but her eight steals fueled 15 points off turnovers that allowed Gonzaga to come back and eventually take a 36-30 lead before halftime.
"Whenever the shots aren't falling, we talk about things we can control: our defense," said Palmer, who finished with nine steals and nine points. "Once we get things going, our momentum carries us."
That momentum was fueled by the inside play of Greinacher and outside shooting of Sherbert, who hit all five of her 3-pointers after the break. She finished with 19 points and three rebounds.
"Sunny got us going in the second half. Haiden's defense got us going late in the first half," Sherbert said. "With all these pieces, when we show up we can be pretty hard to stop."
The Highlanders would have to agree. Down only six points at halftime, the Highlanders only scored 13 points the rest of the way.
They were led by Brittany Crain, who had all of her 11 points before halftime. Jamila Williams came on late to score 10, but no other UC Riverside player scored in double figures.
The Zags also had two in double figures, Greinacher and Sherbert. Stephanie Golden had eight tough points inside as did Kiara Kudron. Keani Albanez was 3 of 9 from the floor but scored seven points.
Next up for Gonzaga, which slipped one spot to No. 25 in this week's Associated Press poll, is Washington State on Saturday in Pullman. WSU beat Gonzaga in Spokane last year.
"They are always tough," said Sherbert, who also lost to WSU when she played two years at California. "But it's our last game. It always feels good going into Christmas break with a 'W.' "
Local journalism is essential.
Give directly to The Spokesman-Review's Northwest Passages community forums series -- which helps to offset the costs of several reporter and editor positions at the newspaper -- by using the easy options below. Gifts processed in this system are not tax deductible, but are predominately used to help meet the local financial requirements needed to receive national matching-grant funds.
Subscribe to the sports newsletter
Get the day's top sports headlines and breaking news delivered to your inbox by subscribing here.
---