Sports
No. 15 UConn beats Eastern
Huskies wear down visiting Eagles in second half
Sun., Dec. 29, 2013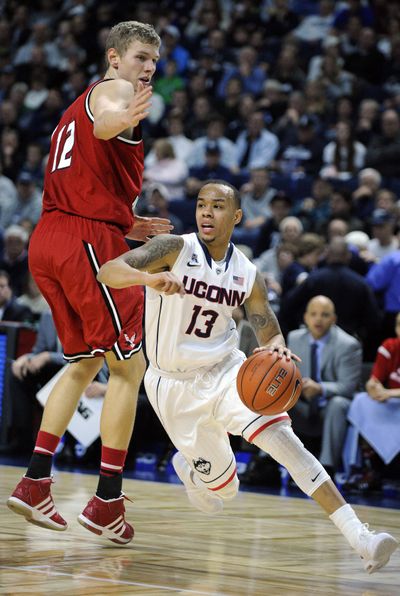 BRIDGEPORT, Conn. – Eastern Washington's players knew they would have to make a lot of 3-point shots to have a chance against No. 15 Connecticut.
The Eagles hoisted 28 on Saturday, but made just nine in an 82-65 nonconference loss to the Huskies.
Tyler Harvey scored 19 points to lead the Eagles (5-6), who trailed by just six points midway through the second half before UConn took control. Ognjen Miljkovic added 15 points and Drew Brandon 13 for EWU.
"We got a lot of open looks," said Harvey who converted just 2 of 9 from behind the arc. "We knew we had to knock 'em down to beat this team, and we struggled a bit."
Coach Jim Hayford said his team was bothered by UConn's length. The Huskies outscored the Eagles 40-20 in the paint, and had a huge advantage at the foul line, where UConn was 25 of 27. EWU hit 6 of 7 foul shots.
"They are just a very quick team, and that's why you have that discrepancy at the foul line," Hayford said. "If they shoot 25 for 27 every game, they're going to the Final Four."
Shabazz Napier had 15 points and nine assists to lead a balanced UConn attack that saw five players reach double figures. Ryan Boatright had 14 points and Niels Giffey added 13.
UConn came in shooting just under 44 percent on 3s, but made just 3 of 10 shots from behind the arc. EWU was 3 of 13 in the first half. The Huskies had shot 46.5 percent on 3s over their first nine games, but are now just 13 of 44 in their last three.
"I thought we got caught up in shooting a lot 3s in a couple games, but now we're getting back to basics, and we're getting to the rim," said UConn coach Kevin Ollie.
The Huskies led 30-23 at halftime, and took their first double-digit lead at 38-27 early in the second half on a dunk by DeAndre Daniels.
It was the first "home" game played outside of Storrs or Hartford since UConn lost to Syracuse, 88-71, on Jan. 3, 1987, in New Haven.
Eastern Washington has now dropped five of its last six to fall under .500 heading into conference play. The Eagles, in the middle of a four-game road trip, open their Big Sky schedule Thursday at Weber State. EWU was playing a ranked team for the first time since November 2011. They fell to 1-19 against the Top 25 with 15 straight losses.
Local journalism is essential.
Give directly to The Spokesman-Review's Northwest Passages community forums series -- which helps to offset the costs of several reporter and editor positions at the newspaper -- by using the easy options below. Gifts processed in this system are not tax deductible, but are predominately used to help meet the local financial requirements needed to receive national matching-grant funds.
Subscribe to the sports newsletter
Get the day's top sports headlines and breaking news delivered to your inbox by subscribing here.
---