News > Features
Chet O'Keefe says life experiences add emotion to his music
Real-life troubadour recently relocated to Washington
Sun., Feb. 17, 2013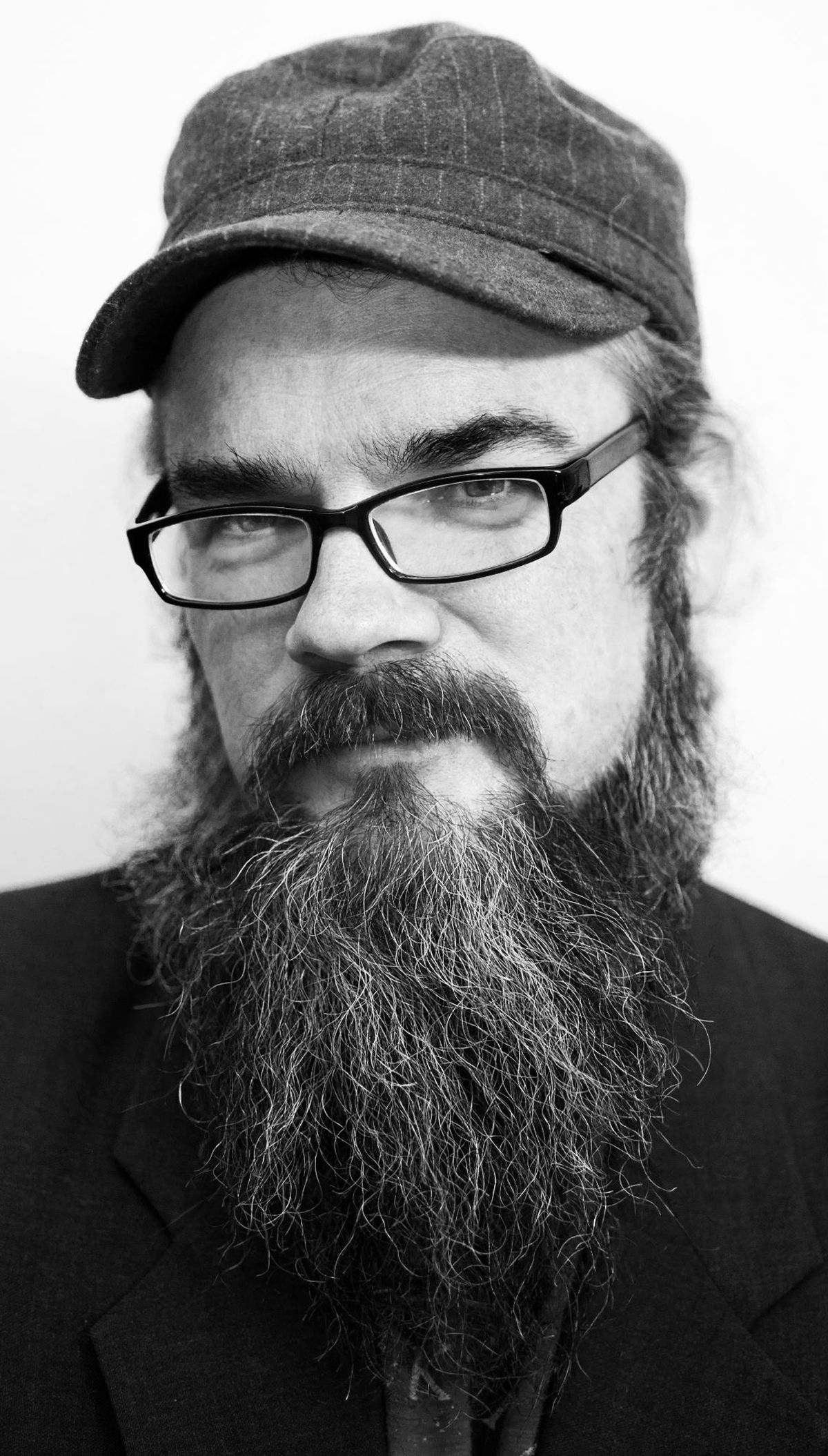 Singer-songwriter Chet O'Keefe moved to Washington state about a year and a half ago.
Peering out from behind a pair of black spectacles, beneath the brim of a dark hat, singer-songwriter Chet O' Keefe watches the world turn round.
At first glance, he radiates the aura of a mysterious, wandering nomad; a rootless troubadour; a Huckleberry Finn-meets-Bob Dylan-meets-John Prine. Upon observation, however, you realize there is a good reason why.
When it comes to music, the Colville-based O'Keefe, 47, is as real as it gets.
Sitting in my living room, sipping whiskey and passing a guitar back and forth, he begins to answer the question I have wondered all along: Who is Chet O'Keefe?
"I got my first records when I was 6 years old," he said. "They were The Moody Blues' 'To Our Children's Children's Children,' a self-titled John Edwards record, and Cat Stevens' 'Tea for the Tillerman.' In 1998, in my early 30s, I won a songwriting contest put on by a Massachusetts radio station, and time in a professional recording studio was part of my prize, so I finally got to make a record of my own."
Since then, he now has two albums on the shelf: His debut record, "Four Wheel Low," (1998) and a 2010 release, "Game Bird."
Ask for his musical influences, and he thoughtfully begins to list names. "Albert King, Albert Collins, Roy Buchanan," he said. "A lot of those old guitar players influenced my musicianship."
This becomes obvious when he, on occasion, transforms from smooth songsmith to razor-sharp guitar slinger, wielding his signature turquoise Telecaster, hand-built by a friend more than 20 years ago. "But as I started becoming more interested in crafting songs, not just playing guitar," he added, "I began to turn to guys like John Prine, Guy Clark, Townes Van Zandt and Bob Dylan."
O'Keefe also cites his own father as a source of inspiration for his music. His father, now 77, aside from his career as an architect, is a musician himself – a jazz guitarist who, up until three years ago, still performed three or four nights a week. "My father taught me a very important lesson about music," Chet said. "He told me: 'Songs should be a part of your life. When you put life experience to words and music, what do you get? You get emotion, and that's where songs come from.' "
O'Keefe, who grew up in New England – Massachusetts, Maine and New Hampshire – moved to Washington state about a year and a half ago, after a 10-year affair with Music City: Nashville, Tenn. But everywhere he's traveled, his outlook on music, and his appreciation for the art of songwriting, has remained constant.
A place of authenticity
"It's subjectivity versus objectivity," O'Keefe said about his purpose as a songwriter and musician. "I love that you can write one song, and it will mean so many different things to so many different people. I want to create something that has meaning to people, whoever they are."
Still, O'Keefe said life experience, not just a good imagination, is a key to producing powerful, meaningful, impactful music. "Emotion not generated from life experience – when it is gleaned from someone or somewhere else – is not authentic."
This is important, he said, because "we live in a world of professional listeners, when we ought to be professional creators."
"Pop culture dictates that you can buy or steal what you need, rather than creating it for yourself. So many musicians are salesmen rather than artists. These days, it seems more about selling music than it is about creating it."
Such a realistic attitude comes through in his music – an authenticity that is hard to miss in his conversation, his guitar playing and his lyrics. In "In San Joaquin Valley (Drifter's Lament)" we hear:
"It's just another desert sunrise on the California highway/San Joaquin Valley/Me and Sally spent the night sleeping out on the ground/And at four in the morning, well the wind was really blowing/And it's way too hot for sleeping/We ain't talked about where we're going, just like every other day ."
A place of authenticity.
And it is quite likely this authenticity that has earned him many opportunities over the years.
In 2010, his song "Ring the Bell," was recorded by popular bluegrass pickers The Gibson Brothers, went to No. 1 on the bluegrass chart, and stayed there for three months. It was also chosen as the International Bluegrass Music Association Song of the Year.
"I played with Bo Diddley a few times," O'Keefe mentioned casually. "He used to roll into my hometown once in a while in North Hampton, Mass. I'd put a band together to open for him, and then he'd come on stage and we'd turn into his backup band. We did it a few times."
Nashville, too, opened up some opportunities for the traveling tunesmith.
"When I lived there, I used to play some of my songs once in a while at this little place called Brown's Diner, and Nanci Griffith used to come and watch me perform. It turned out she was a fan of my music. I later asked her if I could open for her sometime, and she invited me on a tour in Europe in 2010."
She also performed with O'Keefe on his 2010 release, "Game Bird."
"After recording this CD at home on my computer, the hard drive crashed, at which point I called Nanci Griffith and said, What should I do? 'Call my producer, Thomm,' she said. Within minutes Thomm had called me, we got together at his studio and recorded it, and were off and running."
Thomm Jutz, the producer, calls the episode one of his "favorite experiences in the studio."
"He's a highly evolved human being," Jutz said. "His spirituality is reflected in his songs, and in the way he lives his life. I've seen him wow big audiences that had never heard of him before."
Or, in the words of Griffith: "Welcome to the magical world of Chet O'Keefe."
'Some Swedish Men'
In October, he embarked on a whole new adventure, having been invited to Sweden for a 20-date tour, with some time spent in Norway, playing record stores, hotels and theaters.
"We toured the entire country of Sweden," he said. "We just went everywhere. And everywhere we went, people were excited and appreciative; they were really listening." The tour was promoted so well, and the music was so loved, that people knew the songs when he would perform them.
"People drove for hours to see the show," O'Keefe said. "They are hungry for it." His song "Some Swedish Men," which was inspired by the Swedish culture and lifestyle, was a song that resonated well with the Swedes on many levels:
"Some Swedish men stay home and take care of the children/while their wives go out and ski down a mountain all day/If I lived in Sweden, I'd follow the local tradition/Well, the days would be rough but the nights would be more than okay."
A special vinyl LP of "Game Bird" was produced just for the trek across Sweden.
Stockholm's Dagens Nyheter – the largest newspaper in Sweden – reviewed "Game Bird," saying O'Keefe is "level with the icons in whose tradition he works," which is not easy in a genre that is all about "subtleties, tone, and fervor."
Plans for the future
Chet O'Keefe, however, is not just charting a past of musical accomplishments; he is plotting a course for the future of his music and songwriting. In January, he went back to Nashville to record and write with Jutz.
"After those songs are finished, and I can get those off my chest, I plan on exploring a new direction, musically," O'Keefe said. "What I have been playing and writing for the past few years has been acoustic, Americana stuff. But I've been listening to some new music, like Seasick Steve, and I feel like it's time for me to rock a little bit."
Local journalism is essential.
Give directly to The Spokesman-Review's Northwest Passages community forums series -- which helps to offset the costs of several reporter and editor positions at the newspaper -- by using the easy options below. Gifts processed in this system are not tax deductible, but are predominately used to help meet the local financial requirements needed to receive national matching-grant funds.
Subscribe now to get breaking news alerts in your email inbox
Get breaking news delivered to your inbox as it happens.
---