Fun-loving former Zag getting serious minutes for Lakers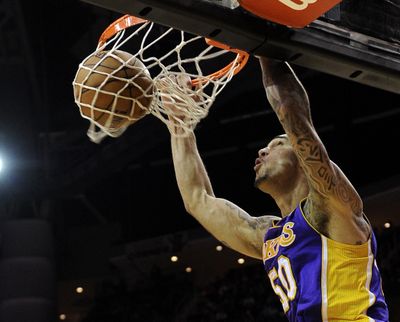 EL SEGUNDO, Calif. – The Lakers concluded a morning shootaround recently at their spacious practice facility here in preparation for the pro basketball battle of Los Angeles against the Clippers later in the evening.
The Toyota Center walls are decorated with 11 Lakers' championship banners and nine legendary yellow uniforms, including Elgin Baylor's No. 22, Wilt Chamberlain's 13, Jerry West's 44, Magic Johnson's 32 and Kareem Abdul-Jabbar's 33. Kobe Bryant, whose jersey will join the others when he decides to retire, sat in a director's chair for a television interview. Dwight Howard chucked up 3-pointers, surprisingly making more than he missed. Pau Gasol chatted with a team official.
Rookie center Robert Sacre was wrapping up an interview when general manger Mitch Kupchak strolled by with a reminder of a meeting upstairs. Sacre started jogging toward the stairs, but couldn't resist with Gasol in his line of sight. Sacre wound up and swatted Gasol's backside, then fled for the stairs, covering them two at a time.
Gasol, sounding as if this wasn't the first time this had happened, wheeled and said calmly, "Robert, I'm going to get you for that."
If you thought the setting or donning a uniform for one of the NBA's most storied franchises might change Sacre's fun-loving personality, you'd be incorrect. A recent visit with the former Gonzaga Bulldog, conducted before he became an emergency starter with injuries to Howard, Gasol and Jordan Hill, showed Sacre is all business when the Lakers are conducting business and all Sacre the rest of the day.
"I think the getting paid is probably the best part. Yeah, no question," said Sacre, unable to keep a straight face.
"You get paid to do what you love. It's a great job and I really can't complain."
That wouldn't be his style anyway. The 7-foot, 260-pound Sacre, the last player chosen in the 2012 draft, is trying to carve out a niche with the Lakers. For most of the season, he's been seen cheering wildly on the bench when a teammate makes a dazzling play.
Sacre has had a few stints with Los Angeles' D-League team in order to gain game experience. He played for the D-Fenders in Reno the night before he was summoned to start for the Lakers in Houston. Sacre had 10 points, four blocked shots and three rebounds against the Rockets.
The unfortunate injuries to Los Angeles' trio of bigs was good news for Sacre's bank account. His contract became guaranteed Thursday. He'll make $473,604 this season and the club holds an option next year for just under $1 million.
Prior to his recent promotion to the starting lineup, the majority of Sacre's work was being done on the practice court, trying to hold his own against Howard and Gasol, while developing his offensive moves. He spent about 15 minutes following the shootaround working on spot-up, 15-foot jumpers.
"It's exciting because I know I'm going to get better every practice and every day I compete against these guys," said Sacre, who caught up with his former Zag teammates when Gonzaga played Pepperdine last week. "I feel like my game has gotten a lot faster. I'm playing with a higher level of guys, Hall of Famers and they're going to push me."
Sacre said he had to quickly get over the feeling of being star-struck so he could put forth his best effort in practice.
"You look over and it's, 'Wow, Kobe, (Steve) Nash, Dwight,' " Sacre said, "but this is my job and I'm excited to be part of something like this. I get to battle Dwight all day. There's days where I'm like, "OK, he's a strong man.' But this is what they brought me in here for. I'm always learning."
"I'm just trying to stay positive. I take this seriously and I want to win. If I can help my team out by giving energy off the bench and being positive, that's what I'm going to do."
Sacre, girlfriend Vinessa and son Quinton typically spend off days at the beach. Vinessa is planning on taking some college courses. He enjoys having his family together and his new lifestyle. He doesn't miss Spokane's winter weather. "What is it, 8 degrees up there?" he joked. "Twenty on a good day?"
The one void has been the absence of Sacre's pit bulls, Louis and Jackson, but they'll be joining him in the near future.
"That's probably killing me more than anything," Sacre said.
He's met Lakers fan Penny Marshall, a television director and film producer. Vinessa has chatted with Jack Nicholson, who frequently sits courtside. Sacre understands the intense level of scrutiny on the Lakers so he tends to avoid the sports section or listening to sports-talk radio, which still zeroes in on the Lakers, who are struggling at 15-21, more than the Clippers (28-9), who are battling Oklahoma City for the NBA's best record.
Sacre's free time is devoted to his family and improving his game.
"This is very special place and I'm thankful to be here," Sacre said of the Lakers. "I try to come in early and leave late."
Sacre's one special purchase with his first paycheck was a Chevy truck. Oh, and he felt the need to get tattoos of the Vancouver, B.C., skyline (his hometown) and Snoop Dogg.
"That's about it," he said. "I'm simple, man. I'm a Spokey."
---