Sports
Seahawks erase 20-point deficit, lose on field goal
Mon., Jan. 14, 2013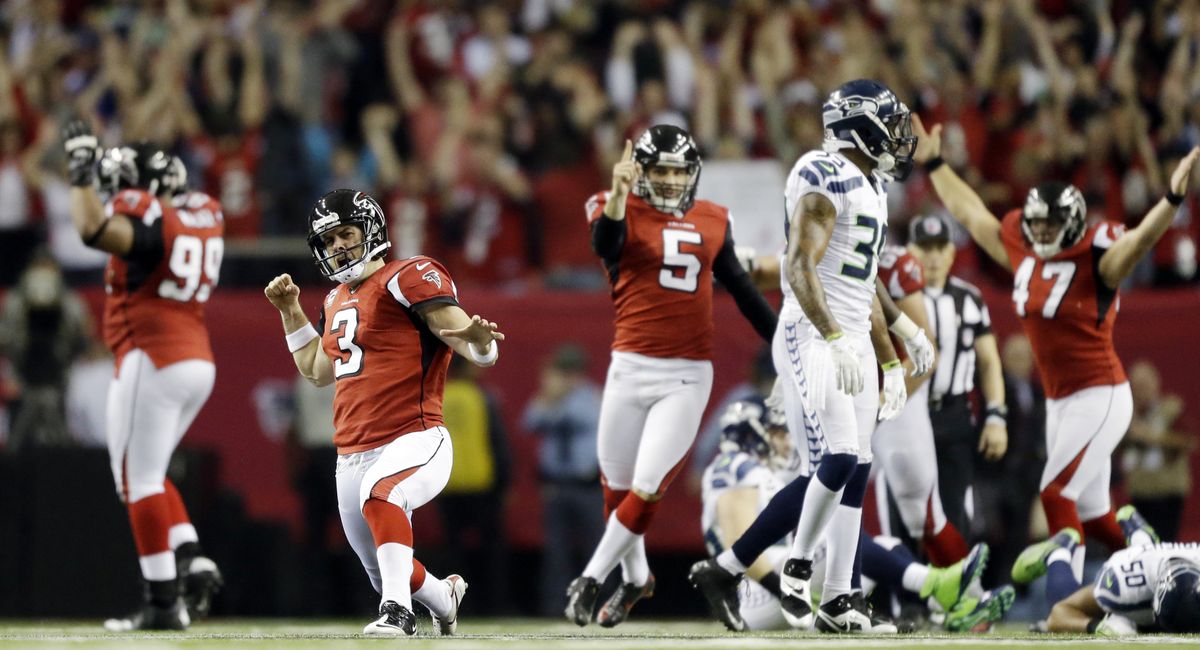 Falcons kicker Matt Bryant (3) reacts to his game-winning field goal with 8 seconds left in NFC divisional round playoff win over the Seahawks on Sunday. (Associated Press)
ATLANTA – It was agonizing.
Then it was amazing.
And in the end, it was utterly excruciating for the Seahawks and the city behind them.
It was Atlanta 30, Seattle 28 at the Georgia Dome, the Falcons' kicker making a 49-yard field goal with eight seconds left in a second-round playoff game that went from maddening to nearly miraculous to ultimately miserable for Seattle.
"Couldn't finish it," Seahawks coach Pete Carroll said.
In some ways, it was amazing the Seahawks got that close, and in others it was a shame it had to come to that.
This was a game it was hard to see Seattle winning, given the chances it wasted in the first half and the defense it played. The Seahawks were behind by 20 points in the first half, trailed 27-7 when the fourth quarter began and didn't force Atlanta's first punt until midway through the final period.
But by the final minute, it was harder to see Seattle losing. Quarterback Russell Wilson threw for 385 yards, a playoff record for NFL rookies, and the Seahawks had scored 21 consecutive points in the fourth quarter.
When Seahawks running back Marshawn Lynch scored on a 2-yard run with 31 seconds left, Seattle had its first lead of the game and was in position to match the largest comeback victory of any game in franchise history.
Twenty-five seconds. That's how much time was left when Atlanta's offense took the field at its own 28, trailing for the first time all game. Twenty-five seconds. That's how long Seattle's defense – which allowed the fewest points in the league during the regular season – needed to hold out.
Turned out 12 seconds was all the Falcons needed to complete two passes and put kicker Matt Bryant in position for the game-winning field goal that turned Seattle's incredible comeback into ash. The Falcons stopped the clock with 13 seconds to play, and eight seconds remained after the winning kick.
Carroll called a timeout to try to ice Bryant, but the Falcons still went through with the play. The boot sailed wide right, though the timeout made the outcome moot. Bryant said that his timing had been off, and the re-do gave him a much-needed chance to fix the problem.
"I missed it right," he said of the first kick. "It was my fault. It was a timing thing I was able to adjust on that second one."
Seattle will spend the offseason wondering what might have been. What if Lynch hadn't fumbled on his 11-yard run in the first quarter? What if Seattle had chosen to kick a field goal in the second quarter instead of going for it on fourth-and-1 from the Atlanta 11? What if the Seahawks hadn't frittered away a second scoring opportunity in the final minute of the second quarter, Wilson getting sacked on third down without any timeouts remaining?
And despite all that, Seattle was less than a minute from winning in the second round of the playoffs for only the third time in franchise history.
The Seahawks stared down their largest deficit of the season for the second consecutive week. And this time, they did it against a fully functional opposing quarterback. Atlanta's Matt Ryan threw for three touchdowns, but was also picked off twice.
Wilson completed his first 10 passes of the second half. He threw a 29-yard touchdown pass to Golden Tate, scrambled 1 yard for a score and then found tight end Zach Miller for a 3-yard touchdown in the fourth quarter.
By the time Lynch scored in the final minute, losing control of the ball only after he crossed into the end zone, the nation was buzzing and Seattle was absolutely electric.
"It was an extraordinary game and an exquisite comeback," Carroll said. "The quarterback was incredible and everybody that made all those plays to get us back."
The future is bright for this team, which is one of the youngest in the league and has a rookie quarterback who stared down a double-digit deficit on the road in the playoffs for the second time in eight days. And there will be time to talk next season for this team, which has all but two of the starters in the game signed for next season.
But that was an oh-so-winnable game the Seahawks lost in Atlanta. They outgained the Falcons 491 yards to 417.
And for all the attention that Atlanta's receivers got this week, it was Miller who led all players with eight catches for 142 yards, one away from matching the franchise record for a postseason game.
Seattle didn't run out of time after scoring four second-half touchdowns, it left too much of it.
"I would have really liked it if he missed the kick," Carroll joked.
It would have been even better for Seattle if it hadn't come down to that.
| | | | | | | |
| --- | --- | --- | --- | --- | --- | --- |
| Seattle | 0 | 0 | 7 | 21 | — | 28 |
| Atlanta | 10 | 10 | 7 | 3 | — | 30 |
Atl—FG Bryant 39
Atl—Gonzalez 1 pass from Ryan (Bryant kick)
Atl—FG Bryant 37
Atl—White 47 pass from Ryan (Bryant kick)
Sea—Tate 29 pass from Wilson (Longwell kick)
Atl—Snelling 5 pass from Ryan (Bryant kick)
Sea—Wilson 1 run (Longwell kick)
Sea—Miller 3 pass from Wilson (Longwell kick)
Sea—Lynch 2 run (Longwell kick)
Atl—FG Bryant 49
A—70,366.
| | | |
| --- | --- | --- |
| | Sea | Atl |
| First downs | 28 | 24 |
| Total Net Yards | 491 | 417 |
| Rushes-yards | 28-123 | 26-167 |
| Passing | 368 | 250 |
| Punt Returns | 2-24 | 0-0 |
| Kickoff Returns | 1-37 | 4-105 |
| Interceptions Ret. | 2-3 | 1-0 |
| Comp-Att-Int | 24-36-1 | 24-35-2 |
| Sacked-Yrds Lost | 2-17 | 0-0 |
| Punts | 3-36.7 | 2-42.0 |
| Fumbles-Lost | 1-1 | 0-0 |
| Penalties-Yards | 6-35 | 3-11 |
| Time of Poss. | 28:47 | 31:13 |
INDIVIDUAL STATISTICS
RUSHING—Seattle, Wilson 7-60, Lynch 16-46, Turbin 4-18, Robinson 1-(minus 1). Atlanta, Turner 14-98, Rodgers 10-64, Ryan 1-6, Jones 1-(minus 1).
PASSING—Seattle, Wilson 24-36-1-385. Atlanta, Ryan 24-35-2-250.
RECEIVING—Seattle, Miller 8-142, Tate 6-103, Rice 4-60, Lynch 3-37, Turbin 2-37, Baldwin 1-6. Atlanta, Jones 6-59, Gonzalez 6-51, White 5-76, Douglas 2-29, Rodgers 2-8, Coffman 1-16, Dr.Davis 1-6, Snelling 1-5.
MISSED FIELD GOALS—None.
Local journalism is essential.
Give directly to The Spokesman-Review's Northwest Passages community forums series -- which helps to offset the costs of several reporter and editor positions at the newspaper -- by using the easy options below. Gifts processed in this system are not tax deductible, but are predominately used to help meet the local financial requirements needed to receive national matching-grant funds.
Subscribe to the sports newsletter
Get the day's top sports headlines and breaking news delivered to your inbox by subscribing here.
---