News > Idaho
Joseph Duncan competency hearing nears end
Sat., July 13, 2013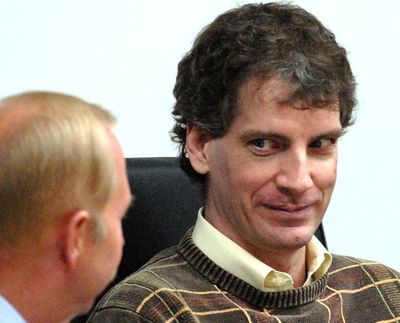 BOISE – Child-killer Joseph Duncan is sitting on federal death row in Terre Haute, Ind., but his fate still rests in an Idaho courtroom.
Eight years after Duncan kidnapped, tortured and killed a 9-year-old North Idaho boy after a murderous attack on the boy's family, the long process that could lead to Duncan's execution inched forward this week.
Federal prosecutors filed arguments summing up a six-week mental competency hearing that brought Duncan back to Idaho from Jan. 8 to Feb. 15; the defense has until late this month to submit its own post-hearing arguments. After prosecutors get a chance to respond, it'll be up to U.S. District Court Judge Edward Lodge to rule whether Duncan was mentally competent when he made decisions about his legal case.
Duncan has already been sentenced to death three times for the 2005 murder of Dylan Groene. He also received nine life sentences for his attack on the boy's family at their Wolf Lodge Bay home, which left Dylan's mother, older brother and mother's fiance dead. Only Dylan's then-8-year-old sister, Shasta, survived the ordeal.
Duncan pleaded guilty to all charges and waived his right to appeal his death sentence. But his former defense attorneys filed an appeal for him, contending he wasn't mentally competent when he waived his right to appeal or when he dismissed them and chose to represent himself in his capital sentencing trial.
The 9th Circuit U.S. Court of Appeals ordered a full hearing on that issue in U.S. District Court in Idaho, where Lodge had ruled Duncan competent after two extensive psychological evaluations in 2008 but hadn't held a hearing on the matter in open court. Now he has, and both sides are filing their post-hearing arguments.
If Lodge again rules Duncan was competent when he waived his right to appeal, Duncan's new attorneys still could appeal that decision to the 9th Circuit. If he rules Duncan wasn't mentally competent, he'd have to determine whether Duncan was competent when he acted as his own attorney at his death penalty trial. If not, a replay of that whole 2008 sentencing trial could ensue.
Federal prosecutors say eight mental health experts who had examined Duncan at the time in question – in 2008 and 2009 – testified at the competency hearing. Four were court-appointed, experienced experts who had been agreed to by both sides. The other four were hired by the defense. The four court-appointed experts found Duncan competent; the four from the defense said he wasn't.
But prosecutors argue the defense's experts were inexperienced, biased and contradicted each other. One had signed on as a consultant to the defense team shortly after Duncan's arrest in 2005 and "participated in developing legal strategies, including strategies on competency."
They also argue that transcripts of the sentencing trial, Duncan's actions and demeanor in court, his statements in 24 hours of taped interviews with two FBI agents at the time, and a review of his notes from the sentencing trial all support the finding that he was mentally competent.
Federal prosecutors wrote, "He had the capacity to appreciate his position and to make a rational decision to abandon further litigation."
Duncan claimed to have experienced an epiphany when he was about to kill Dylan's sister, Shasta, on a Montana mountainside, and decided not to kill her and instead to return her to Coeur d'Alene. He cites that epiphany as his reason for not wanting to engage with the court system in his trial, instead passively pleading guilty, refraining from appeals and waiting for the courts and society to come to the same conclusion he finally did, that killing was wrong.
However, in 2010 he sent a two-page, handwritten letter to the court, saying he'd changed his mind and wanted to appeal after all. That's not at issue in the hearing; the legal issue is his mental competency when he made his decisions in 2008.
"A defendant is competent to waive appeal if he has the capacity to appreciate his position and to make a rational choice whether to continue or abandon further litigation," federal prosecutors wrote in court documents. "A 'rational choice' … does not mean a sensible decision, or a decision that another person regards as reasonable."
Although defense attorneys argued that Duncan's epiphany was a sign that he's delusional, prosecutors noted that all four court-appointed experts disagreed and said Duncan consistently articulated his views and showed no signs of delusions.
"The defendant did not conduct a defense in the same manner that experienced, trained capital defense counsel would," prosecutors wrote. "That is not, however, the standard this Court is to use in determining whether, at the time the defendant waived his right to appeal, he had the capacity to appreciate his position and to make rational choices among the alternatives available to him."
Wendy Olson, U.S. attorney for Idaho, said prosecutors have confidence in Lodge, a 50-year jurist. Duncan, 50, has admitted kidnapping, molesting and killing three other children in two states before his 2005 crimes.
He is one of 59 inmates on federal death row in Terre Haute. There have been just three executions at the facility: Oklahoma City bomber Timothy McVeigh and triple murderer Juan Raul Garza in 2001, and kidnapper and murderer Louis Jones in 2003.
Local journalism is essential.
Give directly to The Spokesman-Review's Northwest Passages community forums series -- which helps to offset the costs of several reporter and editor positions at the newspaper -- by using the easy options below. Gifts processed in this system are not tax deductible, but are predominately used to help meet the local financial requirements needed to receive national matching-grant funds.
Subscribe now to get breaking news alerts in your email inbox
Get breaking news delivered to your inbox as it happens.
---