Sports > Seattle Mariners
Red-hot Mariners top Astros
Franklin's slam helps Hernandez win 11th
Mon., July 22, 2013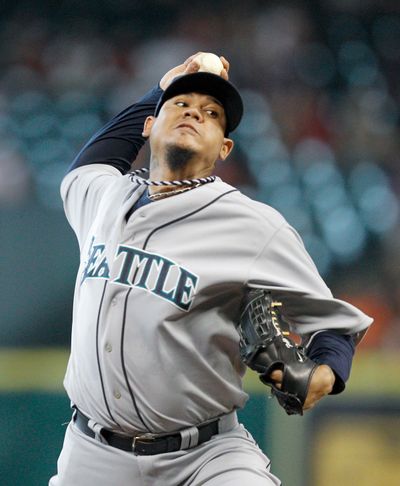 HOUSTON – The last time Felix Hernandez had a 7-0 lead, everything fell apart for Seattle's ace.
This time around things were much different.
Nick Franklin hit his first career grand slam in Seattle's big second inning to back up a scoreless start by Hernandez, and the Mariners rolled past the Houston Astros 12-5 on Sunday for their season-best sixth straight victory.
Franklin's slam, Seattle's fifth this season, came off Jordan Lyles (4-4) in a seven-run second.
Hernandez (11-4) scattered four hits with seven strikeouts over six innings to lower his A.L.-leading ERA to 2.43. He is 6-0 in his last 10 starts and hasn't lost since May 25.
The Mariners were up 7-0 in the third inning against the Angels on June 20 before Hernandez was tagged for a season-high seven runs over the next three innings as Los Angeles rallied for a 10-9 win.
"I'm sure it was in the back of everyone's mind, but he was a different animal today," Seattle manager Eric Wedge said. "He's one of those guys, it might happen once, but it's not going to happen again. I thought he did a good job against them. They made him work. But he did a good job and made pitches."
Hernandez said he didn't think about that game against the Angels, he simply appreciated getting so much run support early.
"Oh yeah, man, it's fun to pitch like that," he said. "The last few weeks we've been scoring a lot of runs. We've just got to continue to do that and we're going to win a lot of games."
Brad Miller, Dustin Ackley and Michael Saunders drove in two runs each to help the Mariners wrap up a three-game sweep.
Lyles yielded eight hits and 10 runs, with a career-high nine earned, in four-plus innings.
The Mariners piled up 13 hits, a day after managing just one in a 4-2 win.
Wedge liked that his team continued to pad the lead.
"A lot of times you'll see that: You get a big lead and you don't do anything the rest of the game," Wedge said. "I thought our guys did a good job of staying hungry."
Hernandez didn't allow a runner past first base until the fifth when Justin Maxwell reached on an error by Miller at shortstop and went to second on a wild pitch. Maxwell advanced to third on a one-out single by Jake Elmore, but Hernandez left Houston empty-handed when Jose Altuve grounded into a double play.
Kendrys Morales singled to open the Seattle second and Kyle Seager reached on an error at shortstop by Elmore.
Michael Saunders drew a one-out walk to load the bases before an infield single by Ackley made it 1-0. A second run came home when Lyles plunked Henry Blanco with a pitch.
Miller's RBI single pushed the lead to 3-0 before the grand slam by Franklin.
Lyles settled down after that and retired six of his next seven batters. Things started going awry again in the fifth when Ibanez led off with a double before an RBI single by Morales made it 8-0. Lyles hit Seager with a pitch and was chased by Justin Smoak's single.
Saunders grounded into a force out to add another run and the Mariners went up 10-0 on a sacrifice fly by Ackley.
Miller pushed the lead to 11-0 with an RBI single in the seventh, and Saunders extended his career-best hitting streak to 10 games with an RBI double in the eighth.
Local journalism is essential.
Give directly to The Spokesman-Review's Northwest Passages community forums series -- which helps to offset the costs of several reporter and editor positions at the newspaper -- by using the easy options below. Gifts processed in this system are not tax deductible, but are predominately used to help meet the local financial requirements needed to receive national matching-grant funds.
Subscribe to the sports newsletter
Get the day's top sports headlines and breaking news delivered to your inbox by subscribing here.
---
Subscribe and log in to the Spokesman-Review to read and comment on this story