News > Features
Capta in's fond fa r ew ell
Salvation Army of Spokane to honor Smith's five years of service
Sat., June 1, 2013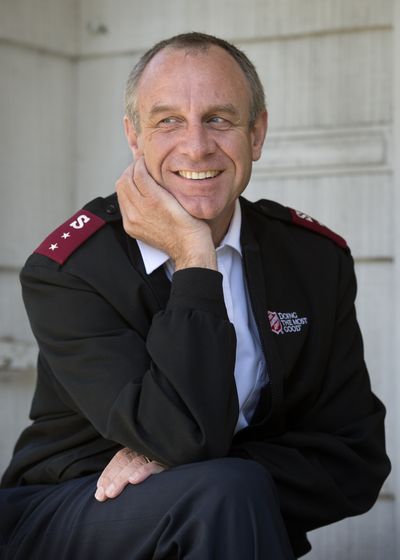 When Capt. Kyle Smith of the Salvation Army of Spokane arrived here five years ago, he didn't know much about Spokane. His Salvation Army career had already taken him from his native New Zealand, through relief work in Rwanda, a five-year stay in Hawaii and inner-city Salvation Army work in Los Angeles.
"I honestly didn't know what to expect about Spokane. I felt like I was being sent away to this little place," Kyle Smith said. "And then it turned out that Spokane was a great town. I could easily have stayed here longer."
The Salvation Army is planning a farewell reception and presentation for Kyle Smith and his wife, Maj. Lisa Brodin Smith, on June 25 at 5:30 p.m. in the Salvation Army Fellowship Hall, located at 222 E. Indiana Ave.
The Smiths got word in May that they are being transferred back to Los Angeles, where he will oversee the many branches of the Salvation Army there.
"I really haven't had much of a chance to look at my new job, but it sure will be different from here," he said.
If the Brodin name sounds familiar, it's because Lisa Brodin Smith's father Harold Brodin was the Spokane Corps Officer in 1988.
"It was kind of peculiar that we were sent back here," Smith said. "My wife had already been here, though it was some time ago."
In some ways, moving back to Los Angeles will be like returning home for the Smith family. Smith said he's looking forward to catching up with old friends and that he's always been fond of Southern California.
"You know, I'll be missing the four seasons here, the snow," Smith said, adding that he loves watching the snow fall in the middle of night, when everything is quiet. "That's what I'll miss – not as much driving in the snow."
The Salvation Army routinely transfers its employees. The calls usually go out in May and Smith said he wasn't sure if he'd be moved this year. A high-energy person, Smith said he's looking forward to the new challenge, yet he hesitates to name a major accomplishment during his time here.
"I think we have solidified the Salvation Army's work here in Spokane," Smith said. "It's not one accomplishment. If anything, I think the Salvation Army has been out in the community more and people know more about what we do."
Smith said his organization enjoys enormous public trust.
"If you ask people what happens to the money they put in the kettles around Christmas, they don't know," he said. "We take that trust very seriously."
Maj. Stephen Ball and his wife, Nancy Ball, from the Salvation Army's San Bernardino agency will move here and assume leadership on July 8.
"They are great people; they will do great work," Smith said.
Local journalism is essential.
Give directly to The Spokesman-Review's Northwest Passages community forums series -- which helps to offset the costs of several reporter and editor positions at the newspaper -- by using the easy options below. Gifts processed in this system are not tax deductible, but are predominately used to help meet the local financial requirements needed to receive national matching-grant funds.
Subscribe to the Coronavirus newsletter
Get the day's latest Coronavirus news delivered to your inbox by subscribing to our newsletter.
---