News > Features
Advertisers see growing markets for boomers in fashion, acting
Mon., June 3, 2013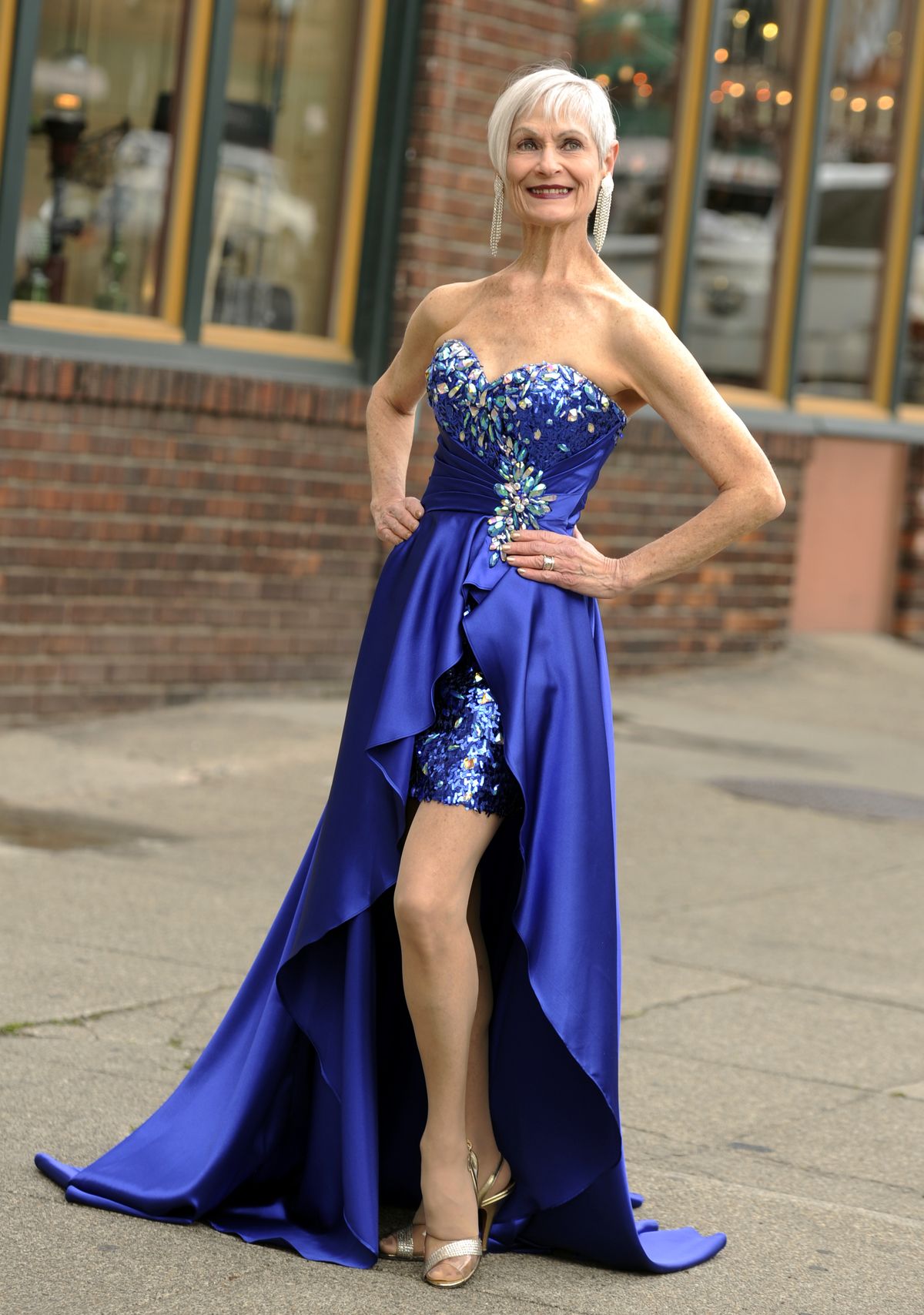 Trudy Raymond models a dress from Finders Keepers II in downtown Spokane on May 23. (Jesse Tinsley)
Trudy Raymond has been modeling since she was 2, when she starred in a fashion show at Finch Elementary School in north Spokane.
Raymond is now 68 and Friday, she'll model in "Fire on the Runway 2013" – a fundraiser for American Red Cross Inland Northwest Chapter. She believes she's the oldest woman in the show, but she embraces the chance to send a message to the audience.
"Women have come a long way since our mothers and grandmothers," Raymond said. "We want to feel good about ourselves and wearing something 'fashion forward' makes us feel good."
Raymond's modeling work – which she did in addition to her full-time job and which she continues in retirement – took a dip during the recession, but it's likely to rev up again.
As the economy recovers, advertisers predict a greater demand for baby boomer fashion models, TV and Internet commercial actors and film extras.
More boomers in popular culture might update society's image of older age, and the demand might motivate some boomers to live out dreams of being in the spotlight.
"Some people do make money, but the biggest thing they get out of it is joy," said Becky Reilly, owner and founder of Big Fish NW Talent.
Beyond Twiggy
Page through fashion magazines from the 1960s and 1970s, or watch TV commercials from that era on YouTube, and you'll see a lot of tall, thin blondes. Some brunettes, too, but none with unusual or exotic features.
Remember how Barbra Streisand's looks were considered radical in the 1960s?
Older people in generations past were stereotyped, too. Grandmas wore buns and chubby-lady dresses. Grandpas were white-haired and Santa-size cuddly.
The images of older men and women, as depicted in advertising, have been undergoing a transformation in the past several years, though consumers might not have noticed. During the economic downturn, advertising was static, but "they are starting to spend money again," Reilly said.
During the economic downturn, companies realized that their usual target – 20- and 30-something consumers – were saddled with high unemployment rates and student loans. They weren't buying much.
Meanwhile, many boomers remained active consumers – a trend expected to escalate with the recovery.
According to BoomAger, a national creative services agency that helps companies market to boomers, in five years baby boomers "will represent 50 percent of the U.S. adult population and will control 70 percent of disposable income. Surprisingly, less than 5 percent of advertising dollars target them."
In a blog post, BoomAger CEO Peter Hubbell wondered why so few Super Bowl ads target boomers.
"Just how many millennials are actually buying what Madison Avenue is selling? Perhaps they would if they could, but they simply don't have the means. The boomers are marketing's most valuable generation, because they have the most money and they love the brands that love them."
Websites that sell clip art – stock photos that can be used in ads and brochures – seem aware of the coming need for boomer images.
Go to fotosearch.com and search "boomers" and dozens of photos of men and women pop up.
For instance, a man with a full head of salt-and-pepper hair is labeled "mature man smiles." You'll also find "portrait of pretty boomer in the park" alongside "portrait of a mature woman holding a tennis racket" and "mature couple signing paperwork."
Silver hair – and trim bodies – seem the secret for landing a clip art modeling gig.
The men and women who pose for clip art come from modeling agencies in bigger cities, but closer to home, there's a market for Inland Northwest boomer men and women, too.
"We look for real-looking people who are attractive but not supermodels," said Annie Quisenberry of Quisenberry Marketing & Design in Spokane. "We look for people who can embody what an advertiser is all about and help communicate that to a consumer in a genuine, human way."
Inland Northwest agencies sometimes look for models in Seattle, Portland or Los Angeles, said Quisenberry, incoming president of the American Advertising Foundation Spokane, because "in a small market like Spokane, you can run into a lot of duplication where multiple advertisers have the same talent in their ads."
In recent years, advertisers have used social media to discover new talent, but most of the time, Quisenberry said, "We source our talent through local talent agencies."
Watch reporter Rebecca Nappi discuss this story on KHQ.com
Having fun and giving back
Joyce Cameron of Spokane, now 55, was in Macy's in Seattle in 2002 trying on clothes when a woman approached and asked "Are you a model?"
The woman explained she was searching for plus-size models for a competition sponsored by MODE magazine. She encouraged Cameron to apply.
"I waited until the very last day, and I thought, what the hell, I will try this," Cameron said.
Cameron was selected for the model competition at Macy's in Seattle; 100 women competed. Eight, including Cameron, were selected.
They were sent to professional modeling school in Seattle and starred along with "real" models in an elaborate two-day fashion show at Macy's.
Word filtered back to Spokane and Cameron was contacted by P.J. Trzeciak, owner of P.J. and Company Models/Take5Talent. She was looking for models for the Christmas Tree Elegance fashion show.
Following the modeling competition win, Cameron had a busy decade doing fashion shows and TV commercials.
"One of them was a denture commercial," she said. "A cousin called and said 'I didn't know you have dentures.' I said, 'I'm a paid model. I don't have dentures.' "
Cameron also landed a speaking part in "Home of the Brave" the 2006 film starring Samuel L. Jackson. It was filmed in Spokane. Cameron played Grace Owens, mother of a soldier who is killed.
"My lines were cut, but I was still considered a named character, and I'm still getting royalty checks from the Screen Actors Guild."
Cameron hasn't been as busy in recent years due, in part, to the economic downturn but also because she has a demanding career as chief development officer for the Providence Health Care Foundation.
Both Cameron and Raymond welcome opportunities to reflect the diverse ways women can age in society.
"When we all stand in front of the mirror do we really look like Victoria Secret models? No," Cameron said. "It's really important for businesses to know if they are going to sell to a certain demographic, they need to put that demographic in their ads. The companies that do are going to profit."
Both women donate their time to fashion shows that benefit nonprofit agencies. For instance, Cameron does the Hope House fashion show each October – a benefit for homeless women.
Raymond said volunteering in the Red Cross fashion show Friday is her thank-you to the agency.
"In 1987, our home burned to the ground in Hangman Hills," she said. "The Red Cross was very, very helpful and as you know, at every fire, they are there to help."
Both Raymond and Cameron urge boomers who have long wanted to try modeling or acting to just go for it. Sign up with a talent agency. Volunteer for a fashion show. Try out for a community theater production.
As talent agent Becky Reilly said: "An audition pushes your normally comfortable bounds. The better you learn to do that, the better you can learn to do anything."
Local journalism is essential.
Give directly to The Spokesman-Review's Northwest Passages community forums series -- which helps to offset the costs of several reporter and editor positions at the newspaper -- by using the easy options below. Gifts processed in this system are not tax deductible, but are predominately used to help meet the local financial requirements needed to receive national matching-grant funds.
Subscribe now to get breaking news alerts in your email inbox
Get breaking news delivered to your inbox as it happens.
---