Meehan: Gleason Classic more than just golf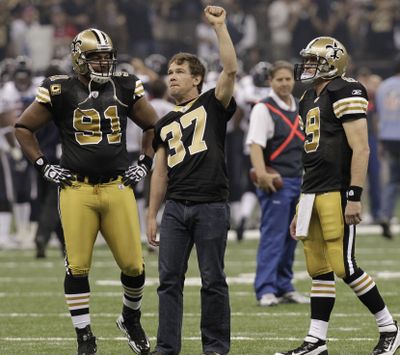 This space is designated for a weekly golf column, but there won't be much about golf here today.
Golf is the vehicle that will bring many of Steve Gleason's family, friends and fans together for the Steve Gleason Classic on June 24 at The Golf Club at Black Rock.
If it's anything like last year's inaugural event, they'll play a terrific golf course, laugh a lot, shed a few tears and support Gleason's campaign to raise money and hope for those with amyotrophic lateral sclerosis (ALS).
"It's a pretty magical day," said Dave Martin, one of eight on a committee that organizes the event.
Gleason, the former Washington State Cougars and New Orleans Saints player, was diagnosed with ALS in January 2011. He is in a wheelchair and ALS has taken his voice, but he went on a 10-mile trek on the Incan Trail in Peru's Andes Mountains in April, he announced a Saints' pick at the NFL draft later that month in New York City, and he'll be on hand for the Gleason Classic.
"When I heard he was going (to Peru) I started Googling it," said Ray Hattenburg, who played baseball with Gleason at WSU. "The footage with the elevation, for a normal person in shape it would be very tough.
"I saw one video where they were going up steps, it was nearly vertical and they were pulling him up."
Gleason was recovering from a medical procedure in December when he informed ex-Saints teammate Scott Fujita of his plans to go to Peru. Fujita, who was among 21, including Gleason's wife, Michel, and son, Rivers, to make the trip, announced his retirement as a Saint along the way.
"What better place to reach the end of the road than here at 10,000 feet above sea level in the Peruvian Andes overlooking Machu Picchu with my dear friend Steve Gleason?" Fujita said in a Saints release.
The morning session for the Gleason Classic has some openings (info: teamgleasongolf.show itsite.com). The afternoon session is full. Tournament winners receive Gleason's "No White Flags" trophies.
"I try to get sponsors," said Martin, a longtime friend of Gleason and board member on the Gleason Initiative Foundation. "Honestly, it's the easiest sale I've ever done in my life and the reason why is because it's Steve. The amount of community support is incredible."
Martin recalls an email he and several others received from Gleason after his ALS diagnosis, asking if they'd serve as board members.
"Steve told me he didn't want any galas or golf tournaments," Martin said. "I told him, 'Steve, I know you don't want a golf tournament but that's all I know how to do.' "
Gleason started just one game in his Saints career, but he made play after play on special teams with his all-out effort. He was eventually named a team captain, an honor he also held at Gonzaga Prep and WSU. His blocked punt against Atlanta in 2006 during the Saints' first home game in nearly 21 months after Hurricane Katrina is one of the most memorable plays in franchise history.
Prior to his eight-year NFL career Gleason made plays all over Martin Stadium, Bailey Field (later renamed Bailey-Brayton) and beyond.
"A lot of people don't remember that he played baseball," Hattenburg said. "I remember being down at Texas A&M and it was my first experience with 6,000 fans. He made three diving catches in the outfield, maybe ran into the wall once. They were heckling everyone except him. They were yelling, 'Transfer, transfer, transfer' at him."
Hattenburg spent time with Steve and Michel at Mardi Gras.
"I don't think people in the Pacific Northwest quite realize he has an iconic aura down there," Hattenburg said. "They love him because of who he is. He married a girl from down there, he goes to all the events and it shows. They gave him his own float in the parade. After talking with the locals I realized how big a deal that is."
The Gleason Classic will be a big deal, too, for different reasons. Money raised will help support a Gonzaga Prep scholarship for a needs-based family, Catholic Charities of Spokane and the ALS Evergreen chapter (Washington, Alaska, Idaho and Montana).
It's another opportunity for Gleason, who communicates through eye-tracking software on his computer, to raise awareness and help those with ALS live productive, inspired lives.
"Steve is my idol," Martin said. "He's many people's idol. For him to do what he's doing, with the disease he has, he's put so much perspective into so many people's lives."
Added Hattenburg: "He inspires others. But to be honest, they think he's inspiring them, but he's being inspired by everyone else at the same time."
---