News > Features
Colville's Auto Vue Drive-In falling victim to technology's high price
Sun., June 30, 2013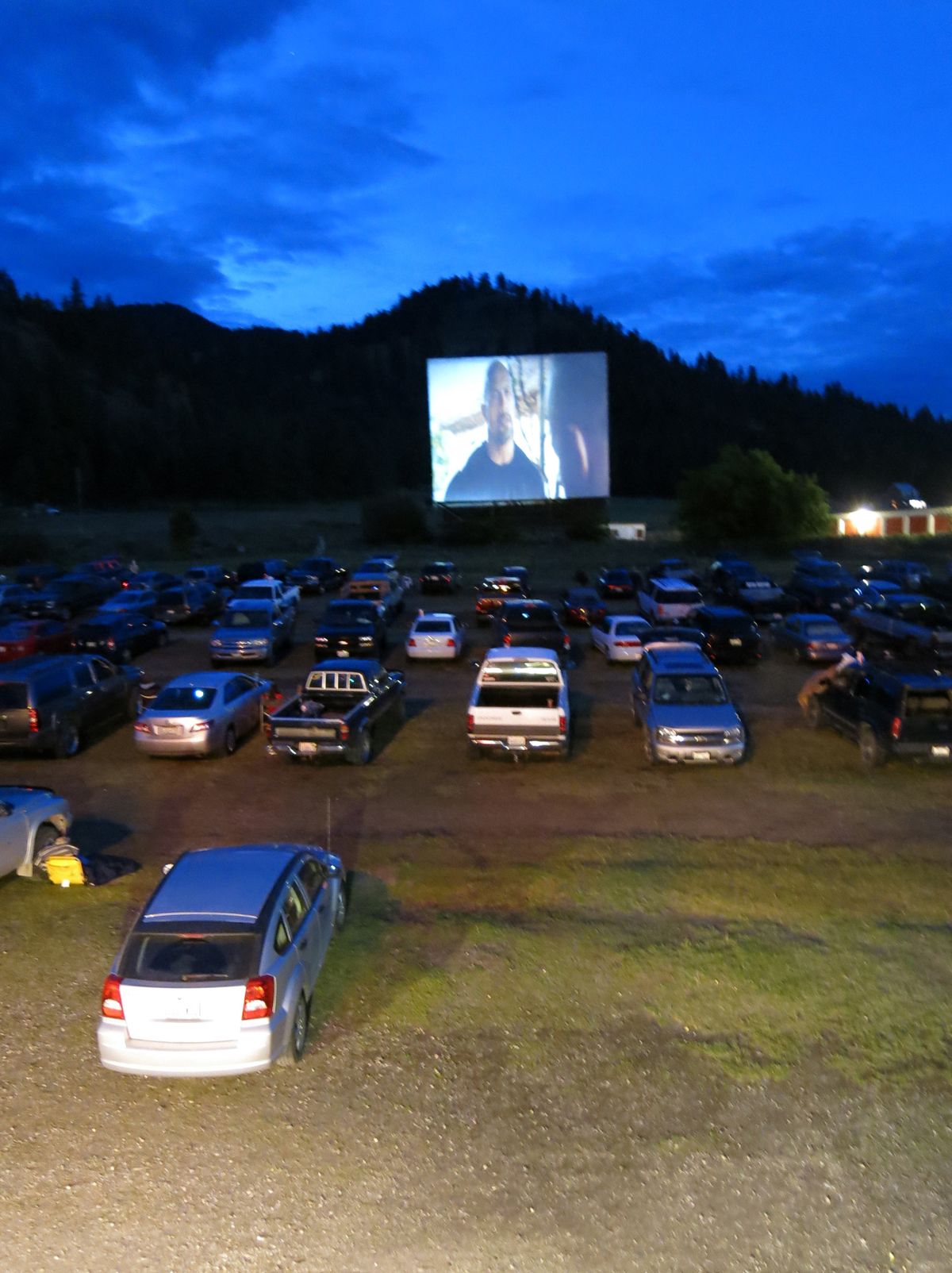 Colville's Auto Vue Drive-In Theatre, which opened in 1953, is Eastern Washington's last drive-in. It will close in September for good.
COLVILLE – Troy Crowder has been coming to the Auto Vue Drive-In Theatre for 35 years, even though it's a long drive from his home in Spokane.
"I've always had a good time at the theater. It's always been fun and relaxing," said Crowder, who was there with his 4-year-old son, Connor, on a recent Saturday night.
No matter what else has been going on in his life, the Auto Vue "is always here. It's been here the whole time," Crowder said.
Connor won't be able to say the same. Last year, the Auto Vue announced that 2013 would be its final season. After that, there will be no drive-ins in Eastern Washington.
Steve Wisner, owner of the theater just outside of Colville, says drive-ins have always struggled to compete with new forms of entertainment.
"A lot of it had to do with video stores," said Wisner, 61, who also owns Colville's indoor theater, the Alpine. "In the '80s the drive-ins just immediately stopped."
The Auto Vue survived when many other drive-ins didn't. But, now, the switch to digital format movies has made it financially impossible for Wisner to keep the business open. He's already converted the Alpine to digital. Crossing over to digital at the Auto Vue would cost $82,000, Wisner said, plus additional expenses to keep the equipment clean and air-conditioned to prevent overheating.
By his own calculations, upgrading the technology would leave him in debt until age 85. And the theater also needs to replace the weather-worn cedar-framed screen put up in 1953, when the Auto Vue opened.
For Wisner, it's the end of a lifetime's work in outdoor theaters. Wisner became a projectionist at 13, at the theater in The Dalles, Ore., that his grandfather owned and where his father worked. In 1974, the family moved to Colville and bought the Auto Vue.
Wisner, who lived in an apartment above the concession stand for 16 years before moving to a house in Colville, took over the Auto Vue in 1993.
Now, he plans to grow hops on the 4 ½-acre lot.
"I found out that hops grow very well in this area," said Wisner, who has never been a farmer. "I got a huge amount of interest from home brewers, micro-brewers."
While Wisner is at peace with his decision, his customers wish there was a way to save the old drive-in where movies wind from reels the size of truck tires.
Nearly an hour before the start of the show, cars line up all along Auto View Road at the drive-in's entrance. Once on the lot, movie patrons get comfortable. Some stay inside their cars, but many sit outside, in lawn chairs and Snuggies. Children race between cars during the coming attractions and flock to the concessions stand for popcorn and soda.
Hannah Grimm sits with her friends and siblings 6 ½ feet above the ground, on an 8-by-8-foot snowmobile platform, covered in blankets and a couch, atop the bed of the family pickup. She's been coming to the Auto Vue for the past five seasons. Grimm said she believes community outreach and fundraisers may be enough to keep the theater open.
"I think this is a really big part of Stevens County that all the kids enjoy to come to," said Grimm, who attends Jenkins High School in Chewelah, Wash.
Joanie Cournyer's three children lie in their pajamas in the back of a Chevy Avalanche pickup. It's just their second time to the Auto Vue, but Cournyer and her husband have visited other drive-ins for years.
"We used to go to the drive-in down in Yakima, and they closed down a long time ago," said Cournyer.
Manager Ben Rochon, 33, who has worked at the Auto Vue for 18 years, remembers nights when kids hid in the trunks of cars and under blankets in the backs of trucks to see the movie for free. He remembers one night when the fog was so thick that the screen wasn't visible from the concession stand. He remembers flatbed trucks packed with moviegoers, before the theater rules were changed to clarify that $14 carload night only covered those people who could legally sit in a car.
"It's sad," he said. "You hate to see something go. It's a lot of memories out there for a lot of people."
Local journalism is essential.
Give directly to The Spokesman-Review's Northwest Passages community forums series -- which helps to offset the costs of several reporter and editor positions at the newspaper -- by using the easy options below. Gifts processed in this system are not tax deductible, but are predominately used to help meet the local financial requirements needed to receive national matching-grant funds.
Subscribe now to get breaking news alerts in your email inbox
Get breaking news delivered to your inbox as it happens.
---