News > Features
Priest Lake history told through just-released photo collection
Thu., March 14, 2013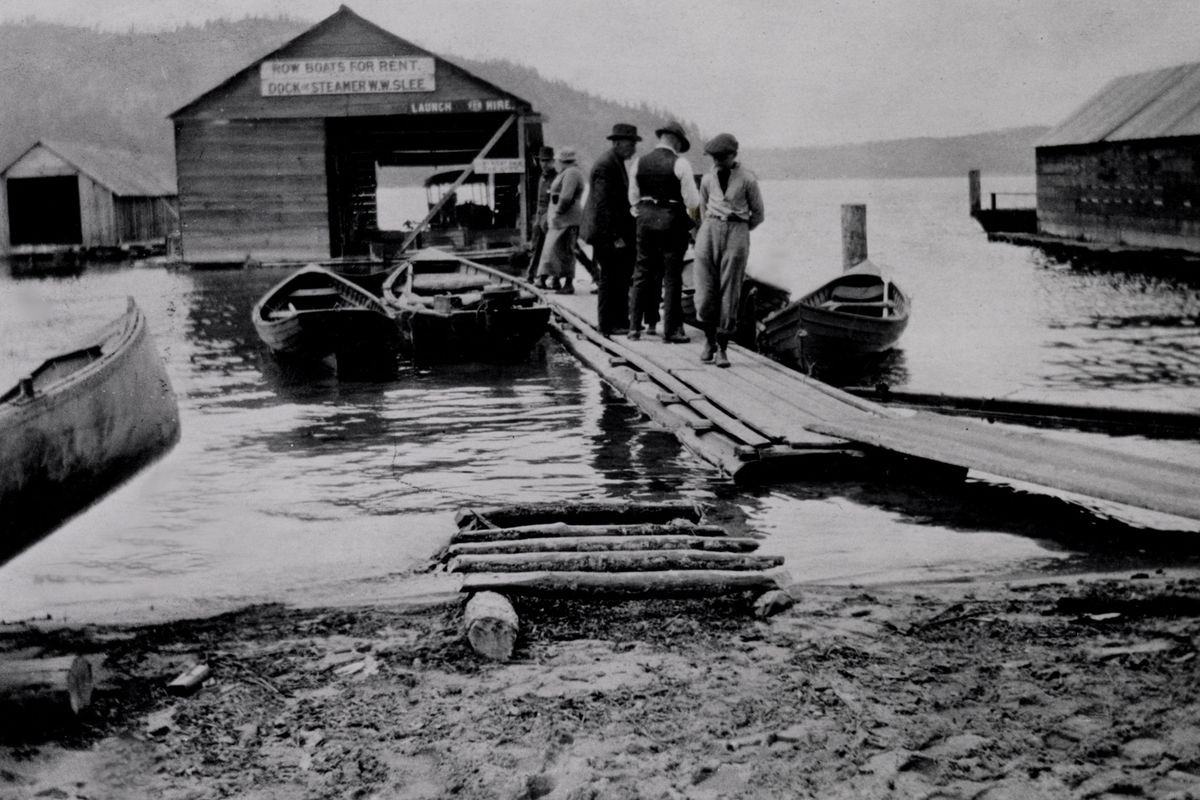 People on the dock at the Coolin Marina in 1920. The image is from a collection of Priest Lake pictures released online by the UI.
Seventy years of Priest Lake history told through 380 photographs are now on display in your home, office or wherever you want to view them.
The Priest Lake Museum Association collection has been released online through the University of Idaho Library's Digital Initiatives department.
Visitors to the website will see the hard work, leisure pace and changing times of life around the picturesque lake northwest of Sandpoint. This glimpse back spans 1880 to 1950.
Images show an angler casting a line, children celebrating May Day, swimmers lounging on a beach and a hunter hoofing it on snowshoes.
The Priest Lake Museum Association built the collection in the early 1980s after putting out a call for historical photos of the region.
The images later were delivered to the UI Library's Special Collections and Archives Department, where they were photographed and reprinted.
"By digitizing these images and offering them online, we can preserve the story they tell," said Devin Becker, digital initiatives librarian.
Flipping through the digital album, the story is both familiar and foreign.
A district ranger sits on a mule in 1921. A fire lookout mans his post in 1930. Men flood the lake ice for skating in the resort town of Coolin in 1937. Students stand outside a one-room schoolhouse in 1900.
A man tends his moonshine still during Prohibition. Eight years later a group of men, bottles in hand, celebrate the law's repeal at the Beaver Creek Ranger Station.
Several pictures depict camps built in the 1930s for men enlisted to fight blister rust disease, which was killing white pines throughout the West.
During World War II, some of these camps were used to house German and Italian internees. The men worked in the surrounding forests building roads and bridges, fighting wildfires and performing other manual labor.
The retrospective also includes cameos by silent film star Nell Shipman, who set up a studio and menagerie on the shore of Priest Lake in 1922 and used the untamed scenery as the backdrop to her outdoor adventure movies until 1925. Her trained animals included bears, bobcats, elk, deer and eagles.
Shipman may have given the lake its most eloquent accolade in her autobiography. She wrote, "Did you ever come to a place and instantly recognize it as your Ultima Thule, the one spot in all God's world where you belonged, where your roots could go deep into the soil which would forever nourish you, where inspiration and spiritual blessing welled up from earth to top the tallest Tamarack, spread to the encasing bowl of sky, return on every waterway to feed you everlastingly? Such a spot, so it seemed to me, was Priest Lake, in Idaho."
Local journalism is essential.
Give directly to The Spokesman-Review's Northwest Passages community forums series -- which helps to offset the costs of several reporter and editor positions at the newspaper -- by using the easy options below. Gifts processed in this system are not tax deductible, but are predominately used to help meet the local financial requirements needed to receive national matching-grant funds.
Subscribe now to get breaking news alerts in your email inbox
Get breaking news delivered to your inbox as it happens.
---