News > Washington Voices
Tribes keep language alive
Recent conference led by the Kalispels draws hundreds of participants
Thu., March 14, 2013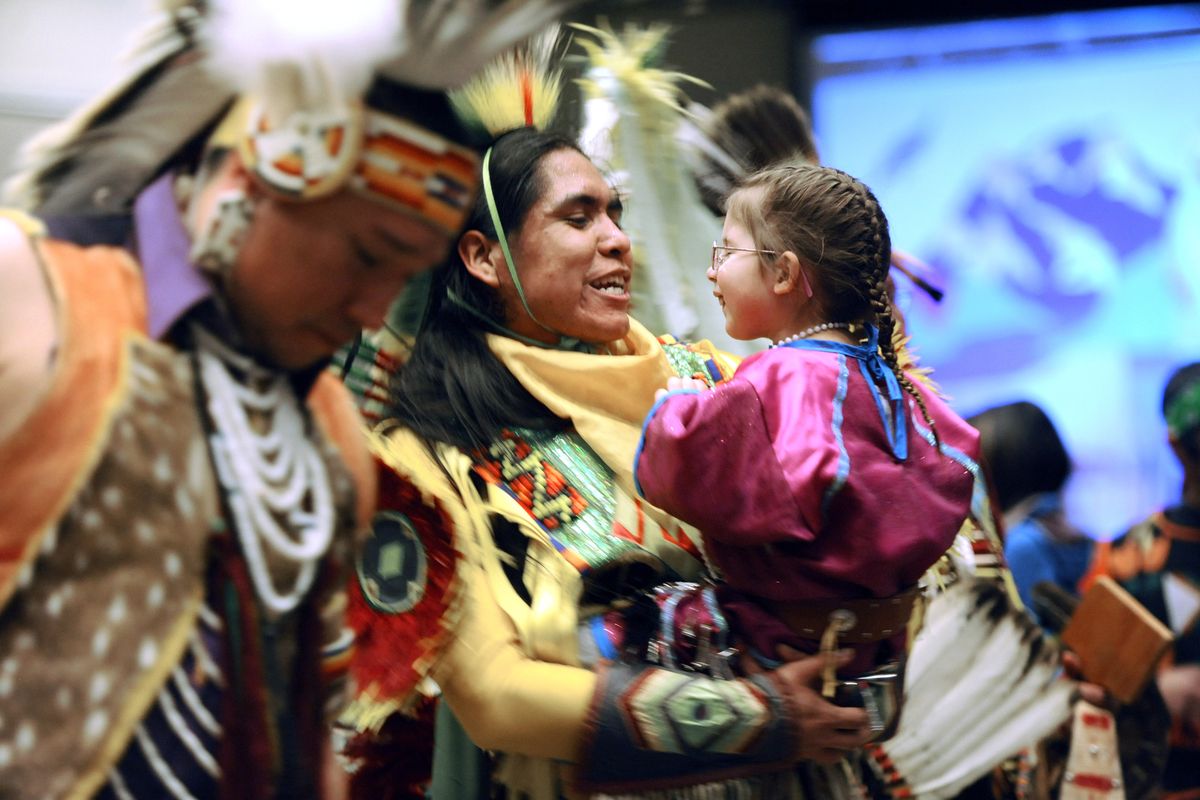 Lawrence McDonald, a Colville and Nez Perce Indian, chats with Kaienna Noel, 3, while dancing in the Celebrating Salish Conference powwow March 7 at Northern Quest Resort and Casino. The three-day conference focused on the revival of the Salish language. (Jesse Tinsley)
The unmistakable melody of Michael Jackson's "Thriller" filled the packed room at the Pavilion at Northern Quest Resort and Casino. A trio of women took the stage, executing the iconic dance moves as the lead singer, sequined hat, one glove and all, belted out the song.
The tune was familiar but the words were not.
That's because the song was performed in Salish at the Salish Karaoke Contest on March 6 during the Celebrating Salish Conference.
More than 400 tribal members from across the Northwest registered to attend the three-day conference. They had much to celebrate. Just a few years ago, the Salish language languished in near oblivion.
Enter JR Bluff, assistant director of culture for the Kalispel Tribe. He said several years ago he heard the elders worry about how to preserve the language. "They wanted to do this, but they just didn't know how," he said. "A light came on for me."
Bluff reached out to Chris Parkin, a leading expert in Salish language revitalization and curriculum development. "He said the only way this will happen is if you do it. You learn the language and teach the people," Bluff recalled.
So, he recorded the elders' words and phrases. He adapted a program given to him by Parkin and created a curriculum. "I started slamming the language down my throat. I'm a guy who likes responsibility. I'm not afraid to take chances. I was thrown into deep water, and I just started swimming."
Bluff dove in not a moment too soon. When he began working for the tribe there were a dozen elders fluent in Salish. He said, "We lost half of them by the time we started this program."
As quickly as he learned the language he taught it to others. "I was learning 10 words right before I had to teach them in the classroom."
The first goal was to introduce a Salish class at Cusick High School. Bluff said, "Now, every day we have about 70 kids at Cusick High School, 10 adults in language intensive classes and one hour of immersion (class) in grades 1 through 6 in conjunction with the Cusick School District."
For Bluff, a key has been finding others as passionate about the language as he is and encouraging them to teach. One of those teachers is Jessie Fountain, 25. "I was working in the tribe's child care center and JR taught me and a few others the early childhood curriculum," she recalled.
That taste whet her appetite for more. "It came naturally to me," she said. "It was a missing piece of my culture."
Currently, Fountain serves as language coordinator for the tribe. "I dream in the language. I'm raising my son in the language," she said. "I teach it every day. Within 15 months we can bring someone to fluency."
Bluff said the Salish conference began about four years ago. Because Salish is the language of many tribes other than the Kalispel, Bluff was besieged with requests for information. The tribe decided a conference would bring together those searching for ways to reintroduce the language with those who were actively teaching it.
"We started with a two-day conference at Spokane Falls Community College," Bluff said. "About 100 people attended, and we had to do all the presenting."
The conference has grown exponentially. At this year's event presenters came from across the region. "We wanted to pull together the doers, the warriors, the people fighting to keep the language alive," Bluff said.
The event has become the largest gathering of Salish speakers in the Northwest.
At the karaoke contest, 14-year-old Alicia Arcand took the stage in a red satin dress. Her family cheered as she sang the Salish version of "I Feel Good." They'd come from Keremeos, B.C., for the conference.
Like English, Salish is spoken in different dialects around the region.
Arcand wasn't the only one sporting red satin or performing "I Feel Good." Bluff drew thunderous applause as he did his own James Brown impression. Clad in a zebra-print trimmed, red satin shirt and pants, he tossed his James Brown "do" and strutted across the stage.
"Celebrating Salish is what we're all about," he said.
Hearing teens and adults perform pop songs in a language that once bordered on extinction seems a fitting way to commemorate the relevancy and revival of the language.
"It's coming back. Everyone wants to be a part," said Fountain. "For me it filled a void and connected me to my culture."
That connection is vital. "The language gives us our tribal identity," Bluff said.
And he still dreams big. "There will be a day when we're not teaching the language. We'll be fluent and speaking it among ourselves and in our classrooms. We're just waking it up."
Local journalism is essential.
Give directly to The Spokesman-Review's Northwest Passages community forums series -- which helps to offset the costs of several reporter and editor positions at the newspaper -- by using the easy options below. Gifts processed in this system are not tax deductible, but are predominately used to help meet the local financial requirements needed to receive national matching-grant funds.
Subscribe now to get breaking news alerts in your email inbox
Get breaking news delivered to your inbox as it happens.
---