A Few good years at Gonzaga
Successful coach begins 25th year in Bulldogs' program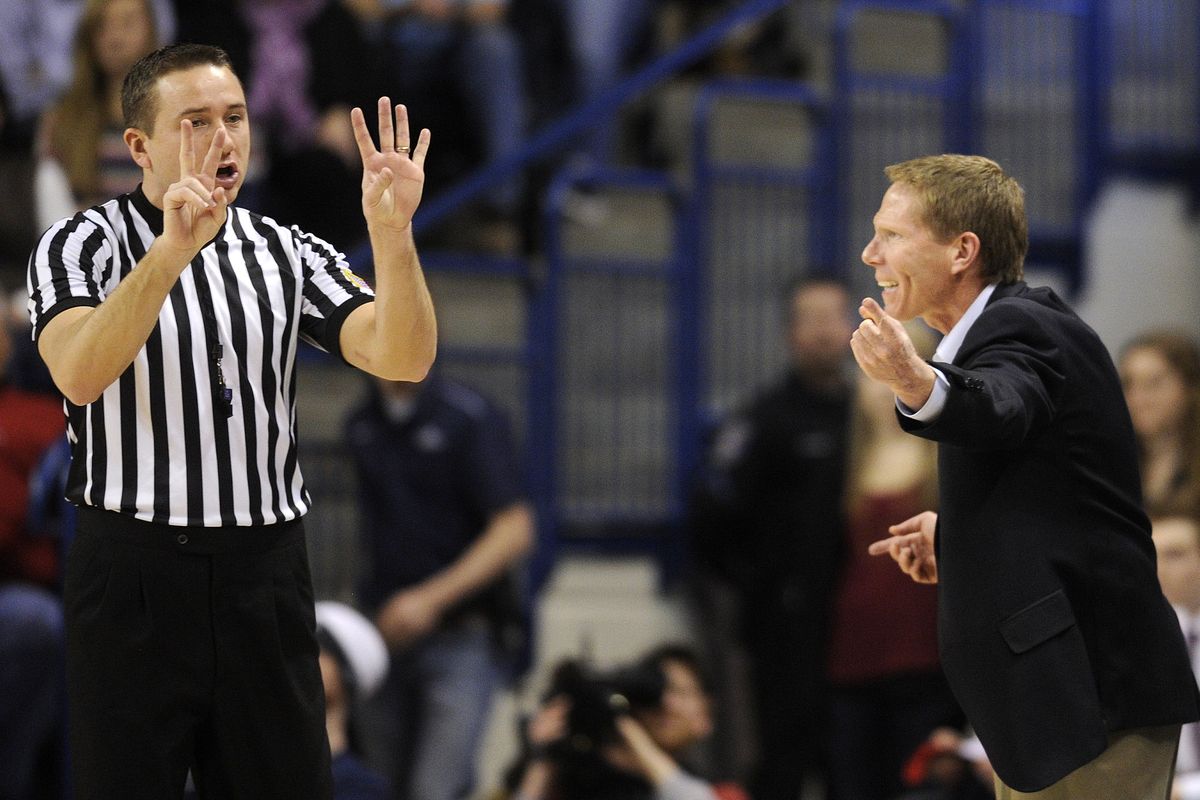 Mark Few was with the Fighting Irish in 1989 when Gonzaga called and wooed him with an offer he couldn't refuse.
The program was one of the best in the West and the pay was mind-boggling. It was an absolute no-brainer.
OK, the last line and maybe some portions of the first paragraph are partially true.
Few was an assistant coach for the Sheldon High Fighting Irish in Eugene. He was working then-Oregon coach Don Monson's basketball camps and he'd met Don's son, Dan, a first-year assistant at Gonzaga under Dan Fitzgerald. GU was hiring a graduate assistant coach and Few happily accepted.
"Other schools had more resources for the grad assistant, here it was basically an unpaid position," Few recalled. "For every class you taught you got three credits of free tuition on your master's (degree) so I taught tennis, flag football, basketball."
"I took out two student loans. I think the pay was literally $1,500 a year."
That was Year 1 for Few at Gonzaga. The Bulldogs went 8-20, 3-11 in conference and finished eighth in the WCC. Few's tasks included working out players and contributing to the scouting report.
The 2013-14 season will be Few's 25th at Gonzaga, the last 15 as head coach. He became a full-time assistant in 1992 – his paycheck climbed to $22,000 annually – and was promoted to head coach in 1999 when Dan Monson left for Minnesota.
It's been a memorable 25-year ride for Few and for Gonzaga. Fifteen straight NCAA Tournaments. Shelves filled with WCC regular-season and tournament trophies. Conference MVPs. All-Americans. A new building. Academic All-Americans. Co-National player of the year. Seven NBA draft picks since 2002, four first-rounders. Unforgettable moments in games, good and bad. Every game televised.
It's a source of immense pride for Few, whose primary goal upon taking over as head coach after GU crashed the 1999 NCAA Tournament party was "not being a one-hit wonder."
"We've never sacrificed our values to build a national program and we've done it the right way and there are a lot of people that don't," Few said. "We've done it with good guys and we've stayed nationally relevant the whole time."
Money was scarce in Few's first years at Gonzaga, but it helped living rent-free with Monson. In those days, coaches could scout games in person so Few ventured out, often by car, to gather info on future opponents. The hours were long and the pay negligible but Few didn't mind. He was coaching in a college program.
"We had a great group of guys redshirting that year that would kind of begin transforming the program a little bit – (Geoff) Goss, (Jarrod) Davis, (Matt) Stanford," he said.
The Zags chipped away and won the WCC in 1994. John Rillie's 3-point barrage carried Gonzaga to the program's first NCAA Tournament in 1995. Gonzaga kept knocking on the door, winning the WCC in 1996 and 1998, the latter in Monson's first season, but settling for NIT berths. Few's name began surfacing for assistant jobs elsewhere, prompting Monson and athletic director Mike Roth to huddle to discuss ways to keep Few on staff.
Roth inserted a contract stipulation – at a time when it wasn't common practice – that Few would be next in line if Monson departed. Less than a year later Gonzaga made its Elite Eight run. When Monson boarded a private plane for Minnesota, Roth placed a call to update Fr. Robert Spitzer, who was in meetings on the East Coast.
"You have to remember it was a whirlwind with our success and Fr. Spitzer was still in his first year as president," Roth said. "He said, 'Who are we going to hire?' I told him that we had an agreement with Mark. He said, 'That's great. Which one is he?' "
It was anybody's guess how Few would do as head coach, but Roth was confident because he knew Few as a person as well as his contributions as an assistant. Few had high hopes, too, mixed with a healthy dose of realism.
"We captured lightning in a bottle that year (1999)," said Few, recalling a December game in which Gonzaga trailed woeful Texas-Pan American by 2 in the closing seconds. The Broncs' missed a pair of free throws and Matt Santangelo nailed a 3-pointer at the buzzer.
"There was a good chance if we didn't win the WCC Tournament we weren't going to the NCAAs, that happened to us the year before," he said. "In fairness to Dan, the money and facilities were vastly different then.
Few knew expectations would soar because several key players returned from the 1999 team. He had no idea Gonzaga would routinely churn out WCC championships and NCAA Tournament wins, but he also had no reason to believe they couldn't.
"All these people out there have five-year plans, it was just never me," he said. "We were living in the day and you know what, we were just trying to get better players and be better than the year before. That's kind of what we've always done."
There was no, uh, Gonzaga, to emulate at the time.
"We were the Cinderella story," Roth said. "I think Valparaiso was the team that had done it before us and that's how people viewed us. We were the feel-good story and it was only going to be that way for a short period of time."
The Bulldogs have won at least 23 games every season under Few. Last year they reached the program's zenith with 32 wins, a No. 1 ranking and No. 1 seed in the tournament before falling to Wichita State. Along the way Few has worked with or for several of his closest friends, including Monson, Billy Grier coming aboard in 1992, Leon Rice in 1998, Tommy Lloyd in 2001 and Ray Giacoletti in 2007.
About the only item absent from Few's resume is a trip to the Final Four.
"We've been in this tournament now 15 years so you understand how fleeting and fickle it is, how much good fortune and luck have to be involved," he said. "Hey look, I would love to get our program there, our players there, our fans there, but I also know that it's been blown up to be this thing that's the end-all be-all and it isn't.
"You ask (Florida coach) Billy Donovan. It hasn't changed his life at all, he always tells me that. My key is if we're always relevant and really good we'll have a chance to advance there."
Staying relevant and really good isn't guaranteed, Few said. "It doesn't just magically keep happening. I always say this and Gonzaga's been pretty good about this, if we're not growing than we're standing still and somebody is passing us."
Roth shares the same opinion. Few has a rollover contract, so there's always X amount of years remaining. How many years? "More than eight," Roth said.
Few's pay is commensurate with coaches at other Top 25 programs. That's not by accident. Years ago Roth and Few's attorney studied contracts from coaches across the country, including some from schools that had gauged Few's interest in their job openings, copying ideas they liked while dismissing others.
"As a private school we have some flexibility others don't," Roth noted. "The last 14 years have been crazy successful so why wouldn't we do what we can within the abilities we have to make sure that continues."
If it was solely about the money, Few would have left for greener pastures long ago, Roth said. Suitors with thicker wallets have failed to uproot Few. His ties to the region run deep. He met Marcy, whose on-campus job was checking ID badges to enter the athletic department, and they married in 1994. Few relishes nearby fishing spots and the program's success, but above all the area perfectly suits his family.
"Family," he said, "has been the greatest perspective giver by far."
That's been demonstrated in numerous ways. Few's four children hang out at practice or sit near the bench during games. The Fews' Coaches vs. Cancer events have raised nearly $7 million. Gonzaga players make annual visits to area hospitals and Camp Goodtimes in Post Falls.
"He doesn't take stuff in the community lightly," junior guard Kevin Pangos said. "He notices more than basketball. That's a side I see to him. When we're doing charity work it really hits him deep in his heart. He truly gets emotional about it.
"He tells us basketball is great but to sometimes take a moment to see how fortunate we are."
---