News > Features
Merkel found calling, success at Whitworth
Mon., Oct. 7, 2013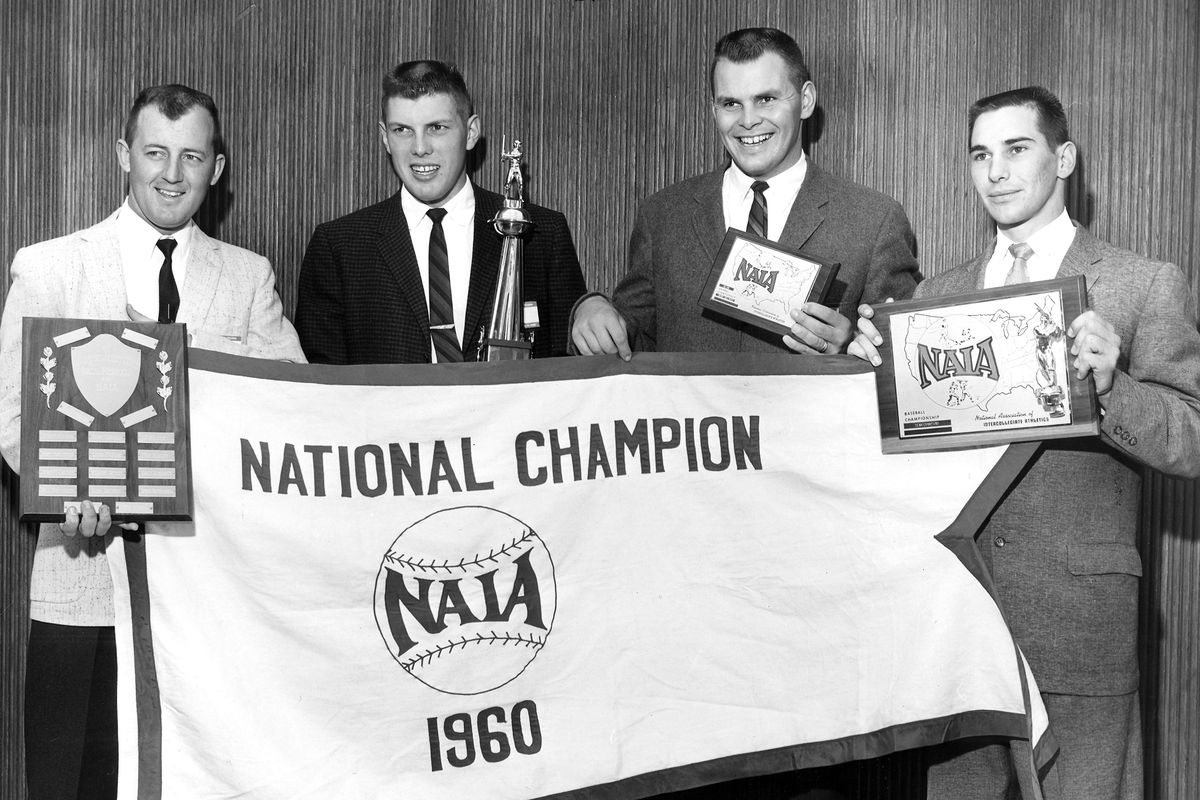 Four members of the 1960 Whitworth College team pose with their national championship awards. They are, from left: Dale Roberts, holding the award given to coach Paul Merkel; Ray Washburn, most valuable player; Ron Lince, with Washburn's trophy for the all-tournament team; and Norm Harding, with the championship trophy.
The year was 1960. My father, Paul Merkel, was 38 years old and head baseball coach at Whitworth College (now Whitworth University). He had been head coach since the spring of 1956. During that time, Dad also assisted with the football backfield, served as athletic director and filled in with any sport that needed his assistance. Whatever needed doing, my father did it. But baseball was his passion, and his ballplayers were family.
Like many small private colleges, Whitworth had struggled for years following World War II to finance its various athletic programs. In fact, baseball hadn't been reintroduced until 1948, the first time since 1935 Whitworth fielded an intercollegiate baseball team.
Those of us in "Coach Merkel's" family always knew that baseball was part of my father's soul, but we didn't find out until years after his retirement that Dad had been a talented baseball player in his own right, catching for both his high school team and for a local recreation league team in Sprague, Wash.
He was good enough that he had his eye on obtaining a baseball scholarship from Washington State University, anticipating that a successful stint at WSU would provide his best opportunity to one day play professional ball. He initiated contact with the head coach and sent letters of reference, including an impressive tally of his accomplishments and leadership positions throughout high school.
His efforts were rewarded with an offer to play for the Cougars. I can imagine the elation he must have felt when he signed that letter of intent, realizing his dream to play ball on the collegiate level. But my father had underestimated the strength of purpose with which his mother, a fundamentalist Christian widow and stern disciplinarian, approached the idea of her son attending college.
She had forbidden him to play on any summer league team sponsored by a town tavern and had no intention of permitting her son to attend a state university, athletic scholarship or not.
No, Whitworth was the college she had chosen for him; the fact that Whitworth did not have a baseball program in 1940 did little to deter her resolve.
My father loved and respected his mother and was not given to going against her will. His father had died when he was barely 12 years old, leaving him, his mother and his baby sister to manage their large wheat ranch located between Sprague and Edwall, Wash.
Ever mindful of the temptations surrounding a young man who was growing up without the advantage of a guiding male figure in his life, Lena Merkel compensated by maintaining strict control over her son's activities. And so, he turned down the scholarship and the chance to play baseball at WSU and became a freshman at Whitworth College in 1940.
I wondered if it didn't break his heart a little to give up the chance to play the sport he loved so dearly on a collegiate level. But if that disappointment did break his heart, he did not let it break his spirit. Over the next three years, my father filled the gap by successfully pursuing letters in football, basketball and tennis.
In 1943, his college career was interrupted by a call to serve his country in World War II. He chose to enlist in the Navy. After basic training he went on to Chicago, where he completed the officer training program at Northwestern University.
Having grown to love Whitworth during his previous three years as a student and feeling secure in its Christian atmosphere, Dad chose to return in 1946 after serving his time in the Pacific as a lieutenant. This time around, however, he was older and no longer content to yield to the status quo.
With the single-minded determination he later displayed as a coach and mentor, he became instrumental in rebuilding Whitworth's baseball program. At first he served as a graduate assistant in both basketball and football, but finally, in 1948, Whitworth administrators gave the nod to expand the athletic department to include intercollegiate baseball.
My mother (also a Whitworth alum) and father were married in 1947, a few months after graduation. My mother was as artistic as my father was athletic, but she had grown up in the small mining community of Mullan, Idaho, and she appreciated all kinds of outdoor activities, whether it was fishing, hiking, skiing or baseball. My father always said that it was my mom who pursued and caught him. I never believed that for a moment.
Newly married and in need of a paying job, Dad jumped at the opportunity to teach and coach at his high school alma mater in Sprague. He was there for four years before accepting a similar position in Tonasket, Wash. However, his years coaching high school athletics proved unexpectedly stressful, both professionally and personally.
In 1954, remembering both Whitworth's fledgling baseball program and the structure and spiritual stability he found at the small Christian college, he decided that the time was right to pursue his master's degree in education, and the natural choice was to do so at Whitworth.
It was with that intention that he and my mother packed up their belongings and their three young daughters and returned to Spokane. To help finance his degree program, Dad was given the opportunity to serve as a graduate assistant and later as an assistant coach in football, basketball and baseball.
His first contract of employment at Whitworth specified a whopping annual compensation of $3,450, payable in 12 equal installments. When baseball coach Art Smith resigned in 1956, my father took over as head coach. Three years later, the Whitworth Pirate baseball team enjoyed its first Evergreen Conference Championship.
Historically, 1960 was a pivotal year for the country as well as for athletics. It was a year that saw the first televised Olympic Games (including the U.S. hockey team's improbable win over Czechoslovakia for a gold medal), Ted Williams' 500th home run and the expansion of professional football to include teams from Dallas and Oakland.
But 1960 also ushered in a period of unrest and disillusionment, reflected in literature like "Catch 22," "To Kill a Mockingbird" and "The Feminine Mystique."
Students were taking to the streets, demonstrating in Atlanta churches and staging sit-ins at colleges around the country to promote their push for civil rights, women's liberation and equality.
John F. Kennedy was running for president, OPEC was formed by oil-exporting countries in the Middle East, and the USS Enterprise was launched as the first nuclear-powered aircraft carrier.
It was in this setting that my father, Coach Paul Merkel, fielded his 1960 baseball team.
Local journalism is essential.
Give directly to The Spokesman-Review's Northwest Passages community forums series -- which helps to offset the costs of several reporter and editor positions at the newspaper -- by using the easy options below. Gifts processed in this system are not tax deductible, but are predominately used to help meet the local financial requirements needed to receive national matching-grant funds.
Subscribe now to get breaking news alerts in your email inbox
Get breaking news delivered to your inbox as it happens.
---