Sports
Interception return, Furney's FG fuel WSU win over USC
Sun., Sept. 8, 2013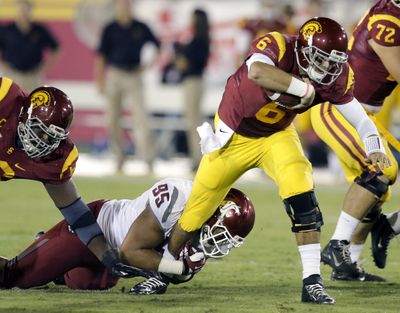 LOS ANGELES – The only souls left dancing in this storied sports venue were colored crimson, maybe a couple dozen of them jumping and laughing and singing Washington State's fight song in the end zone seats next to the tunnel as players, coaches and assembled observers exited Memorial Coliseum on Saturday night.
There they were, dancing by themselves. But their celebratory spirits were kindred with others of similar rooting interest on this night, the first in 13 years that WSU's football team came into this building and left with something resembling jubilation.
It was WSU 10, No. 25 Southern California 7, Andrew Furney's 41-yard field goal proving the difference, Mike Leach's 'Air Raid' offense grounded by the Trojans' brutish defensive front, Lane Kiffin's non-existent offense grounded in part by its own fits of ineptitude, but mostly by WSU's tenacity and flare for big plays.
And its confidence. There was plenty of that to be found afterward in a makeshift tent outside WSU's locker room, where true freshman cornerback Daquawn Brown declared: "We expected to come in here and win."
They implied it earlier this week and they can scream it now, even after amassing only 222 total offensive yards, even after failing to score an offensive touchdown.
"It was kind of a war of defensive lines," said coach Mike Leach, noting that his team knew it had to grind this one out to win it, and "I'm proud to say that we did."
Fans booed early and often, voicing their displeasure with Kiffin, with quarterback Cody Kessler, even with star receiver Marqise Lee after he ran backward a couple times.
They were chanting "Fire Kiffin" as WSU quarterback Connor Halliday took a knee and the final seconds ticked away, the finishing touches applied to the Cougars' first win here since 2000, and their first win over a ranked opponent since 2006.
How bad was this one? Well, when Kessler finally threw a touchdown, it was to Damante Horton, and he plays cornerback for WSU.
Horton jumped a route and intercepted a poorly-thrown ball at WSU's 30-yard line, and ran it back for a touchdown without being touched. That evened the score at 7-7 with just 27 seconds left before halftime despite the Cougars' offense battling turnovers all half.
Horton also made the interception that gave WSU the ball back with fewer than three minutes remaining in the game, shortly after kicker Andrew Furney had booted a 41-yard field goal to give WSU its first – and only – lead.
"We kind of wished they would have thrown it more," said Leach.
The kick, Furney said, was perfect – the snap, the hold, everything.
That drive was set up by the 49-yard catch-and-run of Dom Williams, who snagged a third-down pass from Halliday, broke a tackle behind the first-down marker, then sprinted to USC's 30-yard line to set up one of the biggest upsets in recent WSU history.
But first, there were turnovers. All three of those were committed by Halliday. The first was an interception thrown in the end zone on third-and-goal in the first quarter, the second pass Halliday has thrown to an opponent in a goal-to-go situation this season.
The second was a fumble forced by USC's George Uko and recovered by Devon Kennard, then returned to WSU's 22-yard line. The Trojans actually managed to get on the board after that one, first converting a 4th-and-1, then scoring on a 4-yard scramble by Kessler.
But USC's first quarterback didn't prove sufficient, so Kiffin subbed in Max Wittek at halftime. His first two series were void of a pass completion, and USC had a field goal blocked and missed another.
The Cougars continued to do nothing with their opportunities to take the lead. Halliday finished with 26 completions in 38 attempts, but threw for just 215 yards. And he had little help from the Cougars' running game, which managed just 7 yards one week after piling up 120 at Auburn.
Meanwhile, the Trojans kept running, but went nowhere on the scoreboard. Tre Madden finished with 32 carries for 151 yards, but the Trojans were left wanting on each of their possessions in the second half.
The Cougars left with what they wanted.
"There's a lot of ghosts in this stadium and it's an exciting place to play," Leach said. "You're talking about a school that's got Twitter account numbers next to their two-deep."
It was the Cougars who were trending.
Local journalism is essential.
Give directly to The Spokesman-Review's Northwest Passages community forums series -- which helps to offset the costs of several reporter and editor positions at the newspaper -- by using the easy options below. Gifts processed in this system are not tax deductible, but are predominately used to help meet the local financial requirements needed to receive national matching-grant funds.
Subscribe to the sports newsletter
Get the day's top sports headlines and breaking news delivered to your inbox by subscribing here.
---