Sports
Conservative approach failed Kiffin's Trojans
Wed., Sept. 11, 2013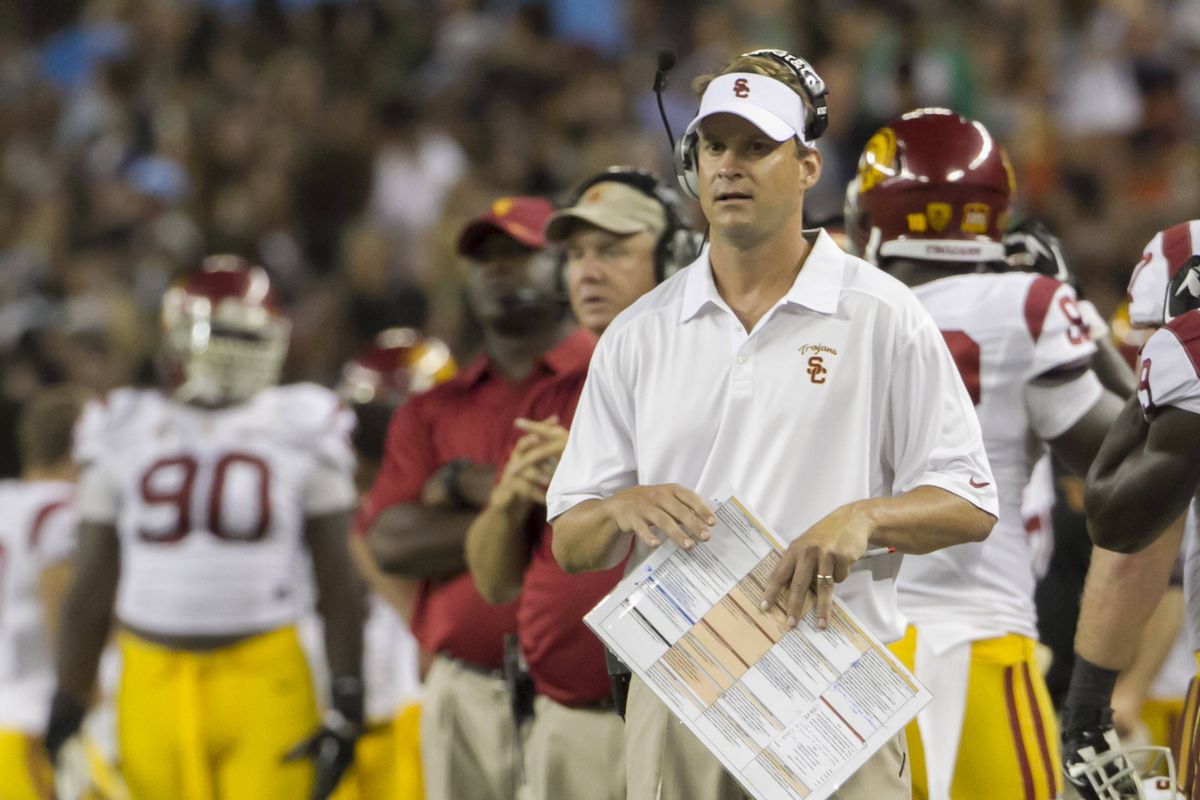 Trojans coach Lane Kiffin is already on hot seat in L.A. (Associated Press)
His team lost the game, Lane Kiffin said, so of course there are going to be facets which the Southern California coach wishes his team had handled differently. Or that its coach had approached differently.
Kiffin and his team lost to Washington State in Los Angeles for the first time since 2000 last weekend, and the fallout from that setback is still settling.
Will this be the loss that signals the beginning of the end for the oft-maligned coach? Will he make it through the season? Is the Earth still round?
And did Kiffin plan to play so conservatively against the Cougars, abandoning the forward pass at nearly every turn in favor of 42 rushing attempts?
The USC coach said he "felt like once the game started, our defense was going to dominate, and the only way to lose that game was to put the ball in the air a bunch."
He isn't wrong. Starting quarterback Cody Kessler's interception was killer – and it was returned 70 yards for a touchdown by WSU cornerback Damante Horton. Backup Max Wittek's interception wasn't any healthier – it was also picked by Horton, and it was USC's final offensive play of the game. WSU ran out the clock afterward.
"Unfortunately in the conservative approach of what we were playing, we got in two 2-minute situations where obviously you're throwing, and that's when we threw the interceptions," Kiffin said. "Otherwise, we win the football game."
But the Cougars won, so Kiffin is left to answer questions about why. One question he won't answer, however, is why he named Kessler his starting quarterback. He made that announcement – and that's at least something – in a 1-on-1 interview released by the school, a setting in which he did not have to take questions about his decision.
He was asked anyway on Tuesday's Pac-12 coaches' teleconference.
Kiffin effectively ducked that query, saying "there's so much negativity around them already … to start pointing out what this guy didn't do or why this guy got the job, I don't think is the right thing to do."
UCLA mourns death
There is not another team in the country facing a tougher challenge this week than the UCLA Bruins as they prepare to play at Nebraska – and the challenge has little to do with their opponents.
The Bruins are trying to focus on the task at hand while also mourning the tragic death Sunday of beloved walk-on receiver Nick Pasquale, who was killed after being struck by a car while walking in San Clemente, Calif.
Pasquale, a redshirt freshman, had just played in his first game as a Bruin.
UCLA coach Jim Mora said one of his most important priorities is letting his players know that he's there if they need him.
"Football pales in comparison to what they're going through right now," Mora said, "but it's also an outlet for their emotion and their grief. I make myself available to them 100 percent of the day, and they know that."
Kelly's debut success
Chip Kelly will have to sustain his successful offensive style for longer than one game to be considered a conqueror of NFL defenses. But after the former Oregon coach led the Philadelphia Eagles to a 33-27 victory over Washington in his NFL debut, the reviews of his fast-paced, spread offense were almost unanimously positive.
Current Oregon coach Mark Helfrich, one of Kelly's former assistants, said he doesn't think the proliferation of Kelly's offensive success in the NFL will have much of an impact on Oregon one way or the other. The benefits have already been reaped.
"We think there's a lot of validation in everything we do," Helfrich said. "You look at past several (NFL) draft classes … offensive linemen, receivers, quarterbacks. There's a ton of guys coming from our type of offense."
Local journalism is essential.
Give directly to The Spokesman-Review's Northwest Passages community forums series -- which helps to offset the costs of several reporter and editor positions at the newspaper -- by using the easy options below. Gifts processed in this system are not tax deductible, but are predominately used to help meet the local financial requirements needed to receive national matching-grant funds.
Subscribe to the sports newsletter
Get the day's top sports headlines and breaking news delivered to your inbox by subscribing here.
---