WSU and Idaho coaches have words, choose not to reveal what was said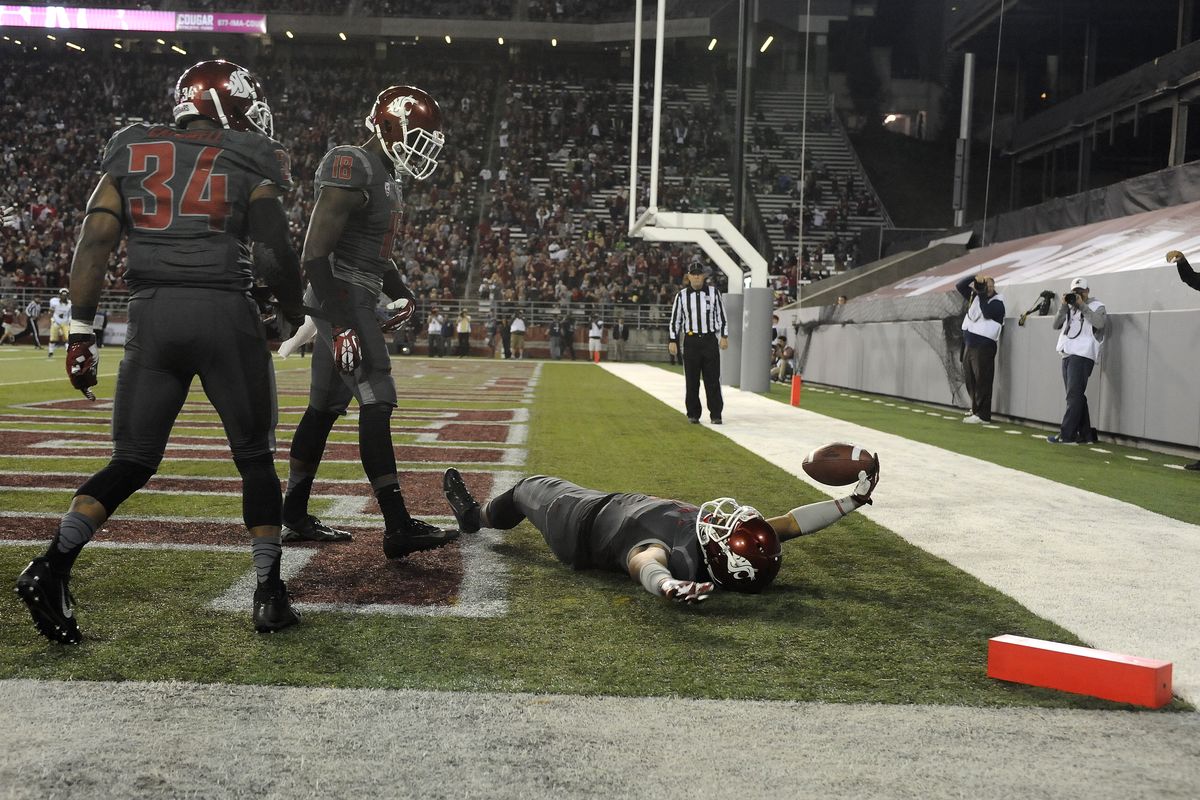 PULLMAN – There is plenty to dissect and discuss from Washington State's 42-0 victory over Idaho at Martin Stadium on Saturday night.
And there's at least something to discuss about what happened afterward.
As WSU coach Mike Leach and Idaho coach Paul Petrino shook hands after the game, it appeared each coach had words – perhaps not pleasant words – to exchange with each other. Television replays of the exchange were circulating on Twitter within 15 minutes of the game's end.
Neither coach wanted to talk about it afterward.
"That's between me and him," Petrino said.
Leach found a different way of saying the same thing.
"That would be strictly between he and I, so anything said between us would be private," Leach said. "So we'll leave it at that."
Asked if he was upset that WSU tried to convert a fourth down with a big lead late in the game, Petrino said: "We play to play. That had nothing to do with it."
Vaeao, Bartolone out
The Cougars once again played without one of their defensive starters, but it didn't much matter.
Destiny Vaeao, WSU's starter at buck linebacker, suited up for the game but didn't play for the second consecutive week. Kache Palacio took his place, as he did last week against Southern Utah.
The Cougars were also without receiver Brett Bartolone, who stood on the sidelines in sweats. He had been limited in practice this week. Rickey Galvin started in his place.
Bucannon climbs list
When Washington State senior safety Deone Bucannon stepped in front of Josh McCain's pass for an interception early in the first quarter, he moved into eighth place in the school's career record book.
Bucannon now has 11 interceptions, which ties him with former Cougars Don Paul, Torey Hunter and Marcus Trufant. Eric Johns and Erik Coleman are in sixth place with 12 each.
Forde stands out
Idaho defensive end Maxx Forde, who almost followed in his father's footsteps by playing at WSU, had a productive – and opportunistic – night against the Cougs.
The junior had two fumble recoveries and was in on Idaho's lone sack of the first half, which was credited to QuayShawne Buckley.
Forde's father, Brian, was a standout linebacker at WSU and he was set to join the Cougs before switching to the Vandals on signing day.
Vandals can't capitalize
Idaho didn't have a problem prying the ball loose on defense. But when it came to capitalizing on WSU's turnovers, the Vandals came up empty.
The Vandals picked off Halliday twice and recovered two fumbles. After each turnover, they either had to punt or couldn't convert on fourth down.
Idaho came into Saturday last in the nation in lost fumbles, with eight. And the mistakes continued against WSU – Kris Olugbode fumbled late in the first half to set up an easy TD from the Cougs, and WSU quickly responded with a score after Josh McCain's first-quarter interception.
---