News > Features
Singer-songwriter Cockburn finds inspiration across musical spectrum
Thu., April 3, 2014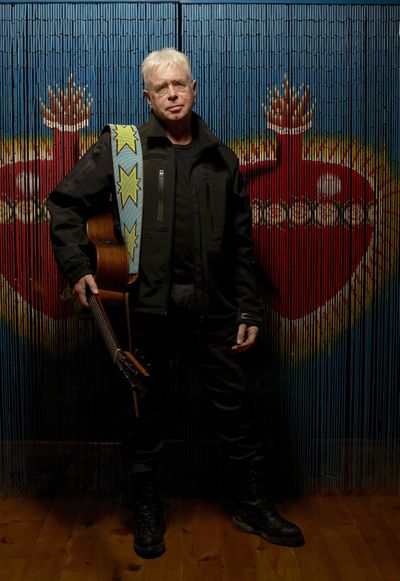 Bruce Cockburn has been writing and recording music for more than 40 years, and yet he's never been comfortable doing the same thing twice. Listening through his 34 studio albums, it's immediately apparent that Cockburn is a difficult artist to peg down and that his musical influences are all over the map.
"What got me excited about music in the first place was the early rock and roll," Cockburn said from his home in San Francisco. "There was 'Shake, Rattle and Roll' and 'Hound Dog' and all the Buddy Holly stuff, and that just got me all fired up."
Cockburn, a native of Ontario, started taking guitar lessons as a teenager, where he was exposed to jazz and swing and the music of Les Paul and Chet Atkins.
"And then before I was out of high school I got introduced to country blues and folk music, and all of that kind of melded together," he said.
Cockburn later attended Boston's Berklee School of Music, where he studied composition with the intention of becoming a composer for jazz ensembles. "But at the same time I was listening to John Lennon and Bob Dylan and Gordon Lightfoot, all the songwriters of that generation," he said, "and I thought, 'Maybe I should try that, too.'
"By the end of the '60s, I'd figured out what I wanted to do, and I had a body of material that was on the first couple albums," he added.
Following stints in several psychedelic rock bands, Cockburn released his self-titled solo debut in 1970. It's a collection of evocative, stripped-down acoustic ballads – think Nick Drake or Leonard Cohen – but more diverse styles creep in with each consecutive record. There's a country flavor to 1973's "Night Vision," hints of Cockburn's jazz background on 1976's "In the Falling Dark" and 1980's "Humans" flirts with new wave and reggae.
Cockburn will be playing tonight at the Bing Crosby Theater (it's the first stop on his current tour), and he'll be performing alone without a backing band. Not only is that approach a sort of throwback to his earliest albums, but Cockburn said it stylistically unifies his deep catalogue. "If you strip it down, the stylistic differences are softened a little bit, because it's just a guy with a guitar singing," he said. "There's more homogeneity in the material than you might hear on the albums."
But Cockburn's music isn't merely defined by its sources of inspiration. His work is distinctively his, and the complex musical arrangements and socially conscious lyrics (songs like "If I Had a Rocket Launcher" and "Call It Democracy" are pointed sociopolitical commentaries) of his songs elevate them beyond sleepy pastoral ballads.
"Every time I hear anything I like, I end up incorporating it in some way into what I do," Cockburn said, "and if I'm profoundly affected emotionally by something I encounter, that's very likely to end up in a song. I don't feel like I'm in need of being propped up by somebody else's style."
Local journalism is essential.
Give directly to The Spokesman-Review's Northwest Passages community forums series -- which helps to offset the costs of several reporter and editor positions at the newspaper -- by using the easy options below. Gifts processed in this system are not tax deductible, but are predominately used to help meet the local financial requirements needed to receive national matching-grant funds.
Subscribe to the Coronavirus newsletter
Get the day's latest Coronavirus news delivered to your inbox by subscribing to our newsletter.
---