Sports
Wizards top Celtics, clinch playoff berth
Thu., April 3, 2014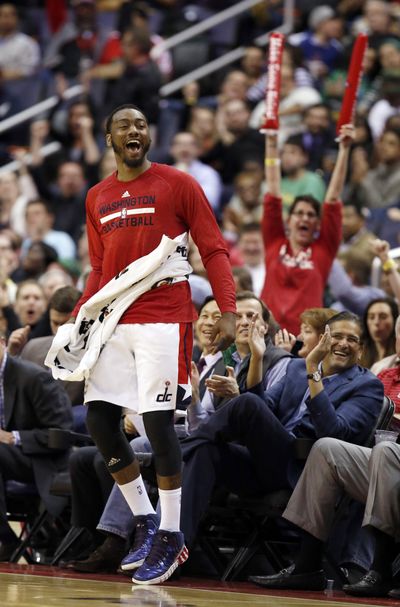 NBA: The Washington Wizards are in the playoffs for the first time since 2008, clinching an Eastern Conference berth Wednesday with a 118-92 home win over the Boston Celtics.
Marcin Gortat scored 22 points to lead the Wizards, who gathered for a celebratory huddle at midcourt after the final whistle. John Wall, the 2010 No. 1 overall draft pick playing the first meaningful late-season games of his career, added 13 points and 10 assists.
• Timberwolves deal Grizzlies setback: Kevin Love had 24 points, 16 rebounds and 10 assists for his third career triple-double and the Minnesota Timberwolves dealt the visiting Memphis Grizzlies a 102-88 loss they could ill afford.
Ricky Rubio had 14 points, seven assists and three steals and Kevin Martin scored 21 points for the Timberwolves.
• Spurs top Warriors to win 19th straight: Tony Parker had 18 points and eight assists and Tim Duncan had 15 points and eight rebounds and the San Antonio Spurs rolled to a 111-90 victory over the visiting Golden State Warriors, extending their franchise record winning streak to 19 games.
Spurs coach Gregg Popovich was able to rest his core players with his team leading by as many as 26 points and never trailing after the opening three minutes.
• Heat stay atop East, beat Bucks: LeBron James scored 17 points, Chris Bosh added 15 and the Miami Heat stayed atop the Eastern Conference with a 96-77 win over the visiting Milwaukee Bucks.
Mario Chalmers added 14 for the Heat, who never trailed despite again being without Greg Oden, Dwyane Wade and Ray Allen.
• Knicks continue late-season surge: J.R. Smith had 24 points, eight rebounds and six assists, Carmelo Anthony added 23 points and 10 rebounds, and the New York Knicks beat the city rival Brooklyn Nets 110-81 at home to extend a late-season playoff push.
Tim Hardaway Jr. scored 17 points a game after spraining his right ankle to help the Knicks win for the 12th time in 15 games. New York, which entered a game behind Atlanta for the eighth and final playoff spot in the East, won its third straight.
• Bavetta extends ironman streak: NBA referee Dick Bavetta worked his 2,633rd consecutive game assignment, an ironman streak even longer than the one baseball Hall of Famer Cal Ripken Jr. compiled.
Bavetta officiated the game between the Knicks and Nets at Madison Square Garden, extending a streak during which he has never missed an assignment since beginning his career in 1975.
Blackhawks' Toews out until playoffs
NHL: Blackhawks captain Jonathan Toews will miss the rest of the regular season with an upper-body injury.
The team said that coach Joel Quenneville expects Toews to be "100 percent" for the playoffs.
Toews was injured after a hit by Penguins defenseman Brooks Orpik on Sunday night.
Toews has 28 goals and 68 points this season.
• Red Wings slip past Bruins: Gustav Nyquist broke a tie with 7:12 left in the third period, and the Detroit Red Wings held on to beat the visiting Boston Bruins 3-2.
Nyquist scored 1:42 after teammate Tomas Jurco tied the game. Jimmy Howard finished with 33 saves to seal the win.
• Bailey lifts Isles past Senators: Josh Bailey had a goal and an assist for the second straight night, and the New York Islanders earned back-to-back victories with a 2-1 win over the host Ottawa Senators.
Bailey, playing in his 400th NHL game, scored a power-play goal in the first period, and assisted on Casey Cizikas' winning goal midway through the third.
Mexico rallies back to earn draw with U.S.
MISCELLANY: Mexico rallied from a two-goal halftime deficit to earn a 2-2 draw with the United States in an exhibition match.
Highly touted 18-year-old Julian Green made his senior U.S. debut, coming on in the 59th minute as a substitute at midfielder for Graham Zusi.
• Fresno State forces rubber match in CBI: Tyler Johnson and Cezar Guerrero combined for 25 points in a first-half barrage, and Fresno State beat Siena 89-75 in the College Basketball Invitational to set up a decisive third game on Saturday.
• PSG beats Chelsea: Paris Saint-Germain took advantage of visiting Chelsea's sloppy defending to win the first leg of their Champions League quarterfinal 3-1 as substitute Javier Pastore scored a brilliant late goal on a solo run.
• Madrid tops Dortmund: Cristiano Ronaldo scored in the 57th minute to tie the competition record with his 14th goal of this season's tournament, then left in the 80th with what appeared to be a leg injury in host Real Madrid's 3-0 victory over Dortmund.
Local journalism is essential.
Give directly to The Spokesman-Review's Northwest Passages community forums series -- which helps to offset the costs of several reporter and editor positions at the newspaper -- by using the easy options below. Gifts processed in this system are not tax deductible, but are predominately used to help meet the local financial requirements needed to receive national matching-grant funds.
Subscribe to the sports newsletter
Get the day's top sports headlines and breaking news delivered to your inbox by subscribing here.
---