A&E > Entertainment
Prepare to be scared
Interplayers Theatre adapts '60s thriller 'Wait Until Dark' with a few twists of its own
Fri., April 4, 2014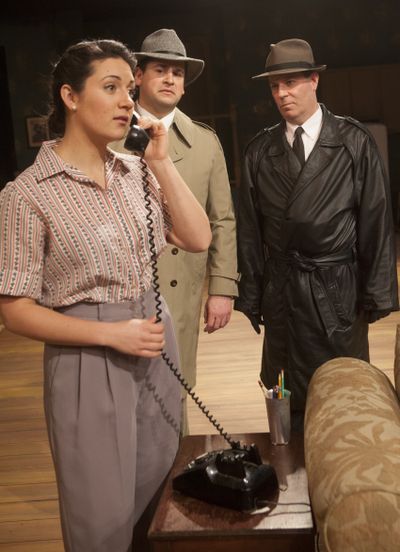 When asked to explain how he generated suspense in his films, legendary director Alfred Hitchcock devised a now-famous scenario. Imagine there are two people having breakfast, and we become aware that there's a bomb underneath the table about to go off. If the bomb is detonated, Hitchcock said, that's a surprise. But if it doesn't blow up when it's supposed to, that's suspense.
Frederick Knott's 1966 play "Wait Until Dark" is a great example of Hitchcock's theory at work, a thriller that builds so steadily to its climax the suspense becomes almost unbearable. Hitchcock never got his hands on this material, but it would have fit comfortably in his wheelhouse (Knott previously wrote "Dial M for Murder," which Hitchcock did turn into a film). Although there's no ticking bomb in "Wait Until Dark," we're still expecting an explosion.
The show has been a favorite since it debuted, and Spokane's Interplayers Theatre premiered its version, as directed by Jack Phillips, this week. It's been slightly tweaked from Knott's original – it's set in the 1940s instead of the '60s, and some of the exposition has been tightened – which Phillips said is actually an improvement.
"The first act is not like the original," he said. "I mean, yes, it's similar and it gets the plot points out, but there are some changes that even people who remember the movie will say, 'Wait a minute now.' The nice thing about the adaptation is there are surprises."
It hinges on a simple premise, one that's reminiscent of Hitchcock's masterpiece "Rear Window." Susy Hendrix is a blind woman living with her husband in a Greenwich Village apartment. One day when she's home alone, she's visited by a group of strangers, including a police officer and an old friend of her husband's, who are actually criminals taking advantage of her blindness.
They're looking for a doll that Susy's husband unwittingly obtained, and stitched inside the doll is a package they need to get their hands on. Roat, the brutal leader of the gang, ends up terrorizing Susy when the doll goes missing, and she retaliates by using her lack of sight to her advantage. (The play's oft-imitated finale requires the theater to be plunged into total darkness.)
"Wait Until Dark" is one of Broadway's most famous thrillers, and its 1967 film adaptation, starring Audrey Hepburn in an Oscar-nominated performance, was a huge box-office success. But Phillips, a former artistic director of the Civic Theatre, said he found that modern theatergoers aren't as familiar with the story as he had initially expected.
"It surprised me how many people didn't know it," he said. "With younger audiences, they kind of knew the title, but that was about it. And with older audiences, most of them have said, 'Oh, I remember that movie. It was so scary.' "
And while it might be known for its mounting tension (and a particularly famous jump-scare near the end), "Wait Until Dark" holds up because, Phillips said, its story still inspires a morbid allure.
"From the beginning, we know that the bad guys are trying to pull one over on this blind woman," he said. "It's very clear to us what they're doing, and it's fascinating to see how she's going to figure it out. And even if she does figure it out, what can she do? That in itself is fascinating to me."
Local journalism is essential.
Give directly to The Spokesman-Review's Northwest Passages community forums series -- which helps to offset the costs of several reporter and editor positions at the newspaper -- by using the easy options below. Gifts processed in this system are not tax deductible, but are predominately used to help meet the local financial requirements needed to receive national matching-grant funds.
Subscribe to the Spokane7 email newsletter
Get the day's top entertainment headlines delivered to your inbox every morning.
---