Gerlach acquitted in shooting death of fleeing vehicle thief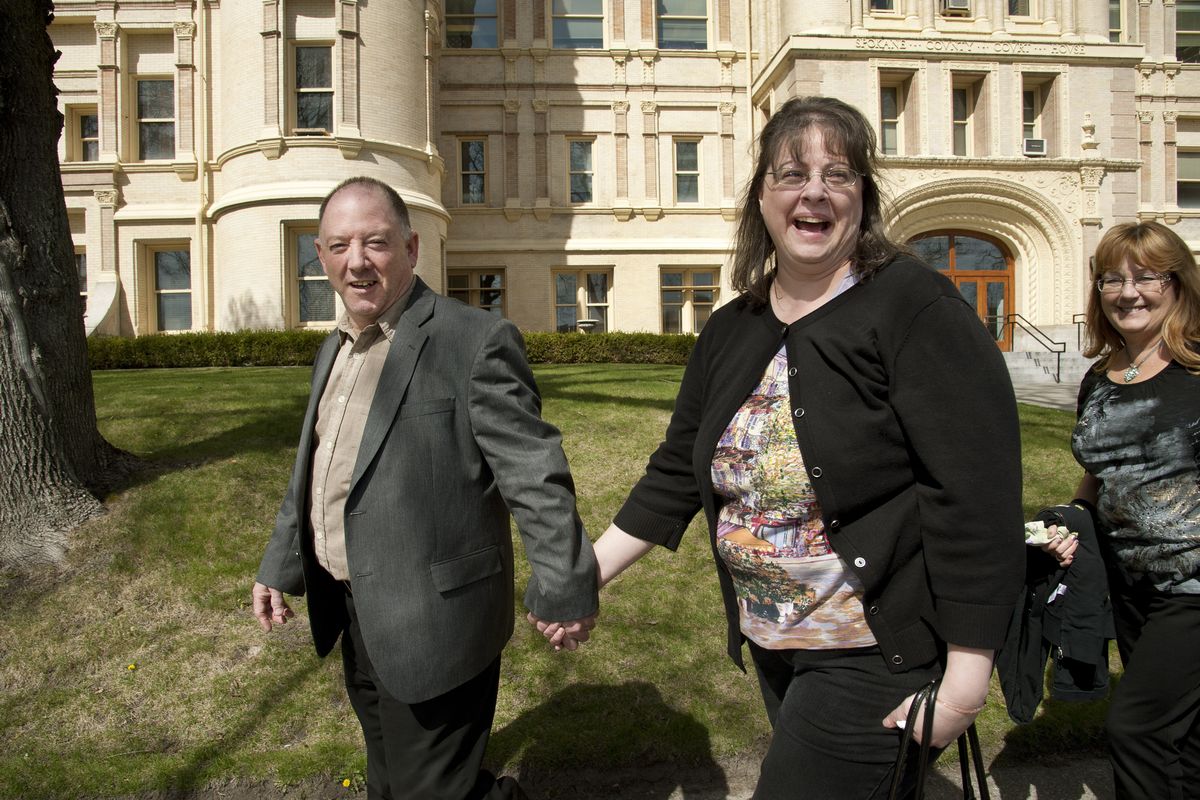 A Spokane jury affirmed the rights of gun owners to protect themselves on Thursday, acquitting Gail Gerlach of killing a man who was speeding away in Gerlach's stolen SUV.
Tears fell on both sides of the courtroom as the not guilty verdict was read in the controversial case. Gerlach's wife, Sharon, wept and embraced her family, as the grandmother of the man shot dead, Brendon Kaluza-Graham, burst into tears, saying her grandson would never get a chance to answer to a judge for his crime.
"Our sadness is forever," Ann Kaluza said.
Prosecutors charged Gerlach with manslaughter after he fired a single fatal shot through the rear window of his SUV as Kaluza-Graham drove away. Gerlach had left the vehicle idling to warm up while waiting to take his wife to work on March 25, 2013, and returned to find Kaluza-Graham backing out of his driveway. Gerlach said he saw a threatening gesture; he now believes it was Kaluza-Graham pointing keys, but at the time he believed it to be a gun and fired.
Gerlach earlier rejected a plea deal from the state that would have put him behind bars for a year. He instead opted to take the case to trial.
The deal would have allowed Gerlach to plead to a lesser charge of second-degree manslaughter. Prosecutors would have recommended a reduced sentence of a year in local jail, defense attorneys said. (Editor's Note: An earlier version of this story inaccurately reflected the terms of an offered plea deal that was rejected by Gail Gerlach. The story has been updated to clarify those terms.)
Gerlach faced up to a decade in prison if convicted at trial.
Defense attorney Richard Lee said jurors recognized Gerlach's right to carry a firearm and protect against a perceived threat.
"This is not meant to be a political statement, but under the laws of the state of Washington and coast to coast, we have a Second Amendment," Lee said.
"This was a tragedy," Gerlach said in a brief statement after the verdict was read. "As Christians, we believe in redemption. The greatest tragedy is that Mr. Brendon Kaluza-Graham will not have a chance to turn his life around."
The 25-year-old's family said they were disgusted with the way the media portrayed Kaluza-Graham, saying their relative was made into a "one-dimensional thief."
"He had hopes and dreams," said Ann Kaluza (pictured, right). "He was made into a poster boy for the angst of the community, a sacrificial lamb. That's not right."
Sharon Gerlach walked into Judge Annette Plese's courtroom Thursday gripping the hand of her husband. Kaluza said her heart was pounding as a gallery of dozens waited for a verdict in the case that Gerlach's attorneys said was never about property crime.
"This case should have never been filed," defense attorney David Stevens said. "The police handed this over without recommendations for a reason."
In a subsequent ruling, jurors voted 10-2 that Gerlach's actions amounted to a justifiable homicide. That enables defense attorneys to request that the state pay legal fees estimated at close to $300,000.
Prosecutor Deric Martin told Kaluza-Graham's family he was disappointed with the verdict and thanked them for their support. Many family members were present throughout the trial, which began with jury selection March 31.
Bob Graham, Kaluza-Graham's grandfather, signaled the family would seek civil damages.
"I think the civil court will bring out more truths," Graham said. He said he thought the defense's case was full of "theatrics" and false testimony that he'd hoped the jury would see through.
Kaluza-Graham supporter Teresa Kelly said Gerlach appeared arrogant while testifying Wednesday morning.
"I'm worried that the community hears it's OK to shoot someone," Kelly said. "His perceived threat was reality. They said that was good enough to shoot someone."
After deliberating for just a few hours, a jury of 11 women and one man rejected arguments from prosecutors that Gerlach acted recklessly in shooting and killing Kaluza-Graham. They also rejected the lesser criminal charge that he acted with criminal negligence, a requisite for second-degree manslaughter.
Defense attorney Stevens said the charges were frivolous.
"You're just punishing lawful people who have concealed-carry permits to protect themselves," he said.
Staff writer Jody Lawrence-Turner contributed to this report.
---