Sports > Seattle Seahawks
Rice back with Seahawks because he understands NFL economics
Mon., April 28, 2014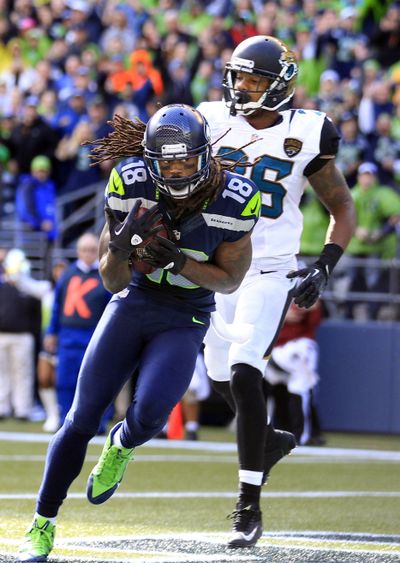 To use his term, trainers "snatched" wide receiver Sidney Rice off the Seahawks' practice field Thursday.
He was merely using ever-improving legs to run light routes. Rice tore an ACL last year during the Week 7 game in St. Louis. That makes Oct. 19, 2013 the last time Rice ran routes full-out, so forgive him if he has a hankering to get back on the field.
"You might feel good, but that doesn't mean it's always good to keep pushing it," Rice said. "They're keeping a real close eye on me."
That Rice is back on the Seahawks' practice field at all is a surprise. Seattle cut him after the season to create $7.3 million in salary cap space. Rice had signed a five-year, $41 million deal to join the Seahawks in 2011. He saw an adjustment coming before eventually returning on a one-year deal worth a reported $1.4 million.
"I've been around this league for a long time," Rice, who came into the NFL out of South Carolina in 2007, said. "I kind of knew what the process was going from my injury, going into the fourth year of my contract; so I knew they would try to renegotiate or cut me before the deadline, and that's what happened."
However, when he left the office of general manager John Schneider on Feb. 28, Rice departed with an understanding. The Seahawks wanted him back, if possible.
As his rehabilitation continued, he assessed other offers, namely one from the New York Jets. With each passing week, Rice was able to do more. He sent videos of his workouts to Seahawks director of health and player performance, Sam Ramsden. In turn, Ramsden gave Rice things to work on.
It was similar to how Rice remained in touch with the team even after he was hurt. He was often around the facility and on the sidelines during games. Rice remained in constant contact with the receiving corps. Though just 27 years old, he's the most experienced wide receiver the Seahawks have.
"Some of those guys look up to me and they express it often," Rice said. "They look to me for guidance. I've been in this system for seven years. Certain things that they might not understand, I might have a better understanding of. I was still part of the team. Any way I could help them to keep progressing and help them get to the point they got to and win the Super Bowl, I was all for it. I didn't want to let them down in any sense."
That leadership position was among the reasons Rice came back. Having a full understanding of NFL – and Seahawks – economics was another.
"You look around this team, there's so many amazing players on this team," Rice said. "Their time is up-and-coming now; time for them to get their big payday. So, these guys took care of me when I first came in. Signed a big deal. Five years for whatever amount. I played three years, I made a lot of money, that was one of the reasons I came back here. (These) guys took care of me."
Rice is at the first phase of voluntary workouts which consists of strength and conditioning and rehabilitation only. That lasts two weeks and began Monday.
Rice is hoping to be ready for limited participation in mini-camp (likely mid-June) and to be a full participant in training camp (camp opened July 25 last season). He also says he has quite a few years left in the league. He can become an unrestricted free agent in 2015.
For now, he'll keep trying to find a way to fend off those pesky trainers, a group he has become all too familiar with since joining Seattle. He's played a full season once in three years.
Local journalism is essential.
Give directly to The Spokesman-Review's Northwest Passages community forums series -- which helps to offset the costs of several reporter and editor positions at the newspaper -- by using the easy options below. Gifts processed in this system are not tax deductible, but are predominately used to help meet the local financial requirements needed to receive national matching-grant funds.
Subscribe to the sports newsletter
Get the day's top sports headlines and breaking news delivered to your inbox by subscribing here.
---