News > Features
Families Pick: Art on the Green lets kids get creative
Fri., Aug. 1, 2014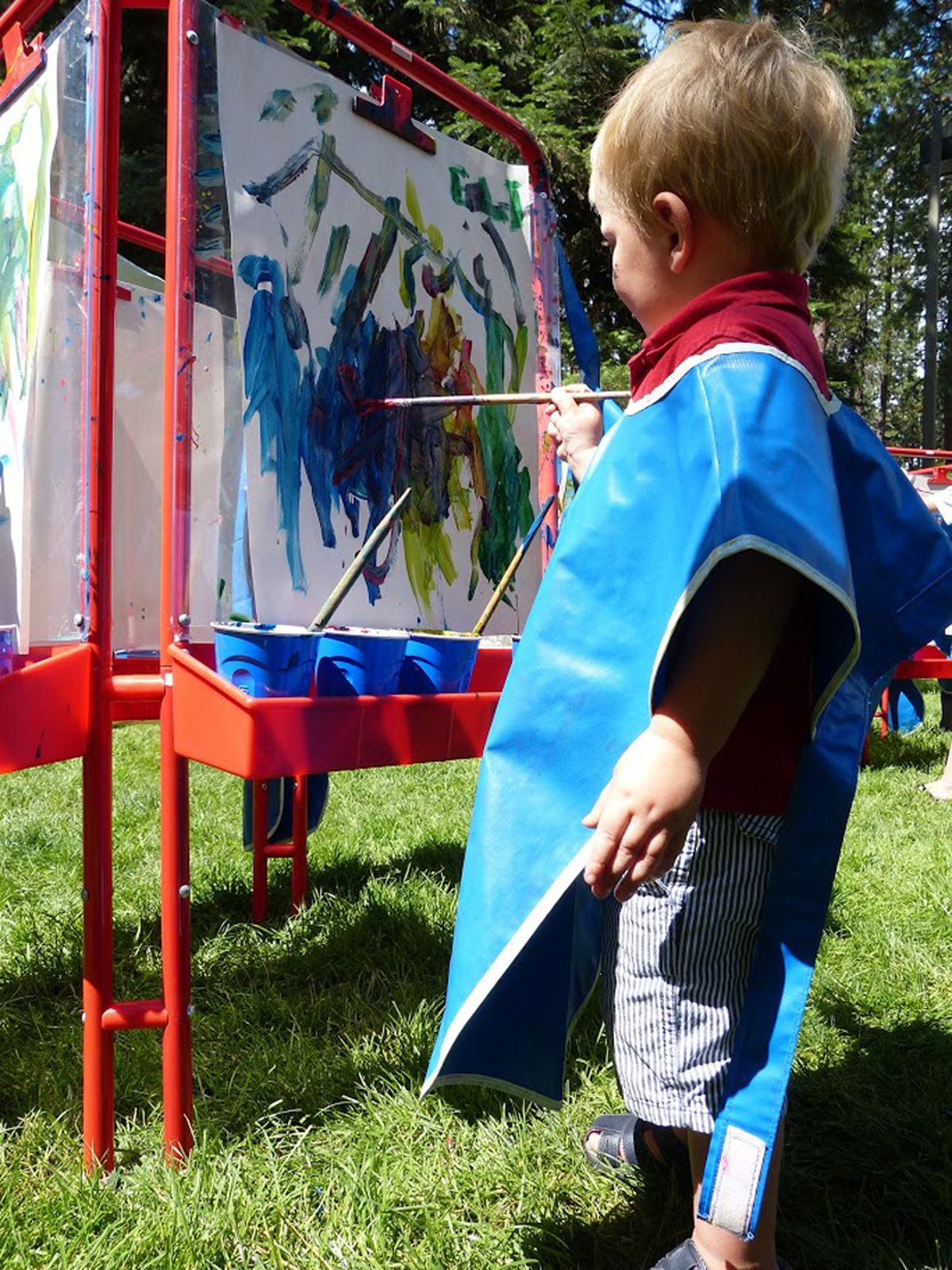 Painting is free in the children's art-making area.
Poetry penned by area kids and posted on a transient "wall" of construction gating at this weekend's Art on the Green adds a literary art to the mix at the Coeur d'Alene event. The poetry wall also creates a place where young people can display their work.
That's important to the event's organizers – "that children feel welcome and that children feel like they have a place," said Jolie Bazler, the event's publicity and volunteer coordinator.
The annual three-day affair draws an estimated 50,000 people to North Idaho College's campus. This year they can peruse – and maybe purchase – work by more than 170 artists, catch live music on two stages, and sample hot and cold treats from the festival's collection of food booths.
The lineup includes potters, painters, photographers, fiber artists, glass artists, jewelry makers, wood artists and paper artists.
Admission is free. Art prices vary widely. The Clothesline Booth, stocked with unframed pieces for no more than $75, offers treasures at a bargain, Bazler said: "Someone can walk away with an original piece of art for $10, while someone else is walking out with their $3,000 piece of art or their big metal sculpture."
The event also offers art-making opportunities for children only, along with performances and artwork by young people.
The clay and paint are free in the children's hands-on art area. (Kids can make "gourd art" and decorate T-shirts for a small fee.) A group of young jugglers whose repertoire includes flaming objects will perform, as will players from the Christian Youth Theater. Some poetry-wall poets will read their work aloud.
And the festival's Youth Booth artist, 13-year-old welder Nicholas Olmo, of Hauser, will display his metal sculptures.
Traditionally, children take over the space in front of entertainment stages while their parents sit in the audience, Bazler said.
"All the little kids will be up front dancing and singing along. It doesn't matter if it's the symphony, it doesn't matter what kind of music it is," she said. "They're just there. They just grow up being part of Art on the Green."
Adrian Rogers
Where: The old Fort Sherman Grounds at North Idaho College, 1000 W. Garden Ave. in Coeur d'Alene.
When: Noon to 7:30 p.m. today; 10 a.m. to 7:30 p.m. Saturday; 10 a.m. to 5 p.m. Sunday.
Admission: Free; more information, including a stage schedule: http://artonthegreencda.com
ALSO IN THE LAKE CITY: Taste of the Coeur d'Alenes offers food booths and fun in City Park, while the Downtown Street Fair fills Sherman Avenue with vendor booths.
Local journalism is essential.
Give directly to The Spokesman-Review's Northwest Passages community forums series -- which helps to offset the costs of several reporter and editor positions at the newspaper -- by using the easy options below. Gifts processed in this system are not tax deductible, but are predominately used to help meet the local financial requirements needed to receive national matching-grant funds.
Subscribe now to get breaking news alerts in your email inbox
Get breaking news delivered to your inbox as it happens.
---