Mormons say 'Book of Mormon' won't detract from their work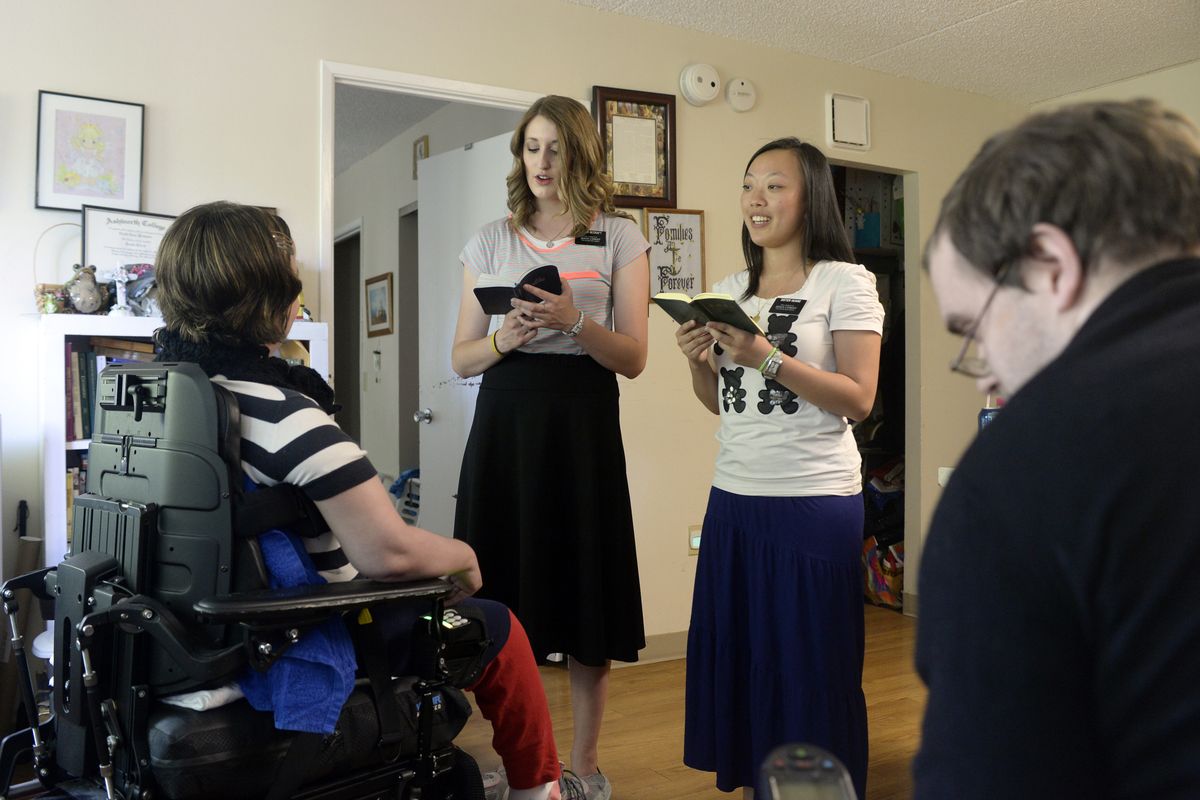 At one point in "Book of Mormon" – the satirical musical from the creators of "South Park" – a dimwitted missionary surrounded by Ugandans struggles to relate Mormonism to their daily struggles, including female circumcision, child rape and genocide.
Elder Cunningham breaks into song, improvising some fantastical remedies. "Who would have thought I had this magic touch?" he sings. "Who'd believe I could man up this much? I'm talking, they're listening, my stories are glistening. I'm gonna save them all with this stuff!"
It's one of several songs poking fun at Mormon beliefs in the musical, which premieres this week in Spokane after winning overwhelmingly positive critical reception and a slew of awards. While local missionaries of the Church of Jesus Christ of Latter-day Saints likely won't have front-row seats to the show, they say it won't detract from their work and faith in the Washington Spokane Mission.
"The only negative is if someone walks away from that thinking that really is an accurate portrayal," said Shaun Brown, assistant public affairs director for the church. "We feel that if a person has a good heart, they're going to be willing to take information from both sides."
The sentiment agrees with the official church line on the musical: "The production may attempt to entertain audiences for an evening, but the Book of Mormon as a volume of scripture will change people's lives forever by bringing them closer to Christ."
Mormons make up nearly 10 percent of churchgoers in Spokane County, according to the U.S. Census Bureau. About 250 missionaries – mostly single men and women under age 25 – in many ways serve as the public face of the LDS Church in Eastern Washington and North Idaho.
Missionaries pay $400 a month to live up to two years in the mission assigned to them. They rise at 6:30 a.m. and turn in by 10:30 p.m. They study scripture. They travel in pairs everywhere they go. When in public, they must be within sight and earshot of each other.
They are allowed one hour each week to write or email home to family and friends. They are allowed two days a year – Christmas and Mother's Day – to phone or Skype home.
In return, the church provides them an apartment, a vehicle, bikes and a modest living stipend for food. But the missionaries interviewed for this story say the job gives back more than material goods possibly could.
Door to door
Stefan Cantwell and Tyler Cahoon have crafted uniquely rhythmic knocks.
"You knock a lot of doors, so you get interesting with them," Cantwell explains as his partner drums at the front of another house.
It's another sweltering July afternoon in Spokane Valley, and the elders left their suit jackets at home as they set out for the neighborhood surrounding East Eighth Avenue and South Evergreen Road.
There's a pause before a man's face appeared behind a screened window high above and to the left of the door.
"What do you need?"
"Well, hello!"
"What do you need?"
"How are you doing? I'm Elder Cahoon."
"I'm OK –"
"Your name?"
" – and thank you for coming, but I'm not in a religious mood today."
"Is there another time we can come back?"
"Uh, never."
"All right! Have a good one. Thanks so much!"
The range of reactions they typically encounter was evident when, on the very next doorstep, a 16-year-old girl opened up about her suicidal thoughts and how God helped her through tough times.
Though not Mormon, she prayed with the elders and promised to contact them for future conversation.
"I know it isn't a coincidence we came and knocked on your door," Cahoon said before giving her their phone number.
Cantwell, from South Jordan, Utah, and Cahoon, from Farmington, New Mexico, both football players that often tower over their audiences, spend many of their waking hours asking strangers about their religious beliefs. Inviting residents to come to church is one of the central – and most visible – duties of a missionary and is viewed by the church as following in the footsteps of Jesus.
And like all missionaries, Brown said, they rely on prayer to decide where to go.
"Should we go to the park, should we go to this neighborhood? Because they're trying to get the Lord's direction to where those people are," she said. "He knows someone who's searching, someone who's wanting to know more about him."
In a way, the mission's operations could be called a success: Almost everyone the elders meet have spoken with missionaries before. Cahoon said it "always kind of throws me" when he meets someone who knows nothing about Mormonism.
Cahoon and Cantwell connect most easily with those who have an established faith in Jesus Christ. Instead of seeing a need to "convert," they describe the Christian religions as pieces of the puzzle that Mormonism interprets.
"It isn't to take away from anything they believe because there is truth in things that they have," Cahoon said. "It's just: 'Hey, come build your faith more. We have all the pieces to the puzzle.' "
One man, a lifelong Catholic, politely chatted with them about how faith has gotten him through a recent injury, but he balked when offered a complimentary Book of Mormon. He follows the teachings of the Bible, he told them.
"We know the Bible to be true," Cahoon explains to the man. "But God in our day has given us additional scripture. The Book of Mormon, it actually goes right alongside the Bible. But it helps us answer more of the questions that, I guess, the Bible alone cannot answer for us."
Keeping up with the 'Jesus ladies'
Karlee Becraft and Xueying Huang let the silence hang in the chapel.
"Stacey, how do you feel right now?" Becraft asked after some time.
"Like someone's watching over me," Stacey Harveston answered.
In guiding Harveston through the meetinghouse on East 29th Avenue, the female missionaries – they're known as sisters – fulfilled one of the important steps to join the church. The tour was no more than 15 minutes, but the missionaries prayed with him three or four times and explained LDS symbolism.
At the end, overlooking the deep baptismal bath, Harveston said he would be willing to move forward with becoming a member.
"I know when you're baptized, it will change your life," Becraft told him. "Because that's what it's done for me."
A missionary's work is often a testament to profound networking skills. A spiral-bound appointment planner is standard-issue and a quick reference for all assignments, and the sisters fill 15-minute time slots with two names in case the first cancels.
Brown acknowledges the success rate of bringing someone from the street into the LDS church is low. But the chances go up if that person has a Mormon friend.
Despite the rigid planning – and aside from the five basic lessons missionaries teach prospective members before baptism is allowed – Huang said no strict formula exists for new members. It depends on a person's own willingness and can range from days to years.
"Their age and their background really affect how fast they learn, and their faith affects their desire or how soon they want to be baptized," said Huang, who is originally from China.
After the church tour, the sisters spent the afternoon jetting from home to home, meeting with LDS members and following up with those who've expressed interest. They read scripture, prayed and sang songs – Huang in Mandarin.
In between appointments, they stopped the car in the road to chat with someone on the sidewalk, slightly disrupting the flow of traffic behind them. That's why missionaries usually ride bikes, Brown said afterward: "It's a lot easier to stop and strike up a conversation."
At an apartment complex off Mission Avenue where they are known by children playing outside as the "Jesus ladies," they ask April Dionne how she felt at LDS church for the first time. Dionne had shopped many religions – "it was always more of a study for me," she said – but decided to try Mormonism when the sisters knocked on her door and offered to help move the contents of a storage unit into her apartment.
"You wanted to help me and you wanted nothing in return," she said. "That was very confusing because everybody wants something."
She added how amazed she had been to find female missionaries on her doorstep.
"To have women here, that was different," she told them. "To watch a church evolve is a very rare moment."
At the Washington Spokane Mission, four of every 10 missionaries are women, according to church data. And since the church in 2011 lowered the minimum age required to become a missionary from 19 to 18 for men and from 21 to 19 for women, the church saw a sea of new missionaries, both men and women.
"There are a lot of misconceptions … which is a big part of why people aren't very nice to us sometimes," said Kayla McWilliams, a missionary from California helping a woman clean out her kitchen.
"We're not here to push anything. We not here to convince anybody, but just help people to find out what's true for themselves and act upon it and whatever they choose."
---